This easy vegan Peanut Butter Tofu over fluffy rice is the perfect comfort food, family-style meal. The peanut sauce is rich and sweet with a hint of heat from garlic and curry. Plump cubes of tender tofu are loaded with plant-based protein. A sprinkle of spring onions on top completes the centerpiece-approved dish….
This recipe is a tofu + rice spin on a recipe I made a while back, Peanut Butter Curry Chickpeas over quinoa. This dish feels a bit more warming and comfort-food-y to me. Probably because of those soft pillows of tofu, coated in a satiny delicious peanut butter sauce. Rice is a big more sticky and hearty too, compared to quinoa – which is a bit more fluffy and not very sticky at all.
Rice or Quinoa
If desired, you don't have to use rice! Fluffy quinoa or even something like buckwheat or millet or farro would be great too – whatever grain sort of base you may have in your cupboard. I used a lovely, fragrant jasmine rice. A short-grained brown rice would also be nice and add even more fiber and nutrients. But for me, I just love a fluffy white rice for this dish. I think the bright yellow peanut sauced tofu looks so pretty against a layer of white.
Using rice or quinoa makes this dish gluten-free.
If you want to switch out the tofu for tempeh, chickpeas or even lentils, you could certainly do that as well!
Peanut Butter Tofu Veggie Add-Ins:
This dish certainly makes a lovely, simply grain+ protein dinner. But if you are looking to add an extra boost of veggies to this dish, here are a few things to try:
– roasted carrots, cauliflower or zucchini
– a light leafy greens salad, with whatever dressing you prefer
– steamed broccoli
– steamed peas over top
– spinach folded into the saute pan
Other add-ins to try..
saffron to your rice or even to the peanut sauce.
-golden raisins to the onions during the saute.
-sprinkle of chopped parsley or cilantro over top.
There are so many ways to serve this basic, delicious dish of peanut butter tofu. I hope you can give it a try and let me know how YOU make it a meal!
On Valentine's Day, I posted this on Instagram, and I think it is worth repeating here..
"When I look back on my life, it isn't the perfect memories that made my relationships so special. It was the times "we" did something crazy, adventurous, weird, silly, scary, or challenging. Or even times when we were both making mistakes and learning from them together. Real life with bumps in the road and bruises on your shins. When you love someone, challenges and crazy adventures don't seem so scary or odd because you both find a way to make anything happen. Love does that. Together, you can figure anything out. (And come out smiling. Or at least feeling like you've grown. Or maybe just end up laughing your ass off in the best possible way." – full caption on my Instagram profile – would love to see you over there!..
A post shared by kathy / healthyhappylife (@kathypatalsky) on Feb 14, 2018 at 9:21am PST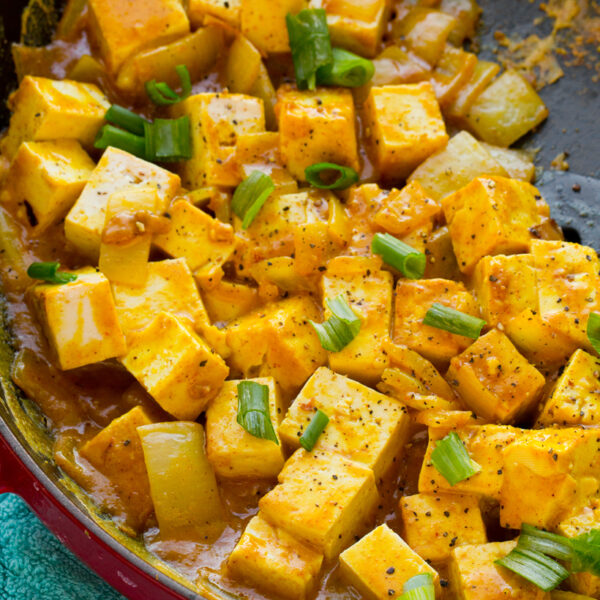 Peanut Butter Tofu with rice
This super flavorful peanut butter tofu served over rice makes a delicious and protein-rich vegan meal.
Print
Pin
Ingredients
Peanut Butter Sauce:
½

cup

peanut butter

¼

cup

maple syrup

½-1

cup

water

2

tablespoon

lime or lemon juice

2

teaspoon

curry powder

2

cloves

garlic

⅛

teaspoon

salt or to taste

⅛

teaspoon

pepper

pinch

of cayenne

,

⅛ teaspoon or less
Rice:
1

cup

jasmine rice

2

cups

water

1

teaspoon

extra virgin olive oil

pinch

of salt
Also:
12

oz

tofu

,

extra firm, diced into cubes

1

tablespoon

extra virgin olive oil

1

small onion

,

chopped, any variety

3

spring onions

,

chopped (root tips discarded)
Instructions
Rice:
Add the rice, water, pinch of salt and oil to a large soup pot. Bring to a boil, then cover with a lid and reduce heat to low. Simmer on low for 20 minutes. Turn the heat off and let the rice sit for a few additional minutes, then uncover lid and fluff rice with a fork. Place lid back on and set pot aside.

While the rice is cooking, you can whip up your peanut sauce. Place all the peanut sauce ingredients in a blender and blend on low until silky smooth. For the water: start by adding ½ cup of hot water, then add more, a tablespoon at a time until your desired thickness is reached. You want the sauce to be opaque and thick, yes watery enough to drizzle over top the tofu. Note: The sauce will thicken up as it heats in the pan!

Tofu prep: Before cubing the tofu, you want to use a clean dish towel and gently squeeze out as much excess water from the tofu as possible – without smashing the shape of the tofu. Then cube the tofu (40 cubes in a 5 x 4 dice across the top, two layers of cubes) and again gently press out any excess liquid. Tip: IF desired, you can use a tofu press. But I usually do not need it. The firmer your tofu, the easier it is to squeeze out excess liquid and dry things up. Drier tofu sautes better in the pan.
Skillet:
After your sauce and rice are sone, you can start your skillet work. Warm a large skillet over medium heat. Add in a drizzle of oil and the chopped onions. Saute for 2-3 minutes until the edges start to brown a bit. Then add in the tofu and toss around a bit. Use a spatula to flip the tofu cubes. Let the tofu sit just long enough in one spot on the pan so that it browns, but not too long that it sticks and peels away in the pan. Using enough oil also prevents the tofu from sticking to your pan.

When your tofu and onions have a few nicely light browned edges, you can turn the heat to low and pour in about half to ¾ of your peanut sauce. Gently toss the tofu in it and let it sizzle over low for about a minute or two. Then turn off the heat and set aside. The warm pan should continue to gently cook everything together for a few minutes, even off the heat. Tip: IF you want your tofu more thickly dressed, you can add all the sauce in at once. Leftover sauce can be warmed separately and added at your leisure.
Plating the dish:
Pile your rice in a big bowl, then add the tofu over top. Next, sprinkle the chopped spring onions over top. Serve warm!
nutrition estimate | per serving
Calories:
534
kcal
|
Carbohydrates:
61
g
|
Protein:
19
g
|
Fat:
25
g
|
Saturated Fat:
5
g
|
Sodium:
166
mg
|
Potassium:
348
mg
|
Fiber:
4
g
|
Sugar:
16
g
|
Vitamin A:
90
IU
|
Vitamin C:
4
mg
|
Calcium:
173
mg
|
Iron:
2
mg
Pin it for later!…