Picnic in Central Park! Finally a cooler than usual sunny Saturday hit NYC and I burst out the door with my husband so we could hop on the subway and head uptown to Central Park for a well-deserved afternoon picnic.
Picnics are about the basket goodies! You agree, right? And while I normally pack my own vegan picnic basket sandwiches, this outing was an exception – I didn't lift a finger – thanks to Le Pain Quotidien…
Mineral Springs Le Pain Quotidien. When I heard that one of my favorite vegan-friendly chains, Le Pain Quotidien, was opening a location in Central Park – with "Picnic Baskets to-go" I knew I had to try it. Vegan muffins, soy lattes, iced mint green tea, crusty spelt bread – all my fave Le Pain eats under the green trees of the park? Yes please! Find out if my picnic in Central Park was easy breezy or not?? Many photos ahead!…
Le Pain's Mineral Springs Picnic Marketing…looks lovely to me!…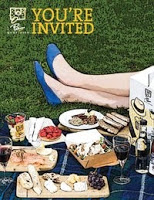 My Picnic Basket To-Go Review. I was super excited to order one of Le Pain's much-anticipated pimped-out $40 picnic baskets. However, things didn't work out exactly as I'd planned.
Side Note: In case you haven't heard, picnicking in the park has gone pretty high tech in the past year – various local restaurants are joining-in on the easy-picnic fun. You can even get a pizza delivered to your picnic blanket thanks to iPhone Apps like CityMint. But I digress..
When we arrived at Le Pain I noticed the Mineral Springs to-go menu was quite different than the normal Le Pain menu. It had sandwiches instead of tartines and a number of baguette sandwiches as well. I have tried Le Pain's hummus/veggie vegan baguette in the past and loved it – sadly, it was not on this menu. And there was actually not even one vegan sandwich or baguette options on the menu! A few vegetarian options – but all with cheese. Yikes. No picnic basket for us.
But this is Le Pain, so I can always find something…
I decided to go with the Mesclun Salad with basil pesto oil vinaigrette and a side bread flute – a crusty bread stick studded with hazelnuts and raisins. My husband, who is not vegan, ordered the smoked salmon sandwich. He loved it. My salad/flute was divine as well – although I would've loved a vegan sandwich option so we could've ordered the complete basket. Instead we did an a la carte basket-ish order with:
* Mesclun Salad (vegan)
* Flute (vegan)
* $10 picnic blanket (fleece forest green color – love it)
* Two large Soy Lattes to-go
* Green tea muffin to go (vegan)
* Mini chocolate brownie for MrHHL (not vegan)
I am in love with our Le Pain picnic blanket complete with Le Pain embroidered logo – they also sell canvas baseball caps and a Central Park paperback book, FYI.
Central Park – Mineral Springs Le Pain Quotidian:
OPENING HOURS
M-F: 7am-9pm
Sa-Su: 7am-9pm
ADDRESS
"Mineral Springs"
69th Street @ Central Park
New York, NY
After we ordered our goodies we were off to find the perfect spot to enjoy them!
We spotted a cool shaded grassy spot under a large tree. Many birds hopping around, and not many people nearby, quiet – our dream picnic spot. We fluffed up our soft blanket and had a delicious feast under the trees, blue sky, cool breeze great company.
…Picnic accomplished!
The Bottom Line on Le Pain. If you are seeking a picnic in Central Park, you could successfully bring your own basket of goodies. Or if you want an easy option (like we did) try le Pain! The $10 blanket is a great deal in my opinion. A soft blankie is a must for a successful picnic. And there are many food options at Le Pain so even a vegan like me will find something delicious.
For non-vegans the options abound. There is even a waffle window. So jealous.
Here are a few photos from our Central Park Picnic feast..
Tall Buildings Meet Tall Trees. Only in NYC!..
Lawn Hours…
Wanted: Peace. We found a spot a way from the sunbathing crowds…
Our Spot…
We shared our spot with a few cute birdies drinking water and bathing in a small water puddle nestled between the large tree roots. Am I in a Disney movie all the sudden? So cute!..
Our humble eats…
My Mesclun Salad. Yea, OK I could definitely make a better salad at home – but the basil pesto oil dressing is delicious – and buying a salad at the Park keeps things super easy and convenient. This was a special treat for today…
I love the Le Pain nut and raisin studded flutes..
The rich and silky Basil Pesto Dressing adds a burst of flavor to light fresh baby greens. This must be the same oil they add to the hummus appetizer that I love..
Happy Camper. Or should I say Happy Picnicker…
So much more to explore in the Park! One of the lakes in the Park. I am dying to rent a rowboat-for-two one of these days!…
Colorful rides await. I don't know how those guys do it!….
You can always find a gaggle of tourists near Strawberry Fields…
Love this statue…
I love the rocks in Central Park..
A pretty purple fleur lining one of the gated fences…


Lincoln Center on the walk home…