disclosure: The post is sponsored by one of my faves, Bob's Red Mill
Your perfect pizza dough is totally within reach!
If you love pizza, but don't think you can achieve "pizza place" style results with your crust, think again! When you use the right ingredients, your dough will turn out fluffy and easy-to-handle. Your crust will bake up chewy and bubbly and totally delicious. Your perfect pizza crust is ready for topping with sauce and cheese and loads of veggies…
Pizza week continues! And today, we chat dough.
And to achieve the perfect pizza dough, you have to use the right type of flour – one that is specifically made for pizza and bread type recipes. Enter, Bob's Red Mill Artisan Flour. Premium, high-protein flour that perfectly fits your pizza dough needs.
Kitchen feels. It feels so satisfying to pull pretty pizzas out of the oven.
Flour Facts. Flour is the number one ingredient in a pizza dough so using the right type of flour is crucial to achieving exceptional results.
Bob's Red Mill has a wide variety of flours. Just browse their website, or any baking aisle of Whole Foods to see the wide range of their awesome goodies. You probably already have a few in your pantry right now. But for PIZZA, the Artisan Bread Flour from Bob's is what you want to choose at the store. It comes in a sturdy, purple, five pound bag. The flour is fine and silky, yet still hearty in nature.
Bob's Red Mill Artisan Bread Flour is a premium, high protein, bread-baking flour, milled from America's highest quality wheat. This wheat flour is also great for baguettes, bagels, dinner rolls and more. The malted barley flour gives this high-protein flour a rich, robust flavor sure to please your palate!
If you cannot find it in stores, you may be able to snag one on Amazon.
PIZZA-MAKING FAQS
Can I freeze pizza dough?
Yes! The Kitchn has some great instructions on that. Basically, you can freeze for up to a few months. When I use my frozen dough, I stick it in the fridge to "thaw" overnight, before use. Then you want to further warm up to about room temp before actually rolling it out. I usually keep the chilled dough on my counter for 20-30 minutes, or until it feels warm enough to handle.
Can I store dough in my fridge?
Yes. But not too long. I only keep it in there for about a day because it tends to expand pretty rapidly, and over-proof/ferment a bit, in the fridge. So while that can actually be a good thing for extra bubbly dough, you don't want your dough to over-proof and start to have an alcohol-y smell. When this happens, most references say the dough is still fine to use, but the flavor and texture may suffer. For best results with long-term storage, freeze your fresh dough.
How do I achieve a thin and crispy crust?
Roll out your dough as thin as you can, and try to bake it at a very hot oven temp. 450-500 F is ideal. Some people like pizza stones, though I have never used one. Baking your crust for a touch longer than you think it needs will help crisp up the bottom. Also, using a special "pizza pan" with holes in the bottom will REALLY help crisp up the bottom.
How do I achieve fluffy, chewy edges?
Keeping your edges thicker than the rest of the crust is how you get those bubbly, soft crusts that are totally perfect for dipping in extra pizza sauce! If you roll or toss out your dough and your edges have thinned out, simply fold over a bit of the edge dough to create a thicker edge. Use your hands to craft the shape of your pizza!
Do I have to toss my pizza dough in the air?
No! But if you can swing it, totally give it a try because it is quite fun to achieve a rounded out dough from a toss. I usually do a combo of three things: hand pressed it out, a tiny bit of rolling pin and then a few air tosses because it really helps to achieve a circle shape.
What goes on the bottom of my dough?
I roll my dough out on a floured surface, so there is usually some excess flour. Sometimes I use some coarse or fine corn meal because it adds a neat texture and nutty flavor.
What goes on top of the dough?
I usually add the sauce first. Though some people like to add a drizzle of olive oil. I like to sometimes brush my crust edges in olive oil. After the sauce, I add optional cheese and toppings.
What do I bake my pizza on?
I answered that question in this post: pizza sauce. I use a special pizza pan. I give a few brand recs here. Along with a few other pizza party tools I love.
How much yeast?
I keep things simple and use one yeast packet. One packet is equal to 2 ¼ teaspoons or 7 grams.
How much flour?
This recipe used about three cups pretty consistently, but it can vary from 2 ½ to 3 ½ cups. Then I use additional flour for rolling out my dough after it has risen.
What can I do with this pizza dough?
Use it to make one large pizza. Two medium pizzas. Or four mini pizzas. You can also use it to make pizza pockets. Calzones. Or even dessert pizzas! You can make a circle shape or a flatbread shape with the dough.
Do I have to use yeast? Yes. Pizza dough needs yeast to help it rise and stay bubbly, fluffy and chewy. You can skip the yeast if you just want a more dense bread-like dough, but I don't have exact instructions for that today. Today's dough is a classic, bubbly, chewy, amazing dough that you will make again and again!
What do I pair pizza with?
I love pairing pizza with a BIG salad. A few to try: arugula with mango + avo, spinach with pecans and avo or a kale salad. Sometimes I even put the salad right on top of the pizza! Pizza salads are fun and delicious. You could also pair it with a side of roasted veggies or skillet spinach, which is a very Italian side to try!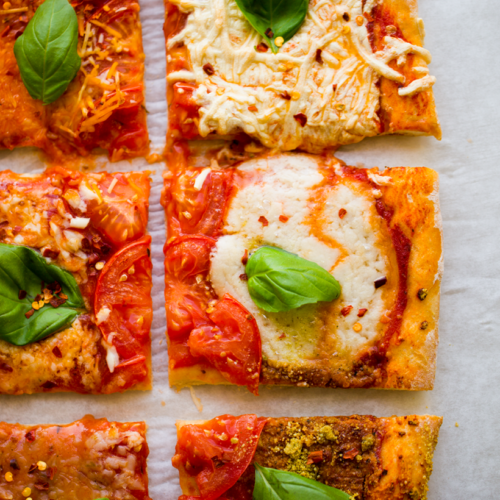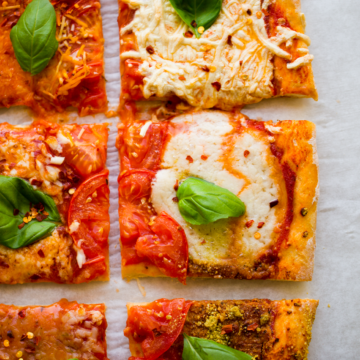 Basic Pizza Dough
This fluffy, bubbly, chewy crust is my perfect pizza dough recipe. Use it to make one large or two medium sized pizzas.
Print
Pin
Ingredients
1

packet

of yeast (equal to 2 ¼ teaspoon or 7g)

2-3

tsp

extra virgin olive oil

1

tsp

sea salt

3

Bob's Red Mill Artisan Flour, plus additional for rolling out dough

1

cup

warm water

1

tsp

sugar (coconut sugar used)
Instructions
Add the yeast, water and sugar to a small bowl. Stir briskly to dissolve yeast. Keep stirring until the water is thick and cloudy and all yeast clumps are dissolved. Let the yeast mixture sit for five minutes.

Add the flour, salt and oil to a large mixing bowl. Stir to combine.

Add in the yeast liquid a little bit at a time while folding with a large spoon. When all the liquid is added, keep folding with the spoon until the dough is sturdy enough to knead. Knead in the bowl for about a minute to smooth out the dough.

Place the dough ball in the center of the bowl and cover the bowl with a clean dish towel. Set in a warm spot in your kitchen.

Allow the dough to rise for just about an hour, or until it has about doubled in size.

Ready for pizza making: preheat oven to 450-500 degrees. Have your pizza pan ready.

Grab your dough bowl. Punch out the dough and break into two pieces if making medium sized pizzas. If making one large pizza, keep ball in one piece. On a floured surface, roll out dough a bit. Then use your hands to press out or toss out the dough to the desired size. Try to keep the edges of the dough nice and thick for fluffy crust edges.

When the dough is ready, place it on your pizza pan. Add sauce and toppings. Bake at 450-500 for about 7-10 minutes – or until the edges blacken and bubble. Cook time will also depend on how thin you rolled out your dough – so keep an eye on it. Kitchen Safety! Always use extreme caution when working with a super hot oven. Wear sturdy oven mitts and just be careful.
nutrition estimate | per serving
Calories:
109
kcal
|
Carbohydrates:
7
g
|
Protein:
3
g
|
Fat:
9
g
|
Saturated Fat:
1
g
|
Polyunsaturated Fat:
1
g
|
Monounsaturated Fat:
6
g
|
Sodium:
2329
mg
|
Potassium:
67
mg
|
Fiber:
2
g
|
Sugar:
4
g
|
Vitamin C:
1
mg
|
Calcium:
4
mg
|
Iron:
1
mg
Pizza Week Posts:
– Pizza Sauce
– Vegan Parm
– Pizza cheeses (mini review!)
– Pizza Dough
GIVEAWAY. Get messy in the kitchen, and enjoy it!.. Enter to win this awesome White Oak Apron by H&B, $98 value! Such high quality, and beautiful too!..
Oh hey! If you are a Bob's fan, check this out..
New product alert: Muesli Cups. Serve hot or cold. Wholesome ingredients. Perfect for bringing to work, school, road-trips and travel. Love the simple flavors and fiber-ful whole food ingredients..
Bob's Muesli Cups are available at Whole Foods starting April 1st, other retailers in August. Three flavors: Tropical, Gluten-Free and Paleo (which is also GF). You can enjoy the cups hot or cold or even use them for overnight soaking! Like overnight oats.
Grab a slice.. (This one was a product of my vegan pizza cheese research here)

Party.

pin it for later!..


Disclosure: this post is sponsored by Bob's Red Mill, but all opinions are my own