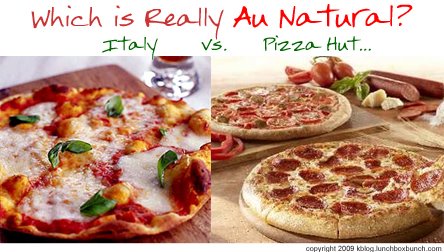 You can now order a 'natural' pizza from Pizza Hut.
My first reaction?
What the heck are people eating when they don't order their Pizza Hut pizza Au Natural???

To find out, keep reading.
The new Natural pizza is made with a 'natural' multi-grain crust, 'natural' old world sauce, 'natural' whole milk mozzarella, all-natural rustica sausage, 'all-natural' pepperoni, and a few extras like roasted red peppers and marinated roma tomatoes.
A little overuse of the word natural, but whatever.
The real question is, what the heck is in the UN-NATURAL pizza?
The answer: a whole lot of preservatives and additives, that's what.

The original pizza ingredients contain preservatives and additives such as:
ferrous sulfate, vital wheat gluten, enzymes, ascorbic acid, high fructose corn syrup, sodium stearoyl lactylate, flavorings, BHA, BHT, citric acid, modified food starch, whey protein concentrate, nonfat dry milk, and sodium propionate [added as a preservative].
The ingredients in the new Natural Pizza Rustica are:
Natural Multigrain Crust: Unenriched, unbleached wheat flour, stone ground whole wheat flour, yeast, olive oil, honey, whole grain wheat, whole grain barley, whole grain rye, whole grain oats, millet, salt, ascorbic acid (vitamin C).
Natural Old World Sauce: Tomato paste, water, sugar, salt, granulated garlic, spices, olive oil, canola oil, citric acid.
Natural Whole Milk Mozzarella with Cheddar: Mozzarella cheese (pasteurized milk, cheese cultures, salt, enzymes), Cheddar Cheese (pasteurized milk, cheese cultures, salt, enzymes, annatto).
All-Natural Rustica Sausage: Pork, seasonings (spices, paprika, sugar, garlic powder, salt, spice extractive, citric acid), water, salt.
All Natural Italian Sausage: Pork, seasonings (spices, paprika, sugar, garlic powder, salt, spice extractive, citric acid), water, salt.
All-Natural Pepperoni: Pork, beef, salt, spice, water, flavor (cane sugar, natural flavorings) flavor (oleoresin of paprika, natural spice extractives), lactic acid starter culture.
Fire Roasted Red Peppers: Red peppers.
My Thoughts:
Now don't get me wrong. I love that Pizza Hut is stepping up the nutrition side of their menu. And as my sulfites post showed, extra additives like preservatives aren't the best for our sensitive bodies.
However, it makes me wonder about the integrity of pizza in general. I can order a pizza margarita from a local NYC Italian pizza place and get an amazing all-natural pizza without the silly branding. And no, it may not be whole wheat/multi-grain crust, but I don't really want a pizza crust with thick chunky grains in it anyways. I just don't.
High Fiber Crust?? Not really.
Pizza hut says that its crust contains 8 grams of whole grains per slice, yet the nutritional info says there are only TWO grams of FIBER per slice. That's not that impressive. Especially considering that an original PH pizza crust has about 1-2 grams of fiber anyways….
The Big Picture:
Pizza is actually a very healthy food, as it is made in Italy with fresh crushed tomatoes, extra virgin olive oil, fresh basil, herbs and freshly made dough.
So, the big question, what would you rather eat?
1. An authentic Italian style light margarita pizza.
or
2. The 'natural' creation from PH?
I understand that not everyone lives in NYC, a pizza mecca. But lets just say you do have access to a good pizza place. The choice is yours to take.
Bottom line: Go for the pizza the way the Italians eat it. And try to stay away from Pizza Hut altogether if you are truly looking to GO HEALTHY. If you just want a good old fashioned USA pizza-fast, not-too-healthy and cheap….order what you like, just don't make it a habit!
….Just don't take the joy out of pizza to save a few calories and get a few extra grams of fiber. That kind of thinking will never work long term.
(My opinion and I'm sticking to it.)