When I was a teenager jetting between tennis practice, jazz choir and drives through Santa Cruz with friends, my mom somehow found a way to keep me well fed during those bits of time I was actually home!
This recipe for Lemon Peppered California Pasta Salad, is one of my favorite recipes she had. The idea is that you make a huge portion (a whole bag of pasta plus veggies) of it at one time and store it in small portion containers for an easy, fast, delicious and ultra healthy meal or mini-meal.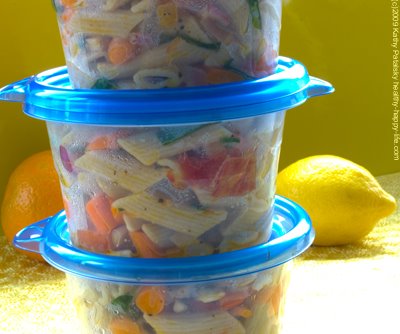 This version of her classic recipe uses a bold burst of citrus infusions including lemon and blood orange. This dish gets its zing! pop of flavor from the generous amounts of fresh black pepper, apple cider vinegar and a dash of spicy cayenne.
This pasta dish is so light, refreshing and versatile it can be eaten warm or cold, at lunch, dinner or even for breakfast-as I can recall doing as a teenager. Like I described in my post about breakfasts around the globe, Americans need to take a hint from European and Asian cultures and start eating more savory breakfast meals!
Click ahead for the recipe and photos – including preparation photos….
Lemon Peppered California Pasta Salad
pop-n-go recipe, vegan, serves 5-10
1 bag whole wheat penne pasta
2 lemons, organic
1 large orange, any variety
2 bay leaves
1.5 cup white button mushrooms, sliced
1 small red onion
1 large red or orange bell pepper
1 medium tomato
1 cup carrots, chopped
1 cup baby spinach, chopped
3 slices vegan rice cheese singles-pepper jack flavor
1 tsp. cayenne
¼ cup olive oil
4 Tbsp. apple cider vinegar
2 tsp. sea salt
2-4 tsp. fresh black pepper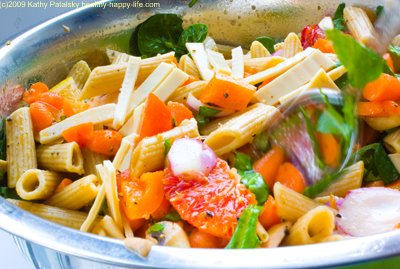 PREPARATION:
Boil the pasta and drain. Toss with a tsp. of oil and pinch of salt. – set aside.
Chop carrots.
Dice tomato.
Chop mushrooms.
Dice onion.
Chop bell pepper.
Chop spinach.
Peel and dice orange.
Thinly slice one of the lemons-skin on.
Juice other lemon.
Slice "cheese" into thin long strips.
In a large mixing bowl:
Add oil, lemon juice, vinegar, chopped fruit and veggies.
Mix well.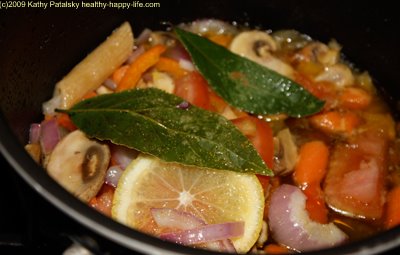 In a sauce pan on stove:
Heat a tablespoon of oil.
Add 2 bay leaves, and 1 cup of the chopped fresh ingredients from mixing bowl.
Saute for 5 minutes.
Add sauteed ingredients back to large mixing bowl. Remove bay leaves.
Add pasta, "cheese" strips, salt, pepper and cayenne.
Toss very well, until all ingredients are equally distributed.
Store pasta in fridge until ready to serve.
Can be served cold or warm.
Top pasta with fresh pepper and a spritz of olive oil upon serving.
Optional: peas, tofu or beans can be added to this dish for extra protein and fiber.