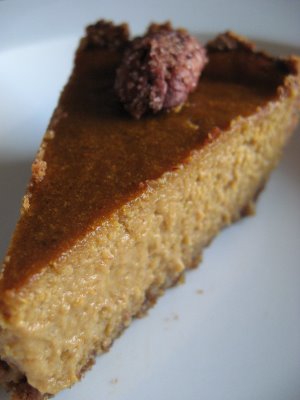 The foods we all love to eat on Thanksgiving are actually quite healthy. Don't feel bad about your holiday indulgences! Turkey day beats a pizza night and day of the week…
Pumpkin – Pumpkin is rich in Vitamin A and also provides fiber. Pumpkin seeds are high in polyunsaturated and monounsaturated fatty acids (the good fats). Pumpkin itself is quite low in calories and is a healthy holiday food. Pumpkin pie, however, becomes a high-calorie food because it's made with eggs, sugar, evaporated milk and baked in a high-fat pie crust. To make a lower-fat pumpkin pie, you may consider soy milk, canola oil or egg whites.
Cranberries – Cranberries are packed with Vitamin C and also provide a fair amount of dietary fiber and manganese. Cranberries also contain proanthocyanidins, a type of antioxidant that can prevent the adhesion of bacteria to the urinary tract sometimes causing urinary tract infections.
Sweet Potato – Sweet Potato is a rich source of antioxidants such as Vitamin C and beta-carotene. Similar to the banana, it is also an excellent source of potassium. Mashed or sliced–just don't load them with butter or too many marshmallows….. they are called sweet potatoes because they are naturally sweet!
Turkey – In addition to being an excellent source of protein, turkey offers the least amount of fat per serving, among all other meats, if you pass on the skin.
Tofurkey– Low in fat, high in protein. Plus….the turkeys are BIG fans….
Stuffing– OK, so its not really the healthiest of side dishes…but just a little bit goes a long way…and if you count the healthy spices and moist veggies….stuffing really can be a worth-it treat to your plate. Try it with corn bread or whole wheat bread. And try a vegan version using canola oil and veggie broth instead of butter and chicken stock.
Green Beans – Green beans are very healthy! They are an excellent source of vitamin C, vitamin K (important in bone health) and manganese. They also contain a good amount of vitamin A, dietary fiber, potassium, folate, and iron. Toss them in olive oil and garlic for delicious flavor. Add sliced almonds for taste and texture.
So just go easy on the gravy ad load up on the good stuff leftovers….and remember with all that healthy fiber, its no wonder you feel so STUFFED!!!
Happy Holiday.