Hearty entree salad for you today! This Potato + Tempeh Bacon + Mushroom Salad with Sweet Mustard Dressing has all my faves. I used butter lettuce, though and leafy greens will work. And an avocado fan on top is always a welcome addition to any salad. Grab this recipe…
Tossed.

Potatoes + Mushrooms from the skillet. I kept these pretty simple with salt + pepper to season. EVOO and some diced shallot too.

My usual tempeh bacon was made using mini tempeh cubes and my usual tamari + maple marinade with a heavy handed dose of smoky paprika for smoke and color.

This Salad has Sass.
Sticky-sweet, smoky tempeh bacon bits mingle with skillet potatoes and savory mushrooms. A tangy-sweet (3-ingredient!) no-honey mustard dressing coats everything. A buttery avocado adds even more depth and flavor. Black pepper accents and a nice warm meets cool salad mood. This is the perfect big salad entree or entree salad dinner meal.
Potato Mushroom Salad with tempeh and avocado? Yes please!
How to make your tempeh bacon extra smoky? Add smoky paprika and even a hint of cayenne, chipotle or liquid smoke. Cumin or simple black pepper can also bring warmth. But the two must-have's for my tempeh bacon: maple syrup and tamari. I add spice to taste. My go-to is usually smoked paprika.
Potatoes in salad.
I love this! I think I got obsessed with doing this when I tried a vegan Salad Nicoise Salad a few months ago. And my potatoes in salad kick began. I like to buy the mini potatoes and quarter them. Purple or blue potatoes are fun too.
Mushrooms.
Mushrooms are always a hearty addition to a salad. They add some texture and loads of savory texture. My favorite mushrooms are shiitakes, but these baby bella shrooms worked great too! Pump up the flavor in your mushrooms by sauteeing them in garlic or shallots or onion. A splash of wine is a fancy way of making them amazing.
Avo on top…
Meal Kits. This recipe was actually inspired by a Sun Basket meal that I made earlier in the week. We have been experimenting with meal kits lately just out of curiosity. They had this great tempeh + potato salad with a spicy mustard dressing. They added some tomatoes and other goodies. It was good! But I definitely wanted to put my own spin on things by adding mushrooms, avocado and using my own dressing and bacon recipe. So I made it a Potato Mushroom Salad with my own fave goodies.
The cool thing about meal kits is that if you LOVE to cook, you can always put your own spin on the given recipes. The meal kit thing won't last in this household, but it's a fun experiment if you love to cook and struggle with time and organization and shopping for your kitchen.
Other ingredients that you could try on this salad:
– olives
– mandarin oranges
– kale
– green beans
– summer corn
– white beans or chickpeas in place of tempeh
– tofu in place of tempeh
– capers
– diced cucumber
– chopped celery
– tomatoes
Hearty salads are perfect for summer meals..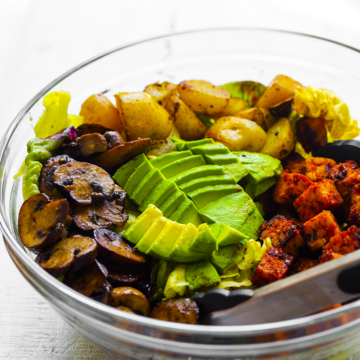 Potato Tempeh Mushroom Avocado Salad
This hearty salad includes mushrooms, potatoes, tempeh bacon bits, avocado and butter lettuce. Everything is tossed in a tangy sweet mustard dressing. Vegan and dinner approved!
Print
Pin
Ingredients
6

cups

butter lettuce

,

chopped (or another leafy green)

½

avocado

,

diced or sliced

1

cup

mushrooms

,

chopped

1

shallot

,

finely chopped

1

cup

tempeh bacon

,

see notes for recipe

¼

cup

no-honey mustard dressing

,

see notes for recipe

1 ½

cups

mini potatoes

,

quartered

salt and pepper to taste

extra virgin olive oil for the pan
Instructions
Whip up your mustard dressing. Set aside.

Bring a large pot of water to a boil. Add the potatoes. Boil until tender, but not mushy. Drain and set aside.

Warm a large skillet over high heat. Add a generous drizzle of EVOO.

Add the shallot to the pan. Cook one minute then add the mushrooms. Cook until soft. Add in the potatoes. Cook potatoes just so the edges brown. Two to five minutes should do it. You can always add more EVOO if desired. Season with salt and pepper.

When your mushrooms are tender and lightly browned on the edges – and potatoes browned and lightly crispy, remove them from the pan. Set aside.

Add more oil to the pan to make your tempeh bacon.

Lightly toss the butter lettuce with the mustard dressing. Add the potatoes, mushrooms, bacon and avocado over top. Serve as is or toss to serve. Add more dressing as desired.
nutrition estimate | per serving
Calories:
314
kcal
|
Carbohydrates:
33
g
|
Protein:
16
g
|
Fat:
15
g
|
Saturated Fat:
3
g
|
Sodium:
216
mg
|
Potassium:
1217
mg
|
Fiber:
6
g
|
Sugar:
5
g
|
Vitamin A:
3361
IU
|
Vitamin C:
29
mg
|
Calcium:
113
mg
|
Iron:
4
mg
Pin it for Later…