These Vegan Pumpkin Pie Parfaits are rich and creamy, fluffy and full-spiced with festive fall flavor. Perfect for the Thanksgiving, PSL season. sooooooooo good.
These parfaits remind me of being a kid. Maybe it's the layers of gold, coconut whip and crumbly grahams. Or the spoon diving fun. Maybe it is the pumpkin pie flavor and texture. Whatever it is, I hope you feel it too and enjoy this recipe..
Pumpkin pie bliss. No holiday required.
These Pumpkin Pie Parfaits is the perfect recipe if you have some canned pumpkin in your pantry, but don't feel like making a baked pie. This recipe is fast, easy and the results are delicious. And yeah, pumpkin is good for ya!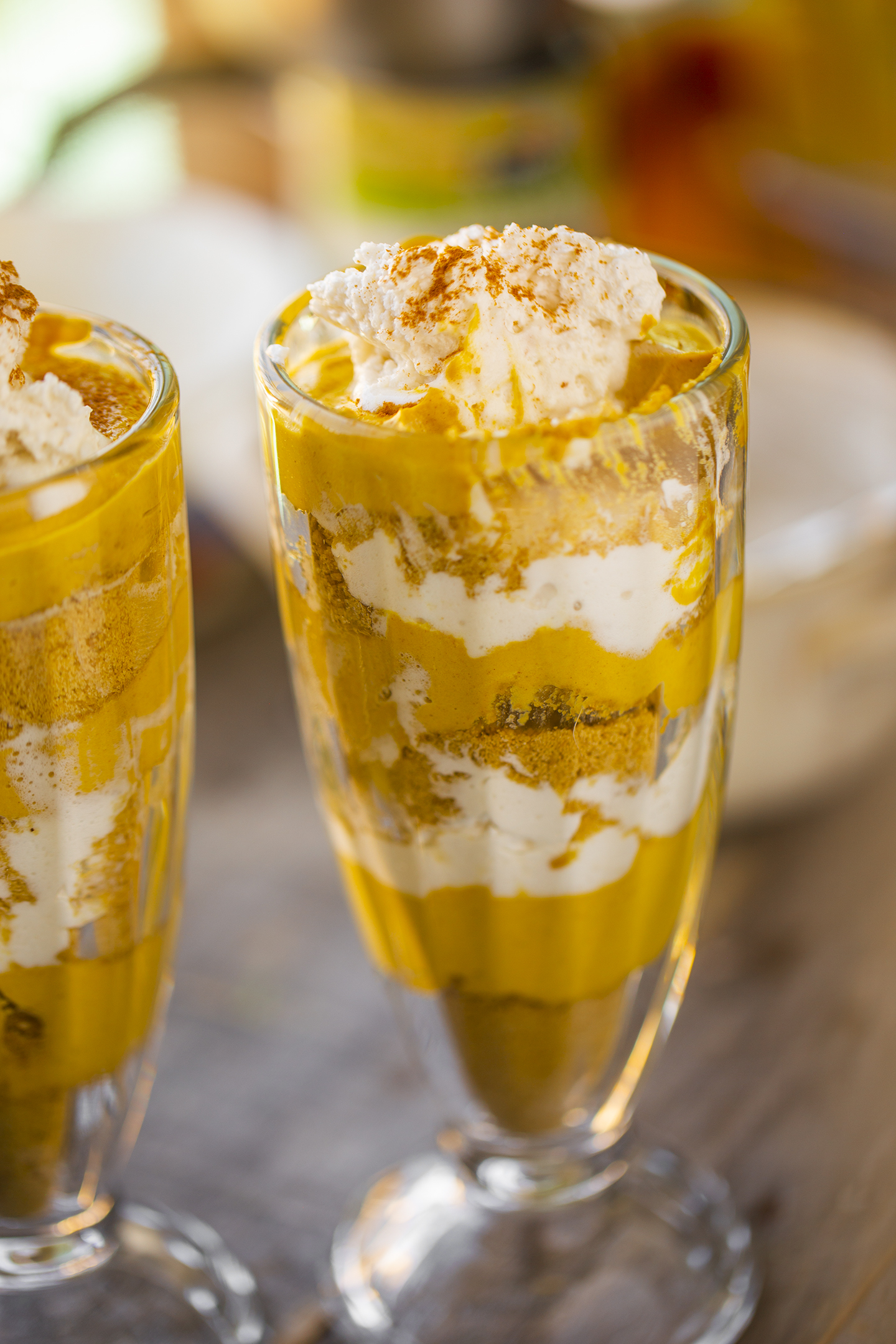 Pumpkin Spice Kitty Cat.
As I was making the video for this recipe I spilled a brand new bottle of pumpkin pie spice on the floor. About half the bottle came tumbling out, leaving an aroma of fall magic in the air. Carelessly, I decided to clean it up "in a few minutes."
Flash-forward to an hour later when the kitties finally woke up from their afternoon nap and when I was cleaning the dishes up in the kitchen, I look over and there is sweet little MrWhite kitty cat, bottom first, obliviously sitting smack dab in the middle of the pumpkin pie spice bottle, looking out the window at the world below. "Birds. Hm."
"Mr White!" I shouted and ran towards him as he looked at me like I was nuts. Which is a look he gives me about a hundred times a day, btw. He sat up and hid under the table, wondering why I was flapping my arms his way. I scooped him up and found that his entire bum was COVERED in pumpkin pie spice, all golden and shiny against him black fur.
Luckily my husband had just gotten home from work and together we cleaned him up, no trace of spice left. MrWhite was very confused. Thus is the life of a kitty cat living with those crazy humans.
Pumpkin Pudding Parfait Steps:
Blend the grahams or ginger cookies.
Gather your pudding ingredients. Including those pre-soaked cashews.
Blend the pudding.
Assemble the parfaits.
I used DIY coconut whip on top and in the layers. So fluffy and delicious.
Spoon-dive into the pudding!
So go on, hop in your kitchen and try these Pumpkin Pie Parfaits…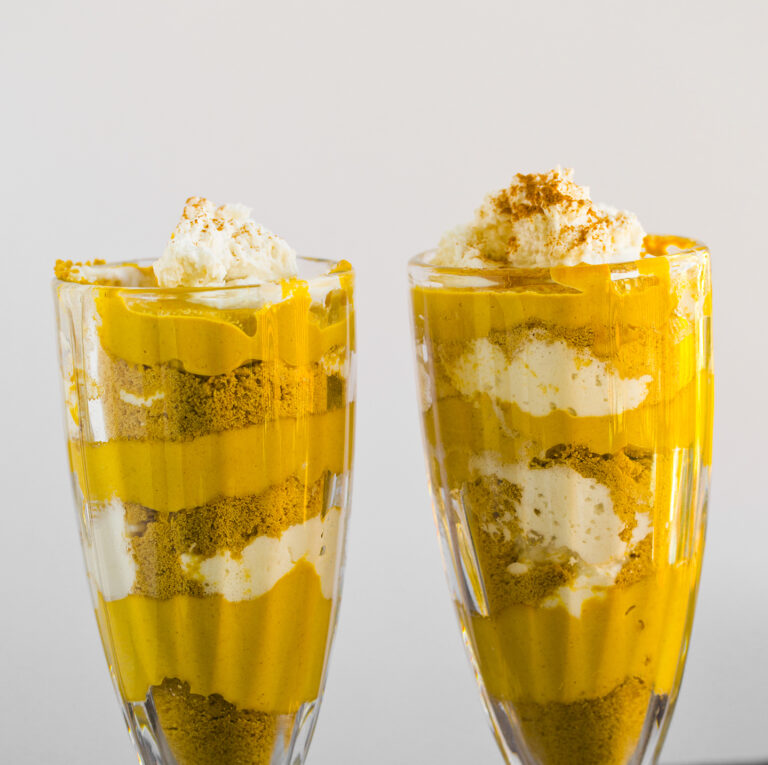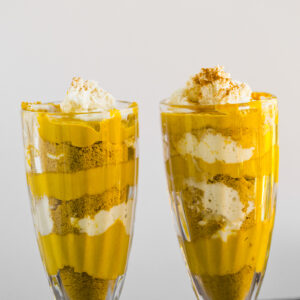 Pumpkin Pie Parfait
Pumpkin pie parfaits are a healthy, dairy-free, sweet treat for fall. Spiced pumpkin pie pudding, coconut whip and finely processed grahams all nestled in a tall parfait glass in pretty layers, flavors of cinnamon and vanilla.
Print
Pin
Ingredients
Pudding
1

cup

pumpkin puree

,

unsweetened

1

cup

cashews

,

raw, soaked overnight and drained

1

teaspoon

vanilla extract

1

teaspoon

pumpkin pie spice

½

cup

maple syrup

sea salt to taste

,

optional – a few pinches should do it

soy milk

,

as needed to blend
Other
1

cup

graham crackers or gingersnap cookies

,

finely processed

vegan whipped cream

,

DIY (link in notes) or store bought
Instructions
Start off by soaking your cashews overnight in water. You will want to soak a little under 1 cup cashews since cashews tend to swell as they soak.

Process the graham crackers or cookies into a fine powder. I used a vegan and gluten free graham cracker.

Make your pudding: Add the pumpkin, cashews, vanilla extract, pumpkin pie spice, maple syrup (or another sweetener like Medjool dates or coconut sugar) and optional salt.

Blend your pudding mixture for a few seconds in a high speed blender, then start adding in some non-dairy milk as needed to blend. I added about ¾ cup almond milk. You want a creamy consistency that is as thick as possible, with still blending smoothly.

Pour the pudding into a side bowl.

Start assembling the parfaits by layering the crumble with the pudding and coconut whip. Top with whip and a sprinkle of pumpkin pie spice or cinnamon.

Parfaits are best when chilled, though you could also eat them right away. I like to chill my parfaits for at least four hours or overnight before serving. Perfect make ahead dessert!
nutrition estimate | per serving
Calories:
320
kcal
|
Carbohydrates:
49
g
|
Protein:
6
g
|
Fat:
12
g
|
Saturated Fat:
2
g
|
Sodium:
119
mg
|
Potassium:
344
mg
|
Fiber:
2
g
|
Sugar:
27
g
|
Vitamin A:
7626
IU
|
Vitamin C:
2
mg
|
Calcium:
60
mg
|
Iron:
2
mg