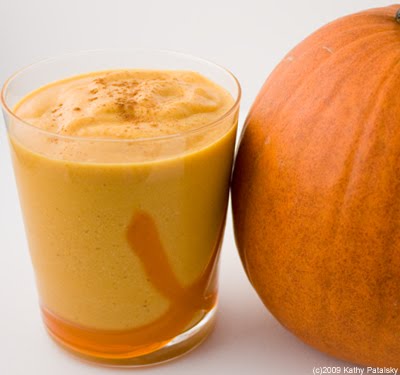 If you love pumpkin pie, keep reading. If you don't like pumpkin pie, keep reading. Oh go on, be adventurous, you only live once. And you really can't go wrong with my vegan Pumpkin Pie Shake. It's bursting with vitamin-A and fiber rich pumpkin-y goodness. And who doesn't love anything-pumpkin-flavored in this festive fall season? It's cool, creamy and really tastes like a bite of pie! You can even swirl a mound of rice whipped cream on top, for a more decadent treat. Go on, get adventurous with your smoothie today, try it, taste it, have fun and love it. Fun, festive, fall. Get my recipe…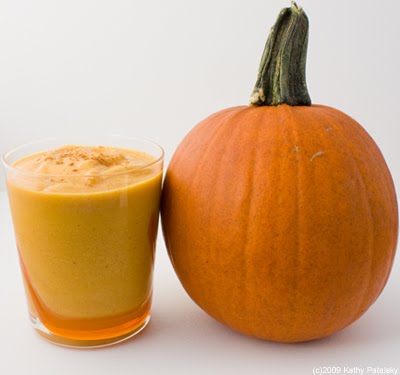 Pumpkin Pie Shake
vegan, serves 2-3
15 ounces organic canned pumpkin – 1 can (not pie mix)
*Farmer's Market brand of organic pumpkin really is my fave.
¼ cup raw cashews
¼ cup non-dairy milk, vanilla (soy or hemp preferred)
2 tablespoon maple syrup
¼ cup vegan chai tea concentrate
2 tablespoon soy milk creamer
2 dashes cinnamon
1 dash cayenne
2 dashes nutmeg
pinch of salt
1 ½ cups ice (coconut water ice cubes approved for this pie shake)
optional: ½ frozen banana, pinch of flax seed oil/meal for added nutrition
Directions:
1. Add all your ingredients, except the ice, to the blender.
2. Blend on high until smooth. Yes the pumpkin will make this smoothie thick, so be patient while blending. If you need to add more 'milk' go ahead.
3. Keep blending and slowly add in the ice. Make sure it blends icy-smooth! Again, if you need to add a bit more liquid, do it gradually. You can always do a taste test before pouring and modify as needed to suit your own tastes. I added in a few extra cashews because I liked the body and flavor that they added.
4. Pour, sprinkle with cinnamon on top. Whipped rice cream-optional, but yummy.
Serve! Delicious any time of day. Dessert-friendly.
And yes, it will taste like pumpkin pie! Bold beautiful pumpkin flavor.
Notes and Alterations:

Table for One? Just making this smoothie for yourself? You can easily halve the ingredients for a nice sized smoothie for 1.
Creamier? If you want to turn up the 'creaminess' a notch, add in a bit more soy cream, non-dairy milk and even a spray of whipped cream blended right into the blender.
Dessert Please! You can easily make this into a delicious pumpkin-ice-cream style shake by removing 1 cup of ice from the recipe and replacing it with a big scoop of vegan soy/hemp/coconut/rice cream. Vanilla flavor of course.
Perfectly Pumpkin: Feeling super adventurous and cringe at 'canned veggies'. Well OK, grab a 'pie pumpkin' roast it, puree it and chill the pumpkin puree in the fridge. Use it in place of canned! I haven't tried this, but I'm sure it's super-yum.