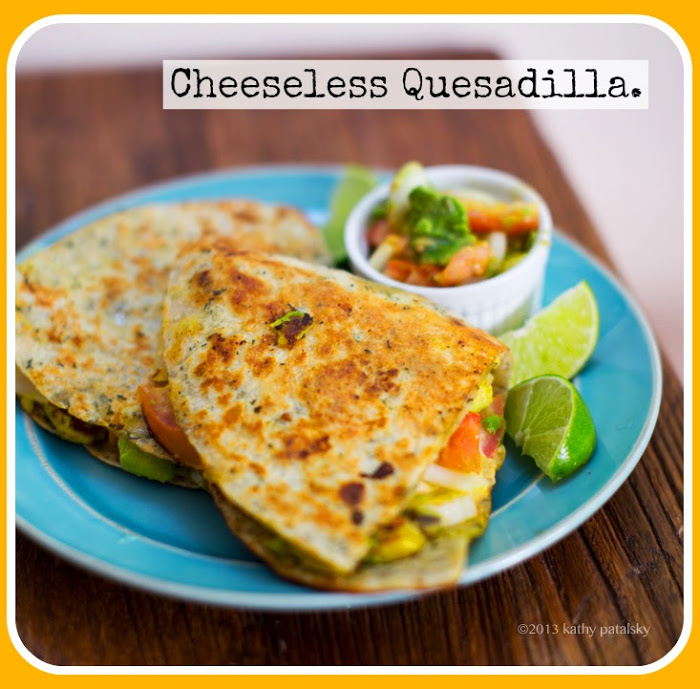 Quesadillas without the cheese? Crazy talk you say. Well one bite of these toasty warm, overflowing triangles and you will not be missing the cheese at all! On the menu: Vegan Cheeseless Quesadillas. Filled with sweet chopped onions, silky avocado, bold spices, juicy red tomato (and more..) Veggies, protein, deliciousness, these triangle bites are perfect at any hour of the day or night…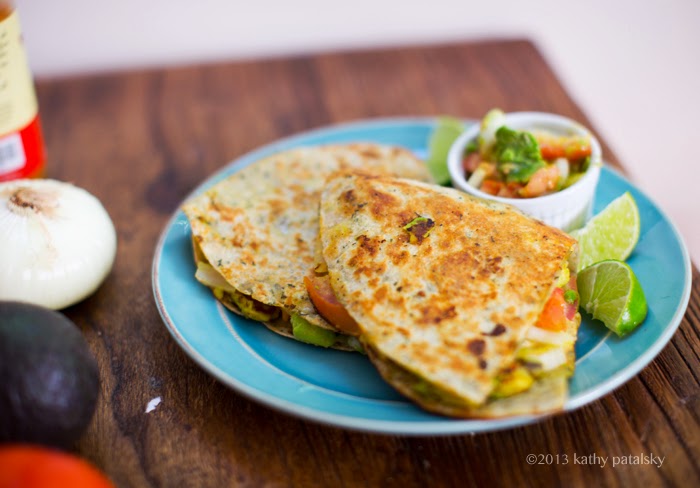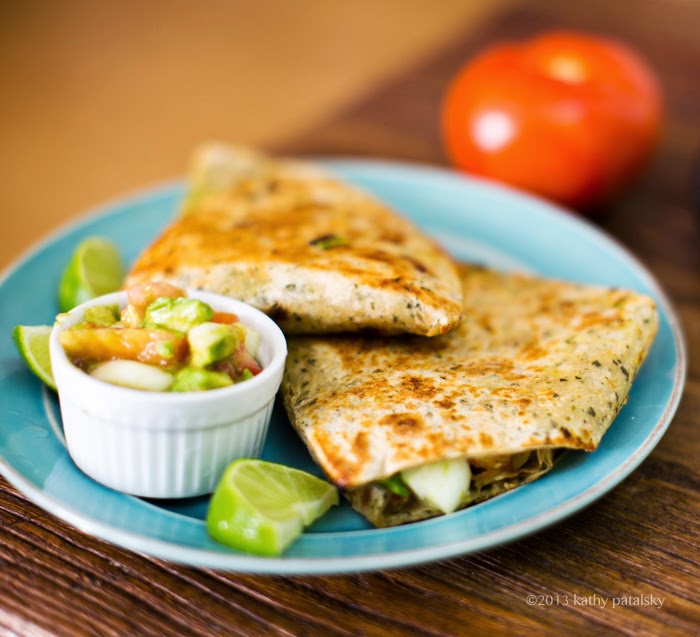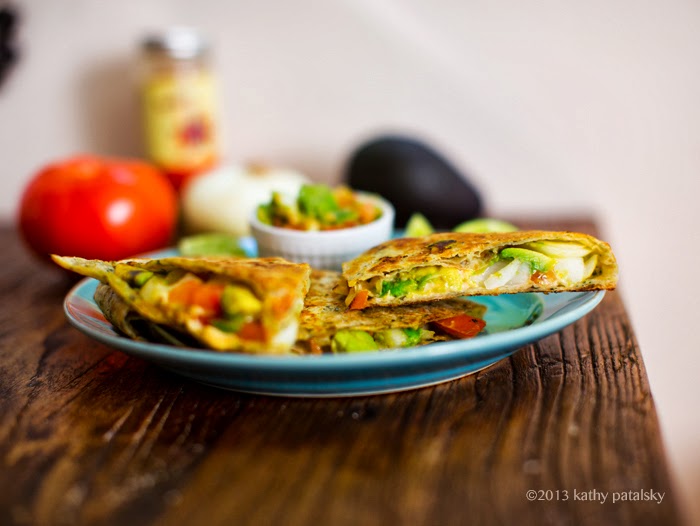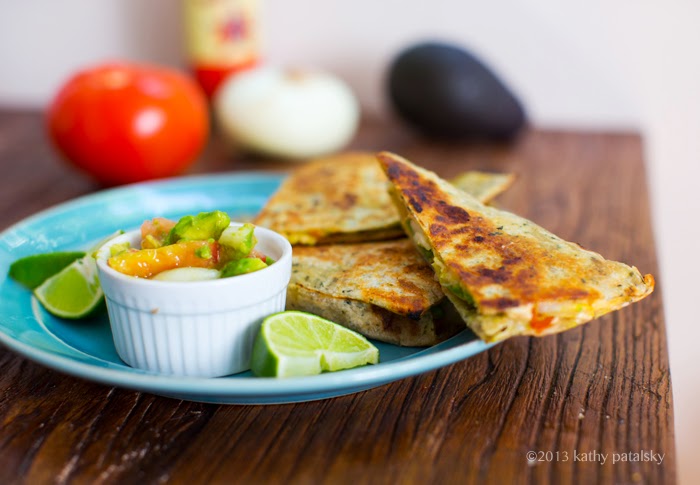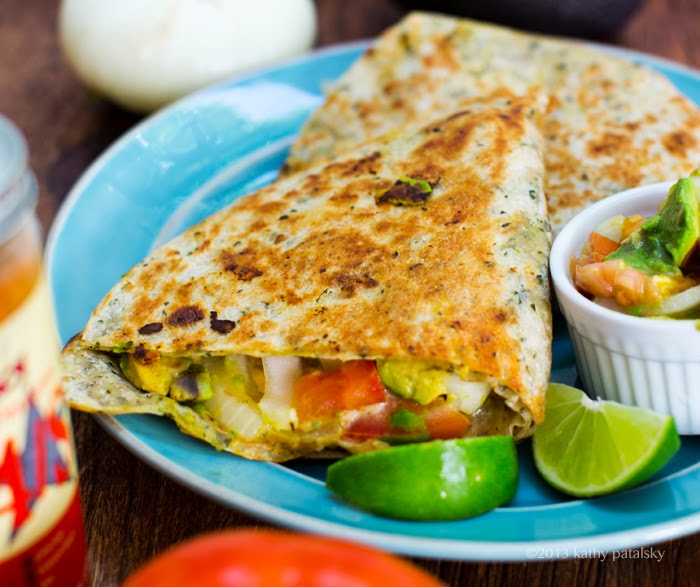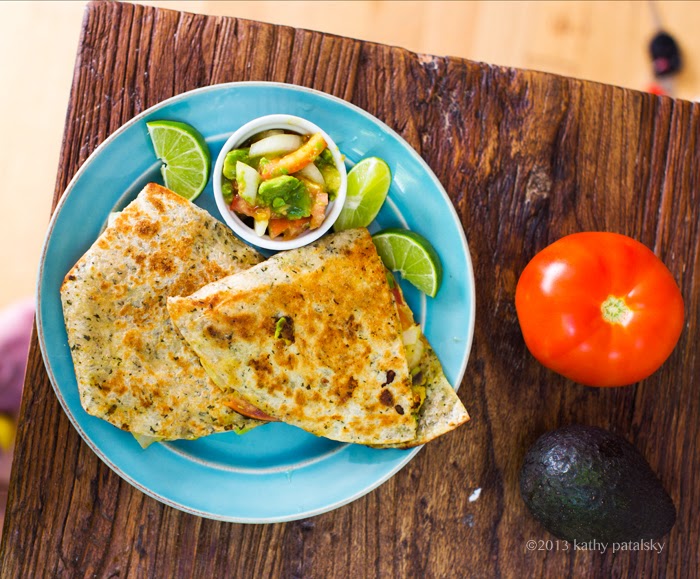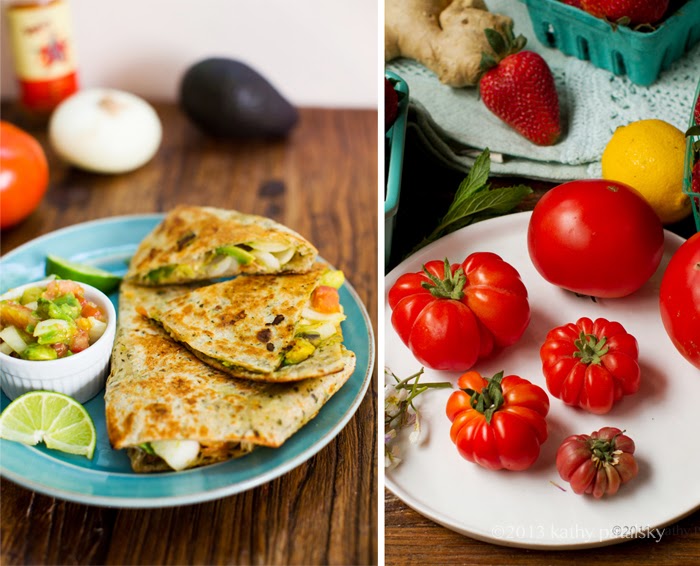 My Afternoon Bite. Late afternoon snacks to share are some of my favorite dishes. Avocado toast, quick blended soup for one, a creamy smoothie, veggie sticks and dip, open faced sandwiches, toast with sunny fruit like berries, a vegan "tuna" sandwich, pb&j, spicy saute 'wich or maybe some mini English muffin pizzas. Light enough to devour, yet filling enough to keep you doing what you love on a lazy or busy weekend afternoon.
My Saturday afternoon consisted of some serious marathon sunbeam napping with sunbeam napping champion, Nelly the cat by my side. (photo below) This was my first weekend back at home in a few weeks thanks to tons of traveling. NYC. Maui and more. So napping it was. These easy, flavor-filled, vegan quesadillas were my post-nap snack to share.
Oh the contrast. Yesterday I was swinging through the air over Santa Monica Pier. Today I passed out on the couch with a kitty and a sunbeam by my side…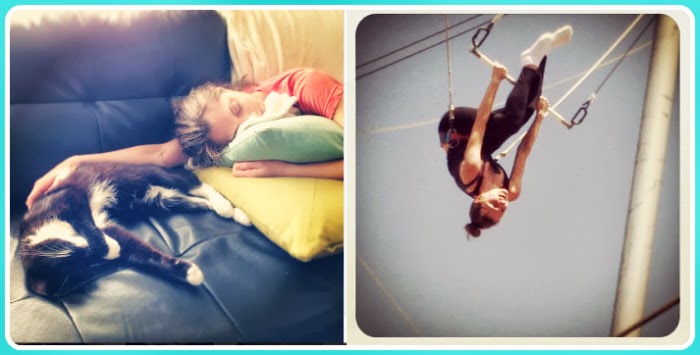 This simple recipe is one to keep in your back pocket when you crave savory, skillet warm quesadillas .. but without all the cheese. (OK, ok if you want to add a sprinkling of vegan cheddar or pepperjack, go for it!) Daiya melts dreamily.
For the wraps.. You can use extra large spinach wraps (like I did) or corn wraps, gluten-free wraps or any variety of flour tortilla. Sprouted grain tortillas are great too.
Another avocado-infused "dilla" I love.. The Avo-dilla

Oh and don't forget to enter my #smoothietude contest + giveaway, $2k in prizes sponsored by Dole. Three ways to enter. And psst, the "pin-it-to-win-it" way needs more entries, just pin the image of my book 365 Vegan Smoothies as shown in the post. A Vitamix is up for grabs! (Plus more Vitamixes and smoothie goodies for the "contest" and giveaway.)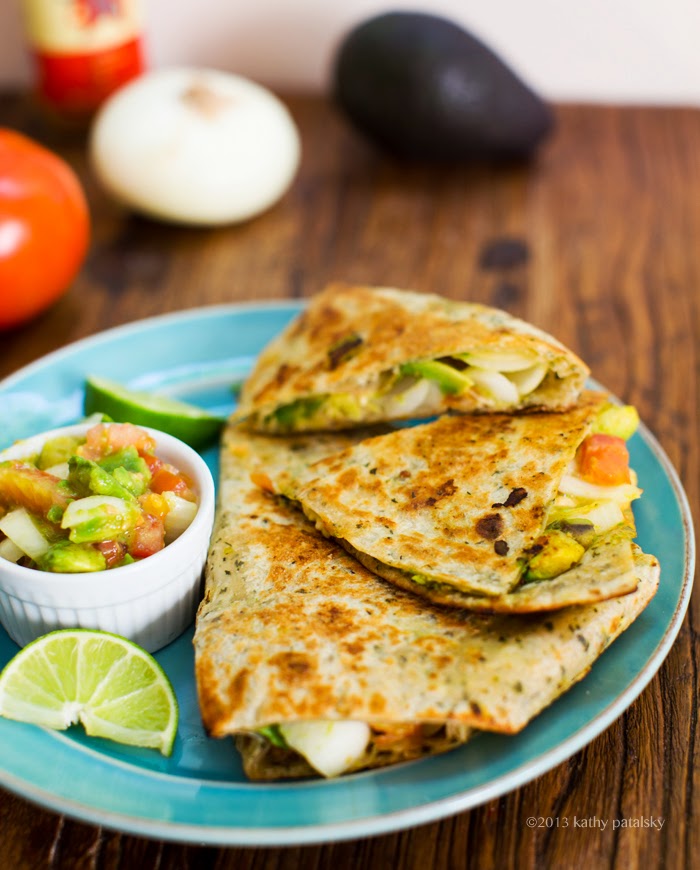 Cheeseless Quesadillas
vegan, serves 1-2
1 XL vegan tortilla or wrap
*I used IndianLife Spinach Wraps (I love love love them)
1 large tomato, diced
1 small sweet onion, diced
1 avocado, cubed or sliced
1-2 limes (1 squeeze for veggies, the rest sliced for serving)
salt + spices to taste
*I used generous sprinkles of Penzey's Spices 4S (a salted blend of chili and peppered spices)
⅓ cup garlic hummus OR vegan refried or mashed black beans
for pan: ½-1 teaspoon oil (try safflower, extra virgin olive oil) + cooking oil spray (optional)
Hummus: Make your own hummus using this recipe!
optional: hot sauce to serve
Directions:
1. Chop your onion, tomato and avocado. Add to a large bowl along with the spices – be sure to salt a bit and add some spicy or pepper spices. Add a squeeze of lime juice and toss well.
2. Heat the oil in a large skillet over high heat.
3. If using an XL wrap, you can slice in half before adding goodies. Smaller wraps or tortillas can be folded over as they come.
4. Place the tortillas in the oiled pan to warm them and toast the edges a bit. You can even flip once to warm the inside surface if using thick tortillas.
5. Remove the warmed tortillas from pan and slather the hummus or beans over the inside. Then add a generous amount of the avocado mixture. Close the tortilla and carefully place in hot pan. I like to spray a bit of cooking spray on the outer side so that both sides heat up nice and crispy on the edges. Cook 1-2 minutes on each side. Flip carefully. Scoot the veggies back inside the tortilla if any fall out.
6. Serve warm with fresh lime wedges and some additional avocado mix on the side.
Snack for two!..