Kids love to create. Kids love to eat. So I combined those two loves into one fun, creative, healthy kids in the kitchen activity: Yummy Rainbow Wraps!
Colors, Fruit and Creativity. I came up this recipe when I was playing with my three year-old nephew. He loves to sort through his big bin of colorful beads. He'll string the beads onto pipe cleaners and thoughtfully discuss the different colors, shapes and sizes of the beads. Imagination: stimulated! "I'm only using round browns!" He'll shout as he squints carefully to find only the round brown beads. Hmm, how could I transfer this creative passion towards healthy fruits and veggies, I pondered…
Rainbow Wraps: Yummy Art. I created this craft that satisfies creativity, only this time the crafting supplies are healthy, colorful fruits and veggies. And what's better than the classic image of a rainbow to teach kids about healthy foods and colors. Plus, it's art kids eat! No clean-up except the dishes. This is part one of a two part post. First up: Fruit! Next up: Veggies. Check out the how-to recipe…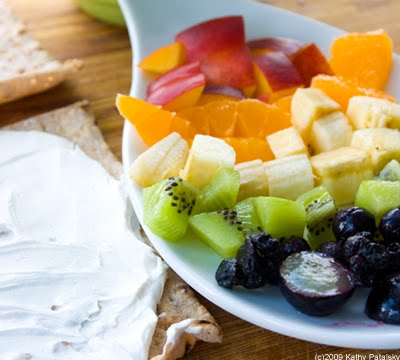 Fruit Rainbows. If you want you do a fruit-flavored rainbow you have a plethora of fruit options. Here are a few ideas.
Red: apple, cherry, berries, red pear, papaya, pomegranate seeds, peach (skin-out), nectarine
Orange: citrus, mango, peach, apricot
Yellow: banana, pineapple, apple,
Green: kiwi, apple, green grapes
Blue: blueberries, blackberry
Purple: purple grapes, plum, fig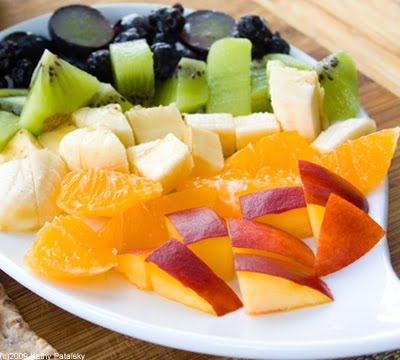 Here is the end result. Now Check out the recipe and how-to photos below…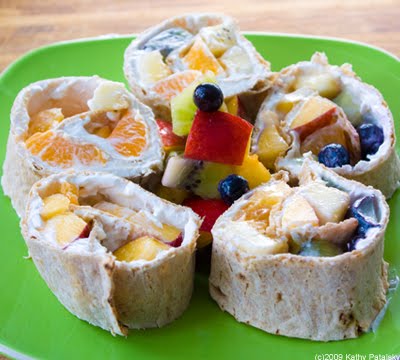 Fruit Rainbow Wraps
makes 2 mini wraps, vegan
1 whole wheat wrap (lavash wrap)
3 tablespoon vegan cream cheese
2 cups chopped fruit, rainbow colors
1 tablespoon lemon juice
½ teaspoon salt (optional)
1 tablespoon maple syrup (optional)
Directions:
1) Slice your wrap into two rectangle pieces.
2) Spread 1 ½ tablespoon of vegan cream cheese on each wrap.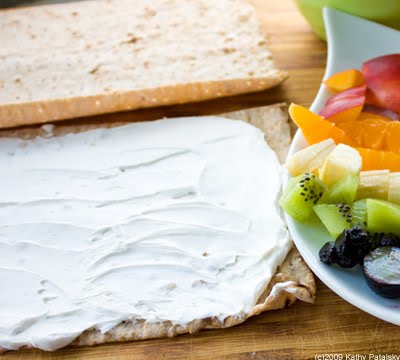 3) Sprinkle a bit of salt and/or pepper on the cheese (optional). Drizzle a bit of maple syrup over your cheese or fruit/veggies (also optional) Set aside.
4) Chop all your fruit into small flat cubes, about the size of a large raisin. Place all the fruit in a large bowl or arrange by color on a plate.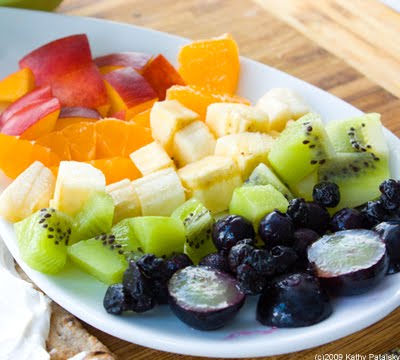 5) Toss or spritz fruit with lemon juice to preserve colors and prevent oxidation.
6) Set up the workspace and instruct the kids on what to do-build a rainbow out of the fruit.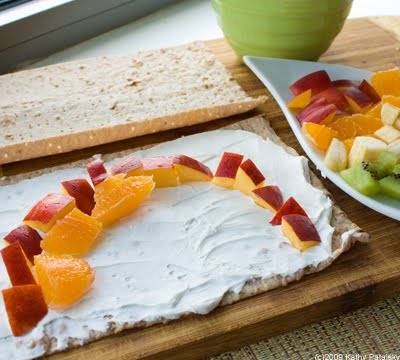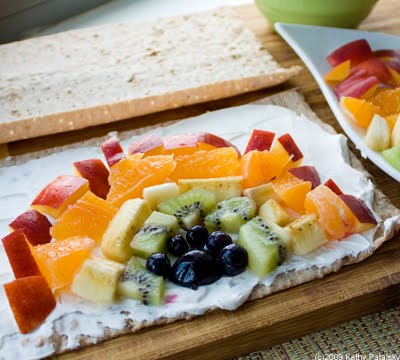 7) Before rolling the wrap, you can spread the fruit around a bit if needed. Then Roll it up!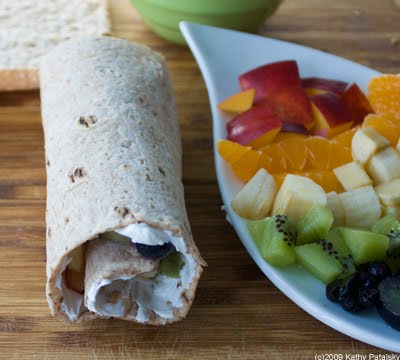 8) Eating time! Slice the wrap into 5 small spirals. Time to munch your rainbow rolls.
9) Garnish with leftover fruit.