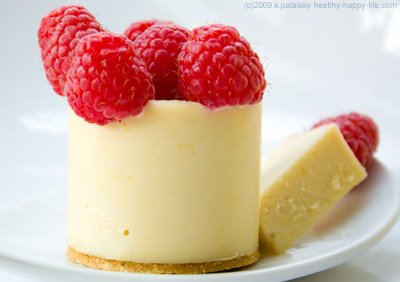 I've dined at Pure Food and Wine, PFW in the Gramercy Park neighborhood or NYC two times now. They do a great job of crushing the stereotypes of raw vegan food and raw vegan restaurants. At PFW, the dining experience is modern, trendy and elegant. And the food is flavorful, dense and gourmet.
Owner Sarma Melngailis has created quite an impressive raw food empire here in New York City. She really advanced the raw food movement into mainstream focus. She even nailed a radio interview with Howard Stern where he raved about the food.



The food at PFW: No bland tofu-sprout wraps here. Pure's menu has items like Zucchini and Roma Tomato Lasagna, Rosemary-infused Butternut Squash Soup and White Corn Tamales with Raw Cacao Mole. Desserts include a Chocolate Molten Lava Cake and Raspberry Lemon Cheesecake. All of which are raw and vegan.
So today I stumbled into Pure Food and Wine's takeaway alcove (One Lucky Duck) and ordered a delicious Bunny Brew fresh-pressed juice with extra ginger, and a Raspberry Lemon Cheesecake. The elegant raw vegan dessert was perfect blogging fare. But would it be raw-licious???

Click ahead for my review of the Raspberry Lemon Cheesecake dessert….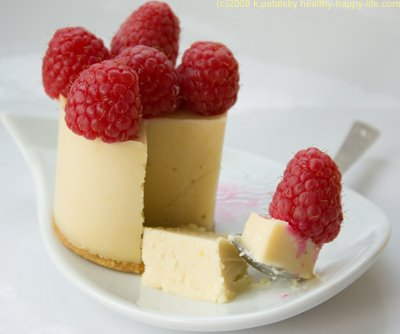 Review: Pure Food and Wine's Takeaway Dessert: Raspberry Lemon Cheesecake
Shelf Appeal: Looks so pretty. All their desserts in the window look like they come from Bouchon Bakery or another French non-vegan hot spot. But wow, all raw and vegan. Thus, you are curious to taste-test. The tiramisu and moon pie treats looked equally as appealing. Tough decision.

Label Check: Well it's raw. It's vegan. They only use organic all-natural ingredients. So for a special dessert treat – I say no label check needed.

Taste Test: OMG. Yum. I used to be a huge cheesecake lover in my pre-vegan days, and this one sparks those happy-cheesy-cake memories. (Without the dairy and saturated fat!) This "cheese"cake is dense, creamy and crumbly. The lemon flavor is so refreshing and light. Again, Yum.

Price: OK, here's the kicker. Dessert prices in the PFW restaurant range from $13-$15. At the takeaway you are getting the same high quality treat, and thus it is around the same price. Yes it's a special treat price, but once in a while it so worth it. You do get what you pay for. Plus you can taste-test restaurant-quality desserts without the entire sit-down meal!
Last Word: This dessert brings new meaning to the slogan raw and vegan. Bring your biggest carnivore critics here and remind them, "See it's delicious and super healthy!" Snobby bakery taste and quality without the attitude, or after-eaten guilt.
www.oneluckyduck.com