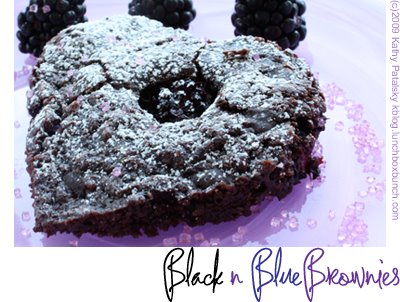 Valentine's Day can be a big drag if your love life is taking a breather. So for everyone who doesn't have a signifi other to swoon over you on Valentine's Day – this one's for you!
It's a delicious, yet not too rich version of the classic decadent heart brownie. This little heart is are all bruised up with blackberries and blueberries.
Click forward for the recipe. Maybe pass it on to a bruise-hearted friend…

Black 'n Blue Heart Brownies
vegan
1 box brownie mix (or a classic 'from scratch' brownie recipe you may like.)
⅓ canola oil
¼ cup blueberry yogurt
1 cup fresh blackberries
1 cup fresh blueberries
¼ cup applesauce
¼ cup water
2 shots of brandy (optional)
¼ cup agave syrup
optional-chocolate chips, handful
Powdered sugar and raw sugar for topping
Prepare:
In a small bowl mash half of the portions of fresh berries, add brandy and agave syrup. Set aside.
Mix brownie mix with canola oil, blueberry yogurt, applesauce (or eggs), water.
Stir by hand well.
Fold in berry mixture.
Fold in chocolate chips.
Fold in a few fresh berries, but leave a few for a top layer.
Pour mix into greased brownie tin.
Add a layer of fresh berries-push deep into the batter.
Sprinkle a thin layer of raw or white sugar on top before baking.
Bake at 350 for 30 minutes.
Allow to cool for at least an hour.
Sprinkle with powdered sugar.
Use heart-shaped cookie cutter to cut brownies.
**Blueberries and blackberries are high in anti-aging free radical-fighting antioxidants. If you are using a high quality dark cocoa, you are getting triple the antioxidant protection! Berries and chocolate — super foods!