I love blueberry muffins in the morning. Le Pain's vegan blueberry muffin is my fave. But some mornings I crave a nice chunk of crusty bread to go with my Soy Chai Latte. Something with whole grains, nuts, fruit and a hint of savory-sweetness. And how about a bread with my beloved blueberries in it! Thus the creation of my morning Bluebird Bread.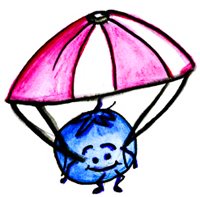 Bluebird Bread is a whole wheat crusty loaf made with yeast and whole wheat flour. I added in a few blueberries, slivered almonds, maple syrup and of course some bright blue poppy seeds. The result is a hearty blue loaf that makes for a satisfying and healthy snack or dinner bread. Perfect with a steamy sweet morning chai.
Click ahead for the recipe…
Bluebird Bread
with blueberries, poppy seeds and slivered almonds
makes one round loaf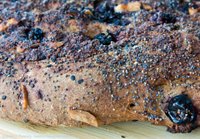 3 cups whole wheat flour
1 packet active dry yeast
1 cup warm water
1 pint of fresh blueberries
1 teaspoon salt
poppy seeds
black sesame seeds
2 tablespoon olive oil
1 lemon, juiced
2 tablespoon Maple Syrup
¼ cup slivered almonds
Oil for brushing
coarse sea salt to taste
garnish: whole blueberries, sesame and poppy seeds
In a food processor or blender:
Combine ¼ cup blueberries, a few almonds, olive oil, 1 tablespoon lemon juice, maple syrup and salt.
Puree until smooth.
In a large bowl:
Combine warm water and yeast.
Stir in ¾ of puree mixture.
Stir in flour.
Work into a dough.
Add more flour if dough is too sticky.
Turn the dough on a floured surface.
Knead the dough for a few minutes, in a folding motion until dough is smooth and 'happy'.
Grease the large bowl with olive oil and plop dough into it. Roll around a few times to coat dough in a gloss of oil.
Cover bowl with a warm damp cloth or clean dish towel. Paper towels may sink into dough, so are not recommended.
Place bowl in a warm spot. Perhaps the top of your fridge or high cabinet.
let dough rise for 30-60 minutes. (Quick-rise yeast allows for only a 30 minutes rise time. Regular yeast is about an hour.)
After the rise:
Punch out the dough!
One big punch to the dough will do.
Place it on your floured surface and knead gently a few more times.
Fold in a few slivered almonds, whole blueberries, poppy and sesame seeds.
With a rolling pin, roll out dough to about 1-2 inch thick round. You may modify this based on how thick you can your bread.
Place dough on a baking sheet. Lightly oil it or use parchment paper.
Second Rise:
Cover with the towel and let rise again for 20 minutes, in a warm spot.
Brush top of dough with a mixture of your remaining puree. Add whole blueberries to top of dough-press into dough gently. Sprinkle some poppy and sesame seeds on top.
Bake:
Place your dough in a 350 degree pre-heated oven. Let bake for about 30-35 minutes, or until a light brown crust forms. Check bread for firmness with a toothpick. Let the bread cool for a few minutes before slicing.
Slice into squares. Freeze individually if you will be eating one in the morning with your tea or coffee.
Or serve to guests warm.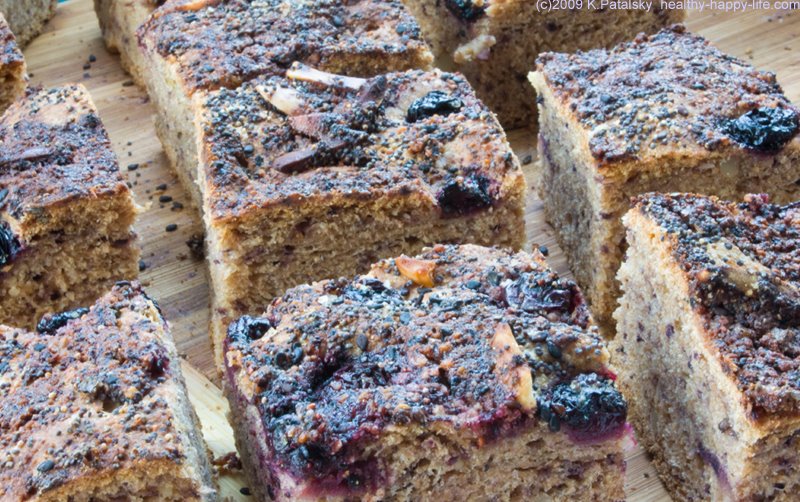 OPTIONAL MAPLE-BUTTER SPREAD:
2 tablespoon vegan buttery spread
1 tablespoon Maple Syrup
1 teaspoon lemon juice
1 sprinkle cinnamon
Heat in microwave until soft, but not melted. Mix together.
Serve