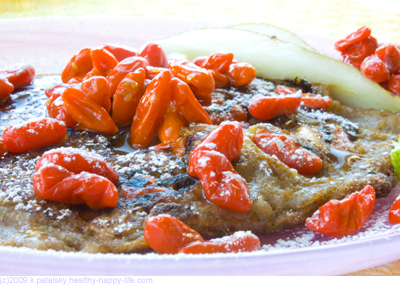 I get super excited when I find a new way to eat the super food goji berries. I stick them in smoothies, hot oatmeal, choco-goji cookies, and even my hot tea latte. But I needed a recipe that screamed: Weekend Brunch. A recipe special enough to pull out when Sunday brunch rolls around at the end of a long week. This recipe is something to anticipate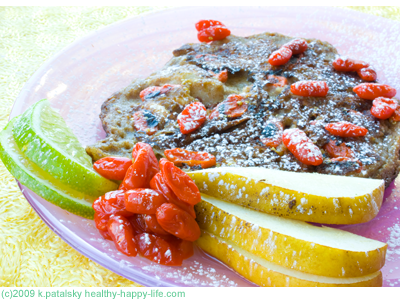 …and that's where Goji-Lime Pear Pancakes with Goji-Lime Maple Syrup come in. Juicy tart goji berries, fresh succulent pears, a hint of tangy lime and even a few mashed almonds folded in the batter. This recipe gives you all the comfort-food-ness of pancakes with a huge helping of nutrients. And yes, it's vegan.

Sunday Pancake Brunch Awaits.
Click ahead for the recipe and more goji-goodness photos…
Before I get to the recipe, please be sure to check out this goji berry super foods post all about how healthy goji berries are.

Sunday Pancake Brunch Awaits. Print this recipe and stick it in your bag-right by your cell phone where you won't forget about it. And somewhere along your busy week buy the ingredients and get stoked to anticipate an ooey gooey healthy pancake brunch Sunday. And I recommend some Kumquat Sunrise Juice to go with this delicious dish.
OK, now…
The Recipe…..
Goji-Lime Pear Pancakes
with Goji-Lime Maple Syrup
Pancakes:
¾ cup frozen whole Goji Berries (dried berries can be used, but frozen are best.)
1 Bosc pear
1 lime
2 tsp. cinnamon
¼ cup Dark Maple Syrup
¼ cup apple sauce or egg replacer
1 cup buckwheat pancake mix
½ cup whole wheat flour
¾ cup soy milk
1 dash salt
2 Tbsp. canola oil
¼ cup almonds or cashews
zip lock bag
Oil Spray for Skillet
Syrup:
Leftover lime juice
Leftover Goji Berries
1 tablespoon Spectrum Spread or vegan "butter"
1 tsp. cinnamon
Leftover Maple Syrup
PREP:
Juice the lime. Keep 2 slices for garnish. Set aside.
Slice pear into very thin, small cubes. Add to small bowl. Add 2 tablespoon of lime to pear mixture. Add dash of salt to pears. Toss well.
Add ½ cup thawed and warmed to room temp Goji Berries.
Toss gently.
Set aside.
NUTS:
Add nuts to zip lock bag. Using a mallet or raw end of a kitchen tool. pound the whole nuts until they become a fine mixture of bits and powder.
Set aside.
Batter:
In a large mixing bowl, add flour, nuts, cinnamon, and egg replacer (if using a powder form). Mix.
Add liquid ingredients, (soy milk, canola oil, 1 tablespoon maple syrup) and stir well until any lumps are gone.
Slowly fold in the Goji/Pear/Lime mixture.
Skillet:
Grease skillet with spray canola oil. Make sure pan in very hot.
Pour batter onto skillet. Wait until the batter starts to bubble through and then, using a spatula, flip the pancakes.
Side note: I like to do a crepe style pancake that is relatively thin. But with a thicker batter and pouring technique both thick and thin pancakes can be done.
Cooking time should be about 1-3 minutes per large pancake-depending on how dark and thick you like your pancakes and how hot your skillet is.
For Heart-shaped pancakes: Grease the inside of a shallow heart-shaped cookie cutter. Place on hot skillet. Pour batter into cutter. Wait for bubbles to form. Flip entire cookie cutter. Allow pancake to cook for another minute. Remove entire cookie cutter and pancake with spatula. With a toothpick or small knife, loosen the edges of the cookie cutter to remove the pancake. The technique is a bit tricky, so it may take you a few tries to get that perfect heart shape.
Goji-Lime Maple Syrup
Add syrup, vegan "butter", leftover lime juice and leftover goji berries to a glass cup or mug. Stir gently. Cover with plastic wrap. Poke a few air vents in top. Heat in microwave for 30 seconds.
To serve: With a fork, strain out the goji berries and place over top pancakes. Serve maple syrup in a small pouring container for your diners. (Pouring too soon could make our pancakes soggy.) About 1 tablespoon of syrup should be plenty for a serving of pancakes. A light dusting of vegan powdered sugar is optional.
These pancakes go perfectly with some fresh squeezed OJ or fresh juiced Kumquat Sunrise Juice.