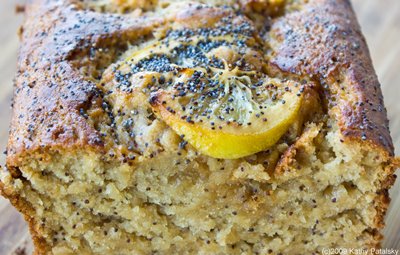 I love chamomile tea at bedtime. I also love lemon-poppyseed bread. So I decided to put these two wonderful treats together and create Lemon-Poppyseed Chamomile Tea Bread. Or Lem-Pop-Cham Bread for short. No matter what it's called, it's delicious. It's a classic recipe gone ZEN.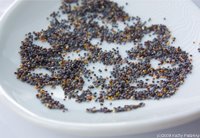 Sunny Flavors. Calming Effects. Zested lemons. Blue organic poppy seeds. Steeped organic chamomile tea. Whole wheat flour and all natural sweeteners make this bread healthy and divine. Did you know a tablespoon of poppy seeds has 13% your RDA of calcium? Yup. Also, you can use more tea for a deeper soothing chamomile effect.
Click ahead for this ZEN twist on a Lemon-Poppyseed classic…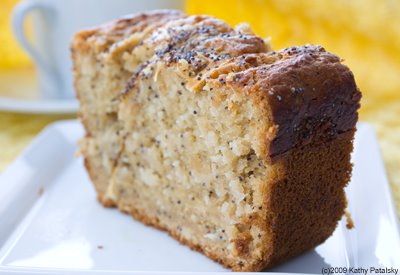 Lemon-Poppyseed Chamomile Tea Bread
vegan, makes 1 loaf
2 cups whole wheat flour
poppy seeds, to taste, at least 2 Tbsp
2 lemons, washed, juiced and zested
1 cup soy milk
3 tablespoon vital wheat gluten
¼ cup chamomile tea, steeped dark and cooled (2 bags)
2 tablespoon canola oil
1 teaspoon salt
1 teaspoon baking powder
sweetener options: ½ cup sugar
-or- ½ cup maple syrup or agave syrup
1 tsp. cinnamon
1 tsp. vanilla extract organic
thin lemon slices, for garnish-about three
*sweet-lemon-glaze: 2 tablespoon agave syrup, 1 tablespoon lemon, pinch dry sweetener
note: add more soy milk if your dough seems a tad too sticky/thick, or if you use a dry sweetener instead of liquid like agave syrup.
Combine in Bowl:
First, mix dry ingredients and then add in liquids:
Flour, sweetener, poppy seeds, wheat gluten, lemon juice, soy milk, canola oil, lemon zest, salt, baking powder, vanilla extract, cinnamon and cooled chamomile tea.
Mix briskly with a spoon. Once a creamy batter is attained, pour into greased (or use parchment paper) bread pan.
Top Garnish:
Apply three very thinly sliced lemon slices to top of loaf. Drizzle sweet-lemon glaze on top. Sprinkle a pinch of sugar on slices to caramelize the rind.
Bake:
Bake at 350 degrees for forty-five minutes or until a light brown crust forms. Allow to cool for twenty minutes before removing from pan.
Eat warm from the oven, in a few days or store in freezer.
*Makes a soothing and calming bedtime snack since it has chamomile tea in it! You can even add more tea to the batter if you want an ultra-calming bread.