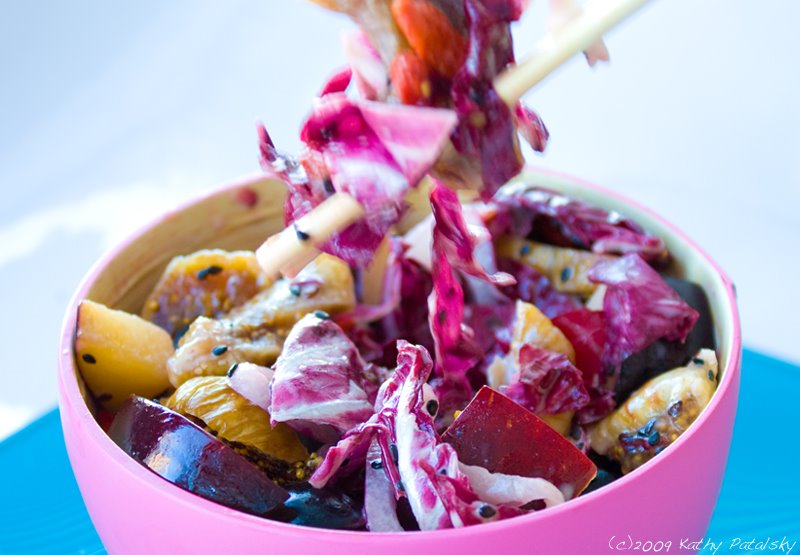 Here's my recipe for a purple-themed dish: Purple Power Antioxidant Salad. It's pure purple bliss. This salad has a complex Asian-influenced sweet-bitter-tangy flavor you'll love! Fruit. Veg. Flavor.
Power Lunch. Eat this salad as is, or on top of a pile of mixed greens. Add in some protein-rich 2-minute tempeh and lunch is a healthy flavorfest. This salad awakens your senses and perks up your mood. Sweet grapes, figs and plums provide a quick, natural, antioxidant-infused energy boost. Mother Nature's caffeine and vitamin pill is served.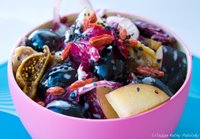 Purple Ingredients. Bold Flavors. This salad has sweet black grapes, succulent purple plums, goji berries, caramelized dried figs, crunchy radicchio, red onion rounds, black sesame seeds and a squeeze of Meyer lemon juice. Flavor is ZING! Then to smooth the flavor, I've added a tablespoon of veganaise or plain soy yogurt. Click ahead for the recipe and more photos ……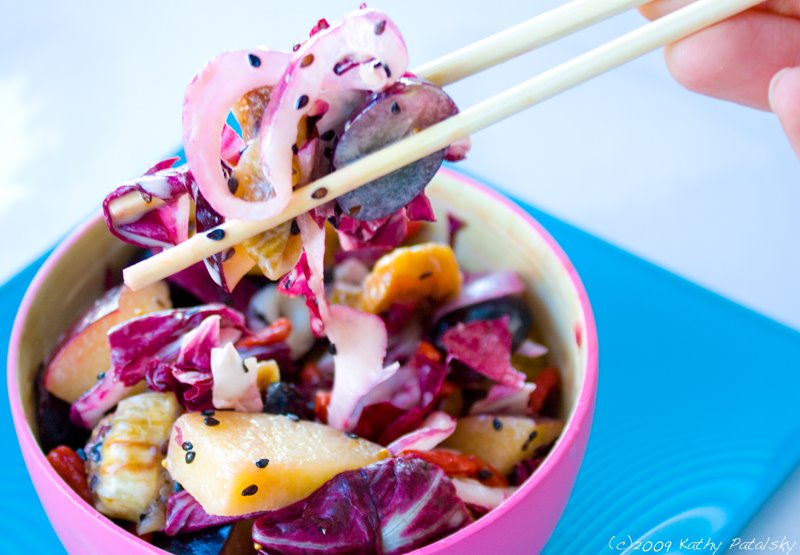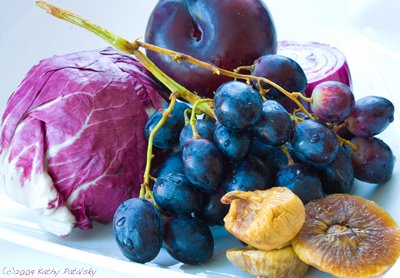 Purple Power Antioxidant Fruit Salad
serves 3-4
1 ½ cups purple grapes, halved
2 black or purple plums
¼ cup shopped radicchio lettuce
1 small onion, thinly sliced rounds
3 tablespoon dried goji berries
6 dried figs, de-stemmed, thinly sliced
1 Meyer Lemon, juiced
1 tablespoon Veganaise or Soy Yogurt
1 tsp. Olive Oil, for figs saute
1 teaspoon course sea salt
1 teaspoon agave syrup
Figs:
Saute sliced dried figs and 1 teaspoon olive oil in a skillet for 3-5 minutes, until slightly caramelized.
Mix:
Add all ingredients to large bowl and mix well. Serve right away or chill in fridge.
Serving Idea:
Serve over a bed of fresh mixed greens or as is.
Garnish:
Sprinkle top with black sesame seeds.
Check out these other color themed fruity veg salads:
Spring Green Fruit Salad
Surfer Sunrise Golden Fruit Salad
Winter White Fruit Salad