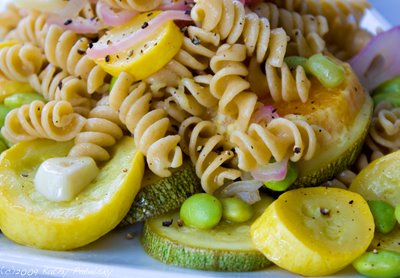 Squash is a healthy and delicious veggie. It is incredibly easy to prepare. Low in calories and rich in nutrients, squash is the perfect 'diet' veggie.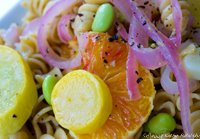 Protein Packed Pasta. This recipe for Squash 'n Spirals Summer pasta is high in fiber, rich in nutrients and high in protein thanks to the addition of delicious green soy beans. Whole wheat pasta, fresh garlic, red onion, lemon and orange flavors are the perfect compliment to thick-cut summer squash rounds.
Squash it! Squash your fear of squash once and for all. You'll be amazed at how easy to clean, cut and cook squash is. And since squash has a mild taste and absorbs flavors well, it goes with many different foods.
Click ahead for my recipe for Squash 'n Spirals Summer Pasta…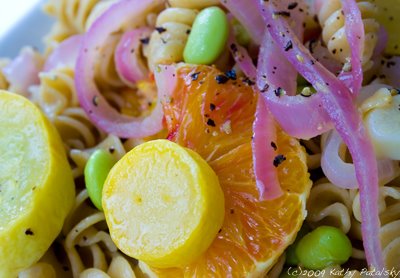 Squash 'n Spirals Summer Pasta
4 cups whole wheat pasta, cooked and drained
1 cup edamame, shelled, steamed and salted lightly
1 lemon, juiced
1 red onion, sliced into thin circles
1 yellow squash, sliced into circles
1 green squash, sliced into circles
3 tbsp Olive Oil
1 Tbsp vegan buttery spread
6 cloves of garlic, sliced
1 Tbsp fresh thyme
Coarse Sea Salt
Fresh Ground Pepper
1 bay leaf
garnish: fresh chopped parsley and lemon circle slices
Instructions:
Put sliced squash, garlic, lemon juice, bay leaf, thyme, 2 lemon slices and 2 Tbsp olive oil in a large bowl to marinate. Add a few grinds of fresh pepper and coarse sea salt. Mix well, let sit for ten minutes.
Boil water to cook pasta. Cook pasta and set aside in a large mixing bowl. Toss with 1 Tbsp olive oil.
Steam edamame and add to pasta bowl. Toss well.
Squash Saute:
Heat 1 Tbsp vegan buttery spread in saute or soup pan. Add squash mixture.
Cook veggies until tender, but not mushy. Degree of doneness is up to you.
When veggies are done, add a few grinds of fresh pepper and sea salt.
Add veggies to pasta bowl and fold well. Do not mush squash though.
Serve warm or re-add to soup pan and allow pasta to re-heat for five minutes.
Serve with a lemon circle and fresh parsley for garnish.