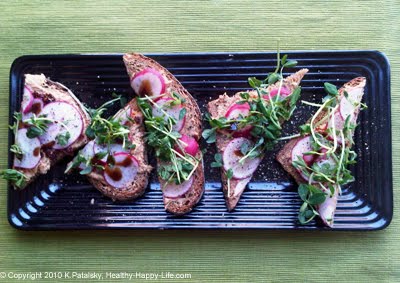 Earlier today, I tweeted a quickie photo of my delicious vegan Sunny Day Snack I made as an early afternoon light lunch: radish, pea shoots, hummus, balsamic drizzle. Light, flavorful, healthy and satisfying. I gobbled this baby up! I received a lot of requests for the specific recipe, so here ya go.
I hope this inspires you to make an easy sunny day snack at home, instead of running for fast food or store-bought eats. You can definitaly fold this open-faced sandwich up and bring it to work in a reusable lunch tote, with a side of sun tea perhaps. Perfection. My recipe…
Fresh, hearty, fluffy spelt bread from Le Pain Quotidien, is my must-have for a homemade tartine or sandwich. They will slice it in-store for you. Love this stuff!…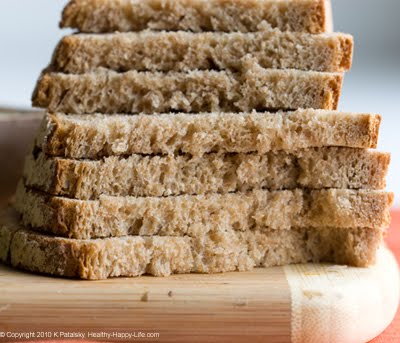 Sunny Day Snack
Veggie and Hummus Tartine, aka open-faced sandwich
4 slices spelt bread, lightly toasted
4 tablespoon sun-dried tomato/basil hummus
fresh raw pea shoots
*purchased at Trader Joe's
4 fresh radishes, sliced thin
fresh black pepper grinder
drizzle: truffle balsamic vinegar 'cream'
*I am in love with this new product from Isola Imports brand. 100% vegan, don't let the 'cream' word fool you. You can use a thick/sweet balsamic vinegar as a substitution.
Optional: a few dots of spicy harissa, also from Le Pain Quotidien
Directions:
1. Toast bread.
2. Spread hummus.
3. Layer radishes.
4. Sprinkle a layer of pea shoots.
5. Slice into triangle wedges.
6. Plate.
7. Grind a plentiful amount of black pepper on top. And a drizzle of balsamic.
Serve. Yum.
Sunshine optional, but recommended!
Happy Sunny Day.