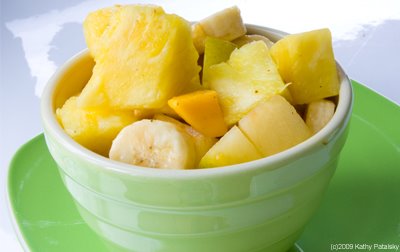 I have become quite in love with the idea of doing color themed fruit salads. I did a delicious Winter White Fruit Salad and a Spring Green Fruit Salad. So for Pineapple Saturday, I did a Surfer Sunrise Golden Fruit Salad.
Tropical Golden Fruit. This salad uses mangoes, bananas, fresh-cut pineapple chunks, Meyer lemon juice and zest, and an exotic yellow plum.

Super salad with super fruit. This salad is exploding with vitamin C, potassium, fiber, manganese and vitamin A.Dive in and bask in its healthy golden glow.

Click ahead for the recipe….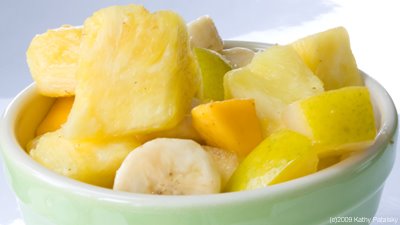 Surfer Sunrise Golden Fruit Salad
1 mango, cubed
1 banana sliced into thick rounds
1 yellow plum, sliced
1 Meyer lemon, juiced
½ fresh pineapple, cubed
1 teaspoon Meyer lemon zest
1 tsp. honey or agave (optional)
crushed fresh mint (optional)
chopped cashew nuts (optional)
Assemble:
Toss all ingredients in large bowl. Serve immediately or slightly chilled. This salad does not do well overnight since the pineapple enzyme bromelain will eat away at the other fruits.