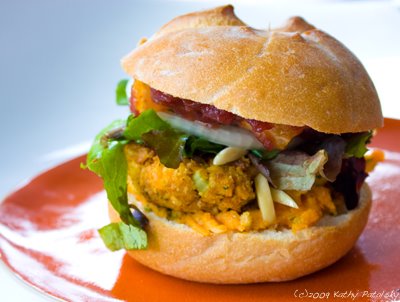 Burger season is almost upon us, and for me, that means pulling out a few recipes and "burgerizing" them. This time I decided to take my crowd-pleasing recipe for Sweet'n Savory Sweet Potato Pita Pockets and turn them into a delicious vegan burger – fit for a stove top skillet, or hearty enough for a backyard BBQ.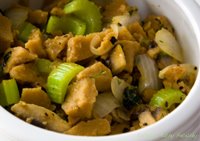 Get tan for seitan. Seitan, pictured right, is a high protein, lean, meaty vegan ingredient made from vital wheat gluten. It is perfect for those sun-filled backyard barbecues. You can lay back, work on your tan, sip a frozen lemonade all while some seitan skewers heat up the grill. Seitan is a strong vegan protein that even die-hard-meat-eaters will love (if they humble themselves to try it.) Thus, sticking a nice helping of sauteed seitan in these burgers was the perfect way to "wheat-meat" them up!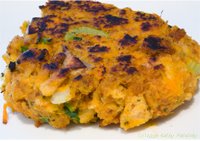 Thanksgiving, but not. I love the flavors of Thanksgiving, but sometimes with all the stressful planning, dinner prep and family coordinating it's hard to kick back and enjoy the food. Thus, here is a way to indulge in the healthy and delicious flavors of Thanksgiving without all the extra holiday hub-bub. This burger combines all those holiday favorites: sweet potatoes, stuffing, tangerines, cranberry sauce, almond-greens and some hearty protein from seitan (Tofurkey IS made of seitan).

Healthy Holiday. And FYI, the foods we eat at Thanksgiving which are represented in this burger, are incredibly healthy. More info.

Click ahead to experience my "Thanksgiving in July" Backyard Burgers….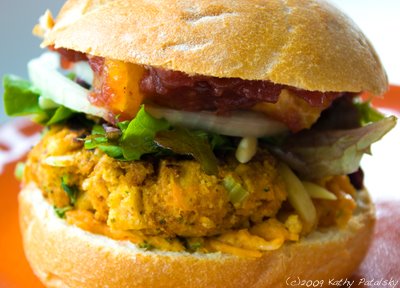 "Thanksgiving in July" Backyard Burgers
6 burgers
Ingredients:
6 seeded rolls or standard buns*
*hearty buns work better than soft buns for this burger.
1 extra-large sweet potato or 2 small
1 ½ cups seitan, chopped
2 small vidalia onions
1 tub garlic hummus
5 garlic cloves
1 can jellied cranberry sauce
1 bunch parsley, de-stemmed and chopped
2 tangerines
1 small box/bag easy stuffing mix (dairy free)*
*or make your own with cubed bread and spices
¼ cup slivered almonds
2 tablespoon maple syrup
mixed greens
1 lemon
olive oil
salt and fresh black pepper
spray oil
Assembly per burger (bottom to top layers):
Bun, bottom half
Sweet Potato Mash, thin layer
Triple "S" Burger (Sweet-Potato, Seitan and Stuffing Burger)
Greens and toasted almonds mix, handful
1 thin vidalia onion slice
Cran-citrus chutney, spread chutney on top half of bun
Bun, top half
STEP ONE
Sweet Potato Mash (2 cups for burger patties, the rest for burger assembly.)
1 large garnet sweet potato (about 3 cups), baked
1 cup vidalia onion, chopped
⅓ cup garlic hummus
¼ cup fresh tangerine juice
1 ¼ cup parsley, chopped
2 tablespoon maple syrup, dark grade A
salt/pepper to taste
In a large bowl:
Add cooked sweet potato, hummus, parsley, onion, olive oil, tangerine juice, maple syrup, salt and pepper.
Mash and mix well. Re-heat to serve.
STEP TWO
Greens and Almonds:
2 cup organic mixed greens
1 tablespoon lemon juice
1 teaspoon olive oil
¼ cup slivered almonds, toasted in skillet
toss ingredients
STEP THREE
Cran-Citrus chutney:
½ can cranberry sauce (jellied)
1 tangerine, peeled and cubed
1 tablespoon tangerine juice
mix well by folding ingredients with fork
STEP FOUR
Seitan:
In hot skillet, quickly saute 1 ½ cups raw seitan, with a drizzle of oil.
STEP FIVE
Seitan-Sweet-Potato Stuffing Burger:
2 cups Kathy's Sweet potato Mash
1 cup instant stuffing mix
Sauteed seitan
Fold seitan and sweet potato mash into stuffing mix until desired consistency is achieved.
Add liquid to loosen stuffing mix if needed.
STEP SIX
GRILL:
Form into patties and cool in fridge until ready for grill or skillet.
Grill about 3 minutes each side.
Serve hot!
Side of sweet potato fries? OK, maybe not. But my Vegan Cole Slaw would go great on the side!