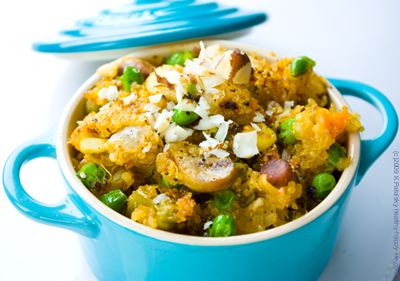 I love Spanish Paella. The lightly burnt rice, silky sauteed onions, crinkly peas, and that hypnotizing warm saffron aroma. Tapas bliss. So when I was brainstorming creative ways to prepare super grain quinoa, a traditional paella dish served as my inspiration for this recipe.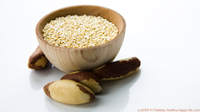 Why Quinoa? Quinoa is higher in protein than most other grains. One cup of quinoa has 8 grams of protein and around 200 calories. White rice? Also 200 calories and only 4 grams of protein. Quinoa, light and fluffy when cooked, makes a great substitute for rice in a paella dish. And selenium-rich Brazil nuts add the perfect crunchy accent dish.
This recipe for Quinoa Brazil Nut Paella combines the flavors of crunchy Brazil nuts, traditional paella veggies, citrus, garlic and saffron. It is accented with a few spicy ingredients like cayenne and roasted peppers. Serve this dish with some red sangria and you have an amazing Spain-inspired meal, done vegan style.

Click ahead for the Quinoa Paella recipe…….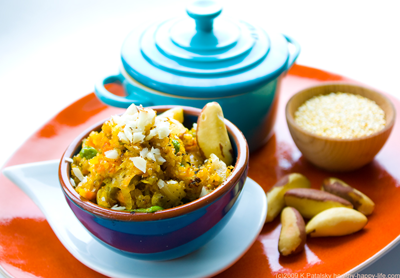 Vegan Quinoa Brazil Nut Paella
with citrus, garlic and spices.
makes 6-8 servings
1 cup whole grain quinoa
1 ½ cups vegetable broth
½ orange, juiced (about ¼ cup juice)
½ orange de-seeded and diced
2 teaspoon orange and lemon rind zest
1 lemon, juiced
1 bag frozen mixed organic veggies (peas, corn, carrots)
1 large onion, chopped
2 white button mushrooms, chopped
7 cloves garlic, chopped thickly
½ Serrano pepper, roasted, de-seeded and chopped
½ cup Brazil nuts, chopped
2 tablespoon Spanish olive oil
2 tablespoon vegan buttery spread
2 bay leaves
¼ teaspoon saffron strands
1 teaspoon cayenne
generous black pepper
sea salt to taste
Prep:
Rinse and dry quinoa with cold water. Set aside.
Juice, chop and zest the orange.
Juice and zest the lemon.
Chop onion, garlic, mushrooms and Brazil nuts.
De-seed and slice Serrano pepper. Roast strips of pepper.
Microwave frozen veggies for two minutes (or thaw on counter prior to use)
In soup pan:
Add oil, vegan spread, a pinch of salt and pepper.
Turn heat to high-until oil sizzles.
Add onion, garlic, pepper, Brazil nuts and bay leaves.
Saute for a few minutes, on medium heat.
Add chopped orange and orange zest.
Saute uncovered for an additional few minutes.
Fold in ¾ package of frozen veggies (thawed or warmed).
Add lemon juice.
Saute on medium-high for five minutes, stirring constantly.
When all ingredients are cooked through and slightly browned, remove ½ of veggies from pot. Set aside, covered.
Quinoa:
Turn heat to high and add veggie broth, cayenne, saffron and orange juice.
Bring to boil.
(Yes, half the portion of veggies will still be in the pot.)
Add dry quinoa and stir.
Reduce heat, cover pot, and simmer for 10-15 minutes.
Stir occasionally.
When quinoa has absorbed all the liquid, remove cover and fold in remaining veggies to pot.
Re-cover and allow to cook on low heat for five minutes.
(This should add a nice browning effect to the bottom layer of quinoa.
Fluff finished quinoa with fork.
Remove bay leaves before serving.
Tip: For the fresh green pea look, leave out a few steamed bright green peas and fold then into finished dish.
Serve hot. Garnish with grated/chopped raw Brazil nuts.
Grab your best sangria recipe to compliment this dish!