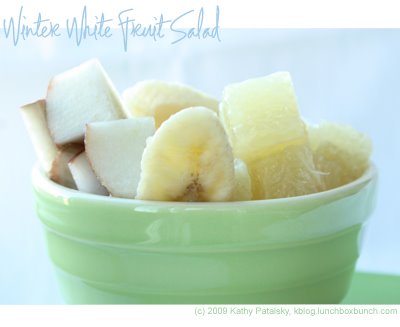 Sweet tart white grapefruit, tender white-flesh Angou pears, and tropical creamy white apple bananas. Put them together and you get a refreshing morning salad to purify your palate and revive your taste buds for a new day.
Recipe and health benefits ahead….
Winter White Fruit Salad
serves 2-4
1 Yellow-rind, white-fleshed grapefruit (sometimes called a cocktail grapefruit)
2 petite apple bananas (or 1 traditional banana)
1 red or green Angou pear, (any white fleshed pear will also work)
PREP
Peel and chop grapefruit into cubes
Peel bananas and slice into thick long angled strips
Slice pears, thinly, but thick enough to still hold their shape.
Toss gently in a large bowl.
Serve chilled.
TIP: To make a dessert fruit salad, sprinkle with a tsp. or white sugar and add a a la mode scoop of vanilla bean ice cream. White angel food cake would also be a nice dessert addition. White whipped soy cream can be a perfect topper as well.
HEALTH BENEFITS:
High in Vitamin C.
High in fiber.
High in potassium.
Bananas are soothing to stomachs.
Grapefruit will assist in digestion.