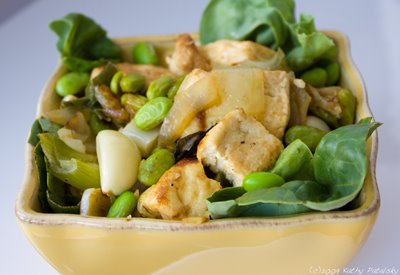 Zen out your tofu. Instead of simply adding tofu to your green salad, combine the green-salad-and-tofu into one blissful bite that is pure green zen.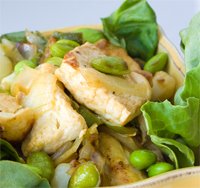 Easy to be Green. A super healthy dish, my recipe combines fresh fluffy firm tofu, crisp Boston lettuce, sweet cooked garlic and ginger, bright scallions, protein-rich edamame, soy sauce and an accent of sweetness from an agave-lemon salad dressing.

Healthy Zen. This salad is an excellent source of protein, antioxidants and fiber. A light bite that is rich in healthy fats and protein to keep you satisfied and zen-inspired, throughout your busy day.
Click ahead for the quick and easy recipe…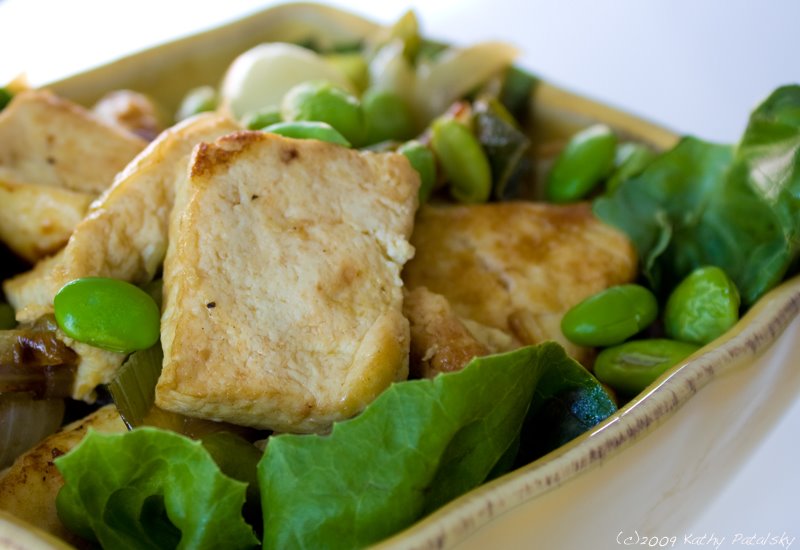 Zen Green Tofu Salad
serves one, vegan
1 cup extra firm tofu, sliced, I used Vermont Soy
2 scallions, sliced thin
5 garlic cloves, whole and roughly chopped
1 tablespoon chopped fresh ginger
½ cup cooked edamame
1 teaspoon black pepper
3 tablespoon soy sauce
1 tablespoon olive oil
1 cup Boston lettuce leaves
optional: add mushrooms to saute
Agave-Lemon Dressing
1 tablespoon agave syrup
1 lemon, juiced
salt/pepper to taste
Saute:
Turn stove onto med-high.
In a soup or saute pan, add oil, soy sauce, garlic, ginger and scallions.
Saute for a minute. Add tofu. Cover pan.
Let simmer on medium for 3 minutes. Shake pan every few seconds.
Steam will cook tofu while keeping it moist.
Add 2 tablespoon oil-water mix if saute looks dry.
Uncover pan and add pre-cooked edamame.
Tofu should be fluffy and cooked through.
Add black pepper and saute uncovered for another few minutes.
In salad bowl:
Toss greens with agave-lemon dressing.
Grind fresh pepper on top.
Transfer greens to small serving bowl.
Top with steaming hot tofu saute.
Serve.
Garnish with additional edamame or fresh chopped garlic.
Optional Add: Side of brown rice for a larger meal.