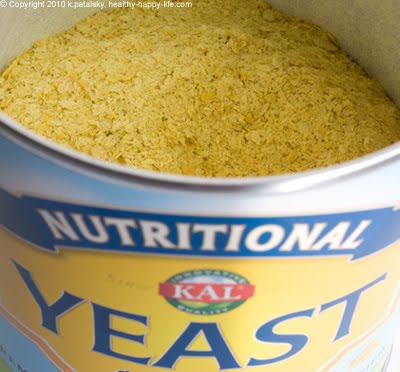 I often confess to you that I hate nutritional yeast flakes. Well not anymore! I've rediscovered them and realized why I hated them in the first place. My story, and why you should consider embracing nutritional yeast flakes too. For health and flavor!…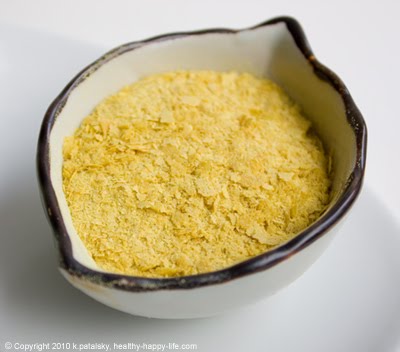 Where to Find Nutritional Yeast. It's 8pm on a tired Thursday. I am wandering the aisles of Whole Foods Market with my poor husband in tow, an over-filled, incredibly heavy hand cart strapped to his wrists. "It has to be here!" I mumbled to myself as I wandered down every aisle – on a mission. A mission to find nutritional yeast.
I looked in the spices and baking section – scouring each jar-filled rack from almond extract to za'atar. No such luck. I looked in the yeast section – nothing. Hmm, of course! Look in the nutrition section! OK, OK, I didn't figure that one out myself. I had to ask a WF employee – he graciously ushered me over to the nutritional yeast section – right below the smoothie mixes and protein powder. Aha!
There were about five or so brands – large canister containers. I settled on the Kal Nutrition brand of Nutritional Yeast Flakes. I chose that brand because it had a few added in vitamins like B12 and folic acid. Yay! I was so excited to find it because I had been looking for it (although not so-proactively until now) for a few months. I smiled widely at my hubby, "Isn't this exciting?!" He wasn't as excited as me, but that's OK. So off to the checkout stand we went.
Nutritional Yeast Flakes Taste Test: Take Two! Now you see, I've bought, tasted and tried nutritional yeast flakes in the past. About 5 years ago I bought a small curious bottle of nutritional yeast flakes at some grocery store. I forget the brand. I tried making vegan mac n cheese. It was horrible! I then tasted the flakes in another recipe and still – horrible. The flakes smelly fishy and rancid and almost sour. I decided I did not like nutritional yeast and would never try it again!

Cut to five years later, when I tried THIS nutritional yeast in a pasta recipe and love, love, loved it! One sniff from the canister and I knew these flakes were yummy. Nutty, salty aroma. Yum! (FYI – nutri-yeast is very low in sodium) My final stance is that I either bought a very poor brand of nutri-yeast or it simply really was a rancid, gone bad bottle. Odd. Anyways, I'm so thrilled to have resolved my "issues" with nutritional yeast. I was really starting to wonder about my vegan taste buds – since every vegan I know raves about vegan nutri-yeast mac n cheese…FYI I will be posting TWO NEW nutri-yeast mac-n-cheese recipes later tonight – or this weekend! yes! Here is a sneak peek of one of my recipes: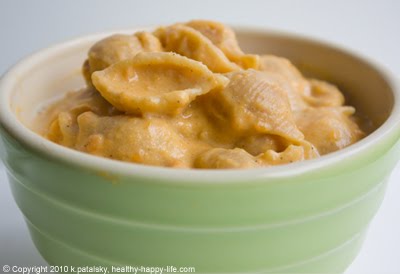 Side Note: The one thing that really spurred me to try nutri-yeast again was the fact that I love Edward and Son's vegan boxed mac n chreese. It is flavored by nutritional yeast…this was my first inclination to do a do-over taste test.
Now let me convince you why nutritional yeast flakes are so gosh darn healthy!…
Nutritional Yeast Flakes and Health. Healthy as can be! Here are just a few reasons why nutri-yeast flakes are healthy (I am taking nutrition info from my Kal Nutrition Nutritional Yeast Flakes canister):
*no added wheat, corn, milk, egg, soy, glutens, sucrose, animal products, artificial colors, starch or preservatives.
*gluten free
3 tablespoon contains:
*only 80 calories
*9 grams of protein, only 1 gram of fat (not saturated) and 14 grams of carbs.
*5 grams of fiber
*11% RDA of potassium
*only 5mg of sodium, that's