This post is sponsored by Summer Fruit from South Africa.

Today's recipe is for a super refreshing, dairy-free Creamsicle Smoothie. This smoothie uses fresh citrus, creamy cashews and a few accents like citrus zest and cinnamon. It blends up light and frothy with a creamy popsicle texture.
And for this smoothie, I use one of my favorite citrus-smoothie-blending tricks that I discovered while writing my cookbook, 365 Vegan Smoothies.
Get the recipe, plus enter a summer fun giveaway! Five winners will be chosen..
Citrus, all sunny, sweet and inviting..

These smoothies blew me away! The ingredients are so simple. This almost remind me of a creamier, citrus version of my Watermelon Frosty recipe…

Clementine Easy Peelers are perfect for smoothies and so easy to prep.

I love my smoothies thick and ice cream-like, and this one really impressed!
Today's smoothie recipe is a classic gone healthy. Creamsicle flavor, made from whole food, healthy ingredients. Fresh citrus mingles with cashews and a hint of cinnamon. Bright and uplifting, sweet and sassy, citrus tastes delicious and instantly energizes your state of mind.
My Frozen Citrus Smoothie Trick: Freeze your fresh citrus! This is my favorite trick for creating the frostiest citrus smoothies ever..
1. Peel your fresh citrus, then peel apart the segments or slice into sections – basically, small pieces, easy enough to blend. (The Peelers are easy to peel by hand, the Navels are pretty easy to peel by hand, and then slice into pieces with an orange)
2. Place the prepped citrus in a freezer-friendly container. Freeze overnight – or at least until fully frozen.
3. Add to smoothies the same way you would add any frozen fruit! But because it has been freshly frozen by you, it has a super fresh flavor. Also, you just cannot find frozen citrus in stores! So this is a unique DIY trick + treat!
My freshly peeled Easy Peelers, frozen overnight for blending..


Citrus in smoothies pairs so well with all of these flavors:
– strawberries
– bananas
– green smoothies
– raspberries
– peaches
– mango
– coconut
– and more!

Make it a Milkshake! If you are craving an even more decadent shake, add in 1-2 scoops of vegan vanilla ice cream! You can blend the ice cream right in the blender, or scoop the ice cream right in the smoothie for a "Creamsicle Smoothie Ice Cream Float." SWOON.
I love citrus. It is one of my favorite ingredients for adding acidity and sweetness to salads, entrees, as well as in, fruit salads, smoothies and juices. And that is why I am so appreciative for being able to have access to citrus year-round, thanks to brands like Summer Citrus from South Africa. Their citrus is available June to October. So even if your local farmer's market does not offer year-round citrus, you can find citrus when you crave it. Citrus varieties offered: Navels, Easy Peelers, Star Ruby, Cara Cara.
Grapefruit Juice Addiction. Something I find so funny and cute about my husband. He is obsessed with fresh grapefruit juice. We own an OrangeX juice press. And he basically makes sure to have at least one freshly-pressed grapefruit juice a day. He doesn't cook. Couldn't even blend a smoothie to save his life, lol, but he is a supreme-citrus-juicing-champion. And I love that he has found a way to bring fresh fruit into his life, as a daily habit! (without me helping him, ha..)
I wanted to share that with you just in case you have a hard time getting your family to eat fresh fruit. Maybe they love juice, but usually end up drinking something pasteurized, from a box – or even worse – with artificial flavors in there. Maybe they can try a fresh-pressed citrus habit! I am personally a smoothie girl, and I think smoothies are more filling as a meal because they add all the healthy fiber from fruits and veggies, but there is something so cozy and healing about pressing fresh citrus and serving it in the morning.
The bright, fragrant aroma of citrus, zest bursting, the beautiful pink or orange colors. Fresh citrus juice is kinda magical as an eye-opener! Forget caffeine, pass some citrus aromas under your nose and see how you feel. Citrus is such an uplifting and awakening aroma, with a sweet and bright flavor! It really is ta lovely addition to any morning routine or meal.
Fresh citrus juice, like oranges or grapefruit, is rich in vitamin C and grapefruit is also a good source of lycopene!
*** this giveaway has ended ***

Giveaway. Enter the giveaway here.
Today's sponsor is offering FIVE of my readers this giveaway prize:
– One MIER 18L Large Soft Cooler Insulated Picnic Bag
– One Cool Coolers Slim Lunch Ice Packs – Set of 4
– One Zoku Classic Pop Molds
– One The Popsicle Cookbook: Ice Pop and Popsicle Recipes for 50 Delicious Frozen Desserts
**Bonus: winners can also email me and I will send them a copy of my book, 365 Vegan Smoothies!
Cool bonus thing about today's post sponsor…
Harvest of Hope. One of the really cool things about Summer Fruit from South Africa is that they participate in Harvest of Hope. The Harvest of Hope program supports skill development, healthcare, education and more for South African farm families who have been growing citrus and other farms like roobios tea (love that stuff!) and more. "For generations, South African farm families have lived and worked on citrus farms throughout the Northern and Western Cape regions. Through the Harvest of Hope program, these farm families can achieve land co-ownership and build a sustainable future for generations to come."
I love hearing stories about the farm families who help bring our beloved produce into our kitchens. Farm tours have always been one of my favorite parts of being a blogger, and I have such a deep appreciation for these skilled men and women who produce plants for the world to enjoy! I mean, as a vegan, plant farmers are basically, rockstars.
Happy smoothie blending everyone!

disclosure: This post is sponsored by Summer Fruit from South Africa, but all opinions are my own. It also contains one Amazon Affiliate link,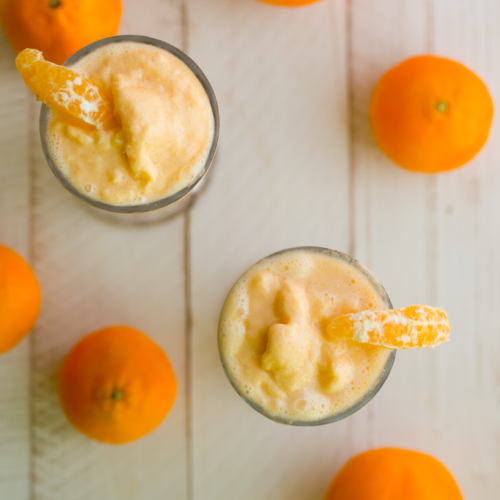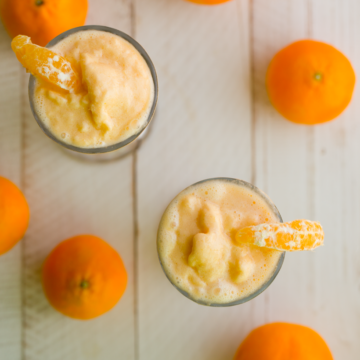 Vegan Creamsicle Smoothie
This super light and frothy, sweet and creamy citrus smoothie combines fresh citrus, cashews and a hint of cinnamon. Delicious as a snack, breakfast or uplifting anytime beverage.
Print
Pin
Ingredients
1 cup non-dairy milk

Citrus: 3 Easy Peelers or 2 Navel Oranges, from Summer Fruit from South Africa2 tablespoon raw cashews

½ frozen banana

a few ice cubes (optional)

⅛ teaspoon cinnamon and/or pinch of cayenne for some heat!

pinch of fresh citrus zest
Instructions
Day Before Prep: Peel the citrus, slice into smaller pieces if using the Navels – or pull apart segments if using the clementines. You want small pieces that are easy for blending. Place the prepped citrus in a freezer-friendly container and chill overnight or until fully frozen.

Add the non-dairy milk and cashews to a blender and blend from low to high until mostly smooth.

Add in all the remaining ingredients and blend until thick and frosty. You want to make sure you fully blend the citrus so that it becomes smooth and silky without and pulp or rind bits. Keep blending until you see a smooth swirl in your blender. If needed, add a splash of non-dairy milk or another liquid like fresh-pressed orange juice.

Pour into serving glasses and serve with a fresh citrus garnish!
nutrition estimate | per serving
Calories:
152
kcal
|
Carbohydrates:
26
g
|
Protein:
3
g
|
Fat:
4
g