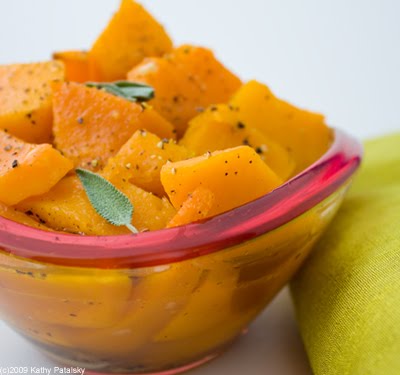 When it comes to vitamin A-packed orange produce, I'm a year round sweet potato and carrot lover. But when fall hits, seasonal peer pressure kicks in and I can't resist the bountiful offerings of squash. Butternut Squash is my favorite, it always warms me up from the inside out. My Sage Citrus Roasted Butternut Squash recipe is a classic crowd-pleaser. I crave butternut squash for its sweet flavor and tender, moist texture.

Butternut Squash with Sage. One of my favorite dishes ever is the vegan Butternut Squash Risotto from GoBo restaurant in NYC. It is accented with sliced almonds and toasted sage. So to bring me back to those flavors, I prepare my Roasted Butternut Squash with a hint of crushed sage as well as plenty of citrus and maple accents. This is recipe is delicious served on its own, yet it's versatile enough to be added to a wide variety of rice, pasta and quinoa dishes. Get my recipe and a few butternut squash super food facts…
Butternut Squash Nutrition Facts. Butternut squash is super high in vitamin A. It is also a good source of fiber, vitamins B6, C and E, potassium, manganese and magnesium. It is fat free and contains about 80-100 calories per cup of cubes. Super food approved!
Butternut Squash, roasted, nothing added
serving size: 1 cup, cubes
calories: 80-100 (depending on ripeness)
fat: 0g
carbs: 22g
protein: 2g
fiber: 4g
Vit A: 100-300%+ RDA
*averages 150% RDA, but will vary by each squash. Some sources note up to 450% RDA in one cup of cooked squash.
Vit C: 52% RDA
Vit E: 13% RDA
Potassium: 17% RDA
Vit B6: 13% RDA
Iron: 7% RDA
Magnesium: 15% RDA
Manganese: 17% RDA
*facts from nutritiondata.com
Now onto the recipe…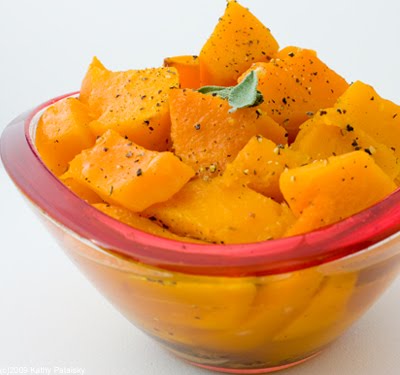 Sage Citrus Roasted Butternut Squash
vegan, makes 3-4 cups
Ingredients:
Butternut Squash
*20 ounce pre-cubed pack) OR 1 medium butternut squash sliced in half, deseeded
Extra Virgin Olive Oil
Maple Syrup
Apple Cider Vinegar
1 Orange, juiced
Fresh Sage Leaves
generous sprinkle of fresh black pepper
sprinkling of sea salt
optional: cinnamon and/or cayenne
Ingredients Note: I did not include ingredient measurements because each squash is sized differently and each person will want to prepare their squash "to taste" using my basic ingredients. I will describe ingredient uses in directions below.
Directions:
1. Preheat oven to 400 degrees.
2. Prep whole butternut squash by slicing in halves or quarters and removing seeds. Or open pack of pre-cut cubes. (Pre-cut cubes are easier, but sometimes it's nice to use a real whole squash! Try it at least once. A whole squash is usually cheaper too.)
3. Drizzle a bit of EVOO in the bottom of a large casserole dish. Tear a few (4-6) sage leaves and place them in the bottom of the dish as well. Place the pre-cut squash cubes in dish. Swirl them around in the oil a bit. For whole squash, place squash halves in dish, flesh side up.
4. Squeeze fresh juice from one orange and drizzle it over top the squash. About ⅓-1/2 cup of juice.
5. Drizzle about 1-3 tablespoon of maple syrup over squash (depending on how sweet you want it and the squash size.
6. Drizzle about 1-3 tablespoon of olive oil over the squash, again depending on how decadent or how light you want your squash to taste.
7. Drizzle a small amount of apple cider vinegar over the squash. About 1 Tbsp.
Note: not all the oil/juice/syrup/vinegar will be absorbed by the squash, but rather it is used as a heating liquid and flavor-adding ingredient in the bottom of the pan. With it, you will be left with a lovely squash drizzle sauce for your end result dish.
8. Sprinkle salt/pepper on top of squash flesh, to taste. Add optional cinnamon and/or dash of cayenne here as well.
9. If using whole squash halves, you can now flip the halves flesh side down so they soak in the liquid ingredients while roasting.
10. Cover dish lightly with foil-air vent. Place in 400 degree oven for 25 minutes. After 25 minutes are up, remove foil, turn oven to broil and lightly stir squash cubes. If using real squash, you can baste it in a bit more of the sauce sitting in the pan. Broil on high for 5-7 minutes, or until top starts to caramelize. Do not let broiler 'dry out' your squash. Watch it closely.
11. Remove squash. It should be tender and easily breakable with a fork. Allow whole squash halves to cool 15 minutes before scooping or slicing out the flesh.
12. Serve in a bowl with a drizzle of the baking juices. Garnish with fresh sage leaves and pepper.
More Yummy Butternut Squash Photos: