My last post was about this TTLA sandwich. Well, as I chatted about in that post, the real game-changing ingredient was that garlic aioli. And this time I bring you an even bolder, creamier, dreamier aioli recipe with my vegan, dairy-free, easy-easy Vegan Roasted Garlic Aioli. Get the recipe and slather it on everything….

ps. Don't like "mayo?" I never liked it either. But this stuff is crazy good, bright and fresh and lovely…
First you roast your garlic in the oven. This is super easy and takes about 20-25 minutes.
When roasted, the garlic will be rich and creamy and squeeze right out of the head of garlic…
And then you make this dreamy spread!..
Start any sandwich out by spreading some of this on your bread!..

…But wait, that looks like mayo. And I do not like mayo.
Agree! I never liked "mayo" before I went vegan. Then, I admit, I fell in love with Follow Your Heart's Vegenaise spread. It was like mayo, but also NOTHING like mayo. Especially the mayo that I remembered hating as a kid.
Well, this roasted garlic aioli is basically taking your fave vegan mayo and elevating it to a new level.
Next Level Vegan Mayo. Wait, it's not mayo. It's aioli.
Basic components:

* Roasted garlic (a whole head of it!) all creamy, fragrant and it whips up beautifully.
* Fresh lemon juice adds a brightness and lightness to everything. Bonus points if you microplane in a few pinches of lemon zest.
* Salt and pepper tone and sharpen all these flavors.
Want more heat? If you want a spicier, bolder fresh, raw garlic flavor, I would advice keeping in all the roasted garlic and adding in 1-2 crushed raw cloves. Or finely chopped or minced raw garlic cloves. That raw garlic will add some bite that the roasted garlic loses in the cooking process. Another way to add heat is to add a pinch of cayenne.
Perfect on this TTLA sandwich or any sandwich, really! Also add to tacos, avocado toast, roasted veggies and so much more.
My slogan for this stuff:

Looks like mayo, but it's NOT.


This recipe will make you feel like you belong in a gourmet deli with your aioli skills, but it's just you, spinning lemon-garlic magic in your kitchen.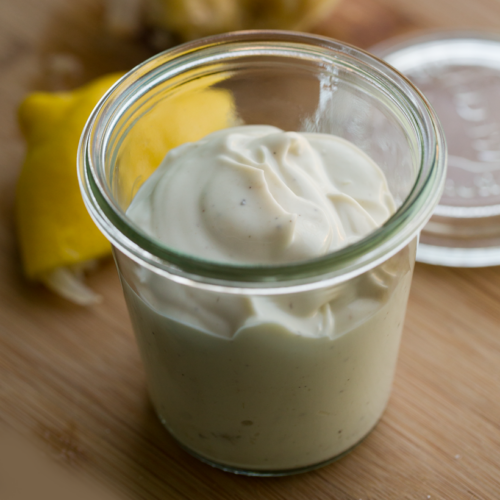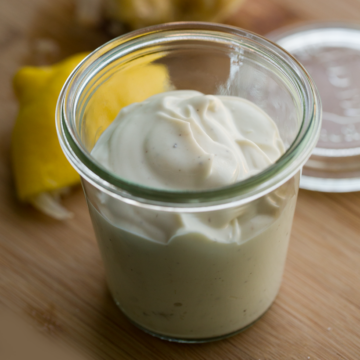 Vegan Roasted Garlic Aioli
This creamy, rich, bright and flavorful garlic aioli is dairy-free, egg-free, vegan. Use it as a dip, sandwich spread or all around 'add it to everything' condiment.
Print
Pin
Ingredients
¼ cup + 1 tablespoon fresh lemon juice (adding a pinch of zest is optional)

2 tablespoon extra virgin olive oil

½ cup+ 2 tablespoon vegan mayo

1 whole head of garlic, roasted (instructions below)

⅛ – ¼ teaspoon salt

⅛ teaspoon pepper

drizzle of EVOO for the garlic

optional: crush or chop in one clove of raw garlic for added heat
Instructions
Roast your garlic: Chop off about ¼ inch of the top of a head of garlic. So that you can see the cloves on the inside. Place it in the center of a small piece of foil. Drizzle about 1-2 teaspoon olive oil over top the garlic head, onto the exposed cloves. Fold up the sides of the foil to seal in the garlic. Place the wrapped garlic in a warm oven and bake at 400 degrees for 25 minutes. Turn off heat and set garlic aside for ten minutes to cool.

Add all the ingredients to a blender container, vegan mayo, lemon, salt, pepper, olive oil. Then unwrap the garlic and carefully squeeze out the roasted cloves. They should come out very easily when you squeeze the oily sides of the head of garlic. Add all the softened cloves to the blender – try to not let any of the garlic peel fall in the blender.

Blend from low to high until smooth.

Pour the aioli into a small dish. Use right away or place in the fridge. This aioli will keep for up to 4-5 days in the fridge. Seal well if storing in the fridge.