This post is sponsored by House Foods Tofu.
These Salt and Pepper Party Skewers with peanut dipping sauce are an easy, fun and delicious way to serve tofu and add more protein to your day. Lively black pepper crusted, skillet tofu triangles pair well with my favorite rich, sassy-sweet peanut dipping sauce. These skewers are delicious served on their own, and also pair well with a giant salad or even a pasta or rice dish!…
I love this recipe because it is such a simple and fun way to add more plant-based protein to a meal.
This recipe is part of House Foods 50 Plate of Tofu, representing the state of Nevada. I was inspired by Vegas. These party-ready skewers have simple flavors that most anyone will love. Tofu is accented with a salt and pepper flavor bite and made even more dreamy when you add peanut sauce. You could also try a vegan honey-mustard sauce or a simple spicy sriracha sauce.
My '50 Plates of Tofu' Posts so far:
– California Avocado Toast
– Southwest Tofu Burrito with Avocado
– Creamy Cashew Tofu Pot Pie
– Gooey Butter Cake
– Cherry Tofu Parfaits
– Southwest Tofu Quinoa Bowl
– S&P Tofu Triangle Skewers
Follow along on the House Foods Facebook Page.
disclosure: this post is sponsored by House Foods Tofu's 50 Plates Series, but all opinions are my own.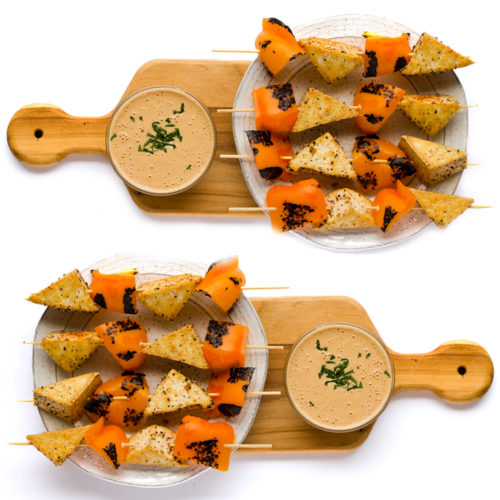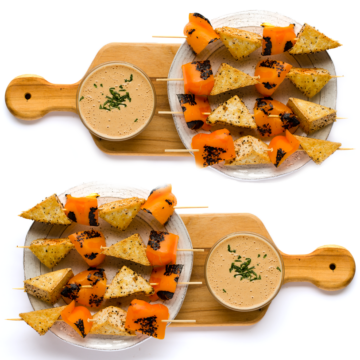 Salt and Pepper Tofu Party Skewers
This super easy and delicious party appetizer is fast and fancy, just like the glittering streets of Las Vegas, Nevada. These flavorful, pan-fried tofu triangles are perfect for dipping in a rich peanut sauce. Stovetop-roasted peppers add color and flavor.

 
Print
Pin
Ingredients
2 Tablespoon extra virgin olive oil

1 package House Foods Tofu, firm – sliced into small triangles and patted dry


½ teaspoon sea salt


½ teaspoon freshly ground black pepper

Pinch of cayenne (optional)



1 bell pepper, any color


Sauce:
½ cup peanut butter


2 ½ Tablespoon maple syrup



1 ½ Tablespoon tamari

⅓ cup warm water


1 Tablespoon apple cider vinegar


¼ teaspoon fresh ginger, optional



Bamboo or Wooden Skewers for serving


Instructions
Sauce: Add all the peanut sauce ingredients to a blender and blend from low to high until smooth. Pour into a small sauce bowl. Place in the fridge to chill and thicken for at least thirty minutes before serving.



Slice your bell pepper into quarters and remove the seeds and stem. Turn a gas stove on high and roast the bell pepper with the slices directly on the burner in the flame. The bell pepper will soften and become charred in just a few seconds. Turn off heat, flip bell pepper and repeat with flame on high for a few more seconds. Remove the charred bell pepper from the heat and slice into one inch square-ish pieces. If you do not have a gas stove, you can pan-saute the bell pepper or use a traditional grill to heat them. Or just slice them and serve them raw, also delicious!



Prep the tofu. Drain the excess liquid from the container, pat the tofu dry with a large bunch of paper towels or a clean dish towel. Slice the tofu into small thick triangles – eight per package of tofu.



Warm a large skillet over high heat and add the extra virgin olive oil. When the oil is hot, add the tofu. Cook the tofu for about 5-7 minutes, using a spatula to flip it every few minutes to cook evenly on all sides. The tofu will start to turn golden yellow along the edges.



When the tofu is done, remove it from the pan and place in a bowl. Add the salt and pepper and optional cayenne and toss well to season and coat all sides.



Skewer your tofu and bell pepper, alternating with each. Continue creating skewers until all your ingredients are used up. Serve the skewers alongside the peanut sauce. Serve warm.