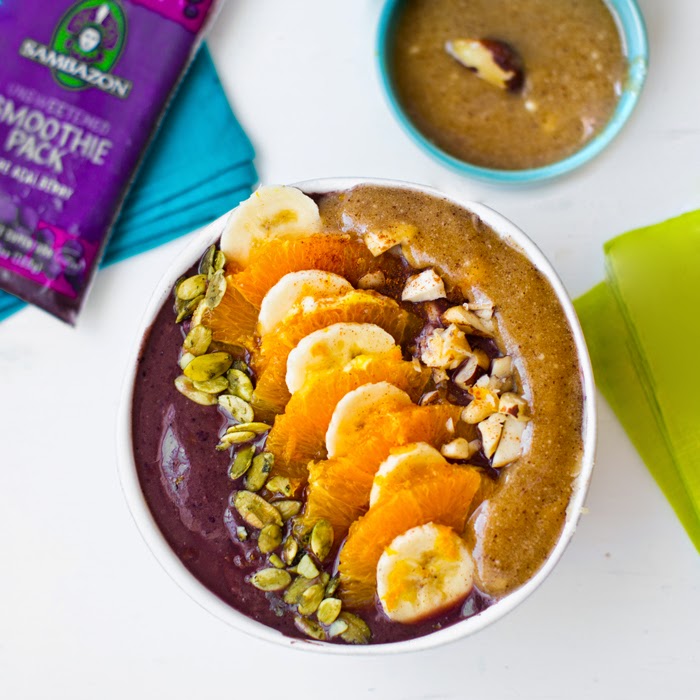 Acai lover here. And I was thrilled to find out that my Brazil Acai Bowl made it into the finals of the Sambazon World Cup Acai Bowl recipe contest.
I need your votes to win! And as a thank you for everyone who votes for me, I am hosting a thank you giveaway package. Read ahead for details, 6 acai recipes (including my fave Fresh Blackberry Acai Sorbet for summer) and the recipe for my Brazil nut butter..
Yup, I love acai berry recipes (ah-SIGH-ee)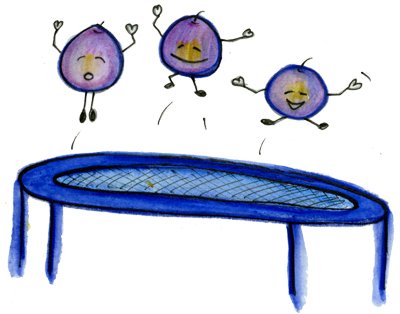 FUN FACT: Did you know that acai was officially added to Webster's Dictionary in 2009! I did a post on that.
My "finalist" acai bowl features cool and creamy acai puree, made using Sambazon freezer packs, frozen blueberries and bananas. Then on top I added fresh and juicy orange slices, banana, crushed Brazil nuts and a swirl of homemade Brazil nut butter! This bowl tasted amazing and I call it my "Nuts for Brazil" bowl.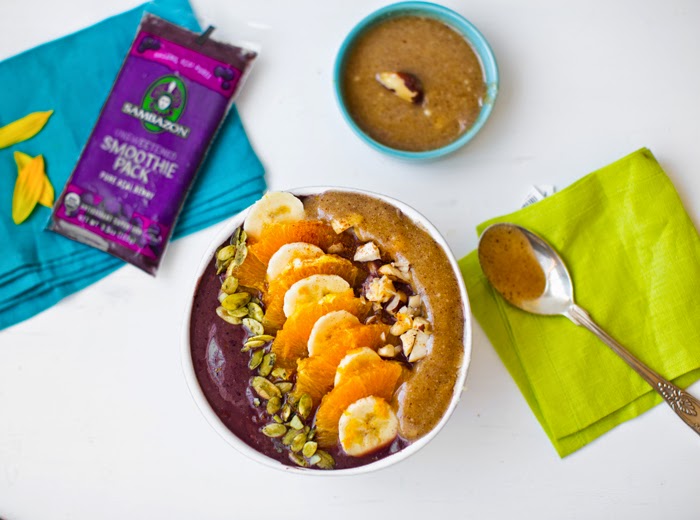 Thank you for taking the time to vote for my recipe! YOU MUST HAVE VOTED FOR ME TO WIN THE PRIZE – THIS IS A THANK YOU FOR VOTING GIVEAWAY
The prize? two bags of my favorite Brazil nuts + Brazil nut shortbread cookies + a $25 gift card .. all from one of my favorite stores: OneLuckyDuck.com. PRIZE VALUE: OVER $60 (includes shipping)
If you want to vote for me, as a thank you, enter the giveaway below!
TO VOTE in the contest:
1. Click the voting link here or within the giveaway App. (You must be logged into Facebook to vote.)
2. Click on my entry image – title Kathy – upper left corner bowl.
3. Click the VOTE button on my entry page, towards the bottom of the page.
Brazil Nut Lover's giveaway prize:
Get my Brazil Nut Butter recipe below:
Brazil Nut Butter
By Kathy PatalskyPublished 07/10/2014creamy, buttery, rich Brazil nut butter is silky and maple-sweet! Rich in selenium.
Ingredients
½ cup raw Brazil nuts
1 teaspoon virgin coconut oil
1 teaspoon maple or agave syrup
pinch of cinnamon
pinch of pink salt
Instructions
Add all ingredients to a food processor, nut grinder or small container blender. Blend until smooth.
Yield: ⅓ cupPrep Time: 00 hrs. 01 mins. Total time: 1 mins. Tags: nut butter, brazil nuts
Plus get 6 more Acai recipes below:
1. Fresh Blackberry Acai Sorbet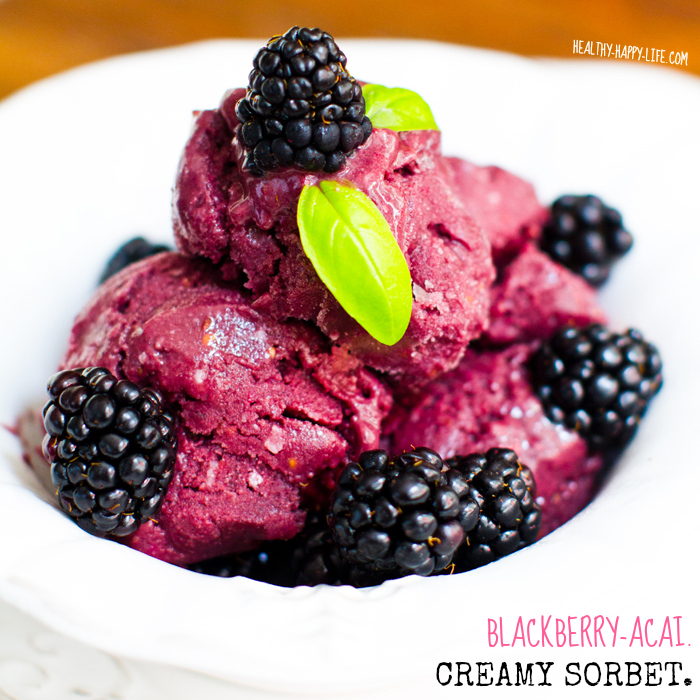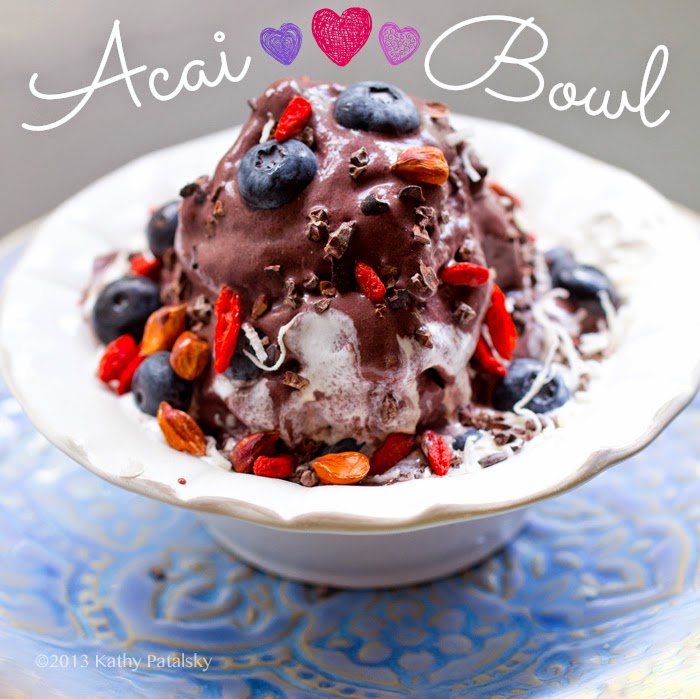 3. Triple Threat Acai Smoothie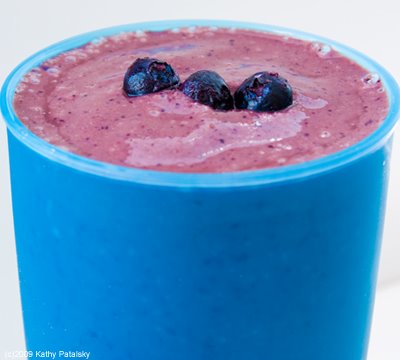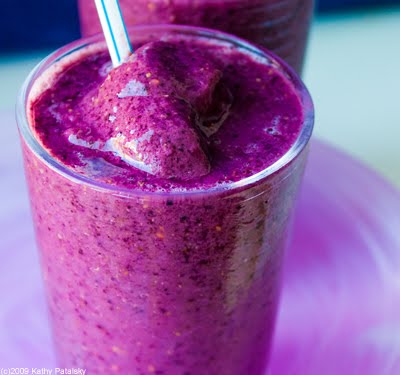 5. Dark and Frosty Acai Smoothie (plus my first recipe video ever .. super vintage)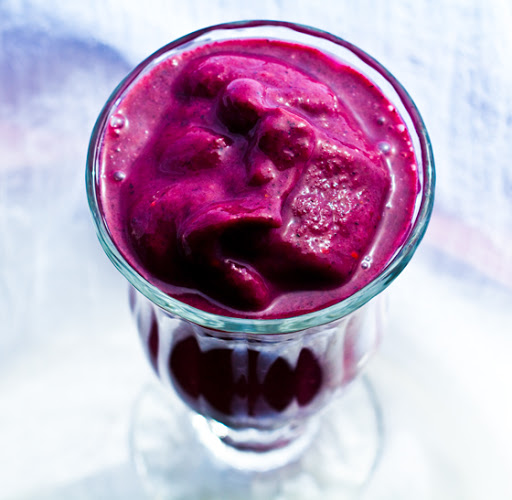 6. Smoothie FAQ's + Acai Blueberry Smoothie