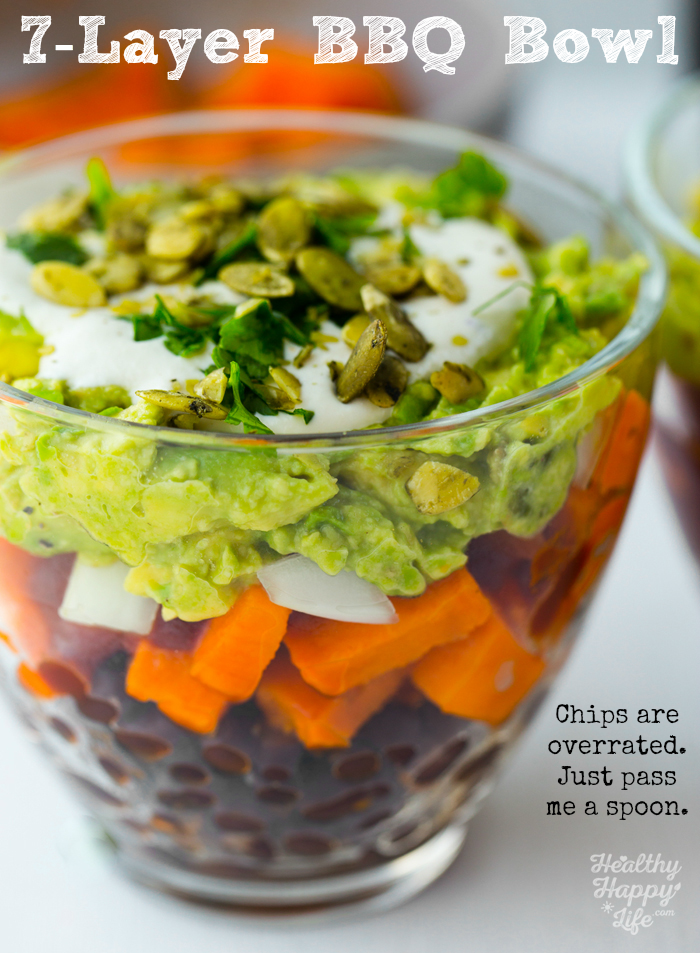 I always swoon over tall-layered dishes of seven-layer dip. I cram my chip into the bowl, trying desperately to scoop out a tiny bit of goodness from each layer. But I always fail. My chip breaks halfway through my scoop and I end up with just some creamy guacamole, a tiny bit of vegan sour cream and maybe a few black olives or onion. But the truth is this: Chips are overrated. Just pass me a spoon. And. Lets add some sweet potatoes to that bowl. And lets just eat more than our fair share of this stuff and just call it an entree, yes?
Bottom line, I think you need this Seven-Layer BBQ Bowl in your life, so lets get to it…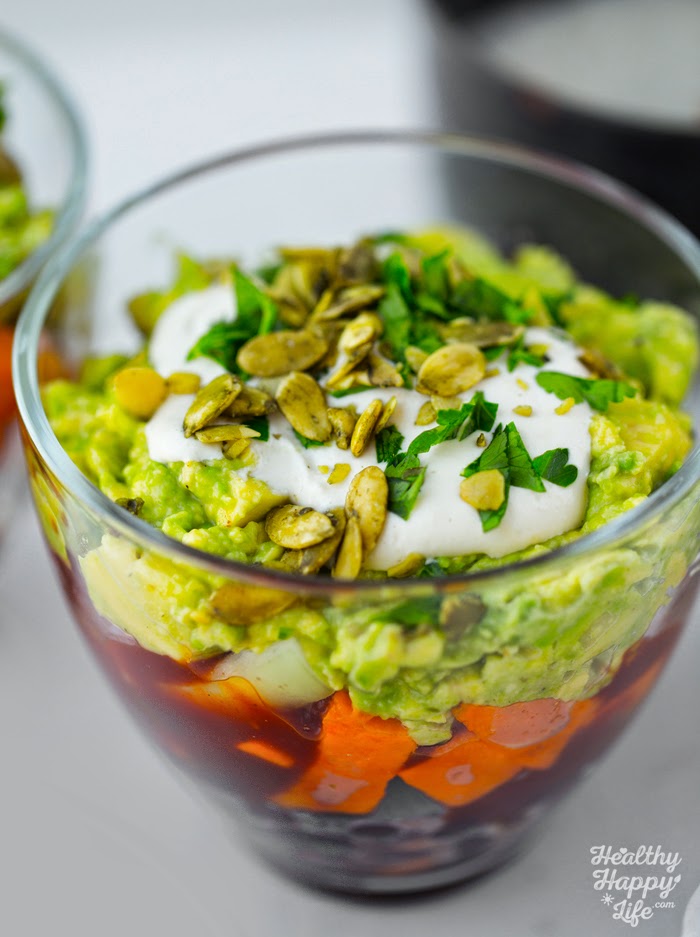 Easy cashew cream .. no overnight soaking for this one!..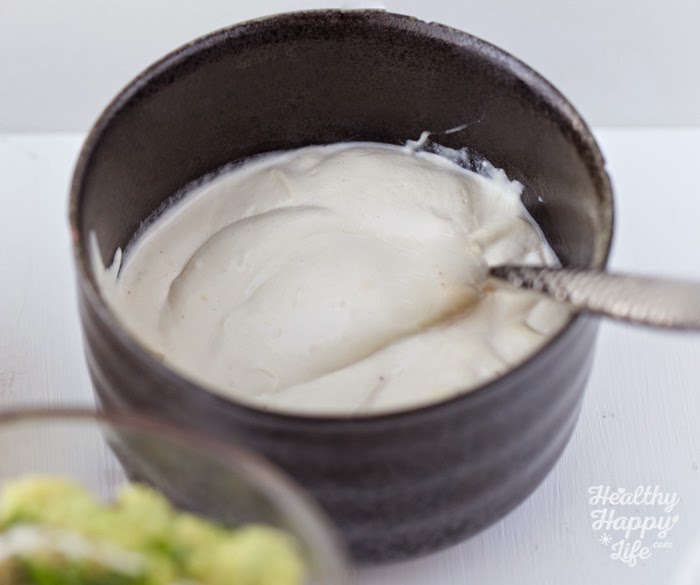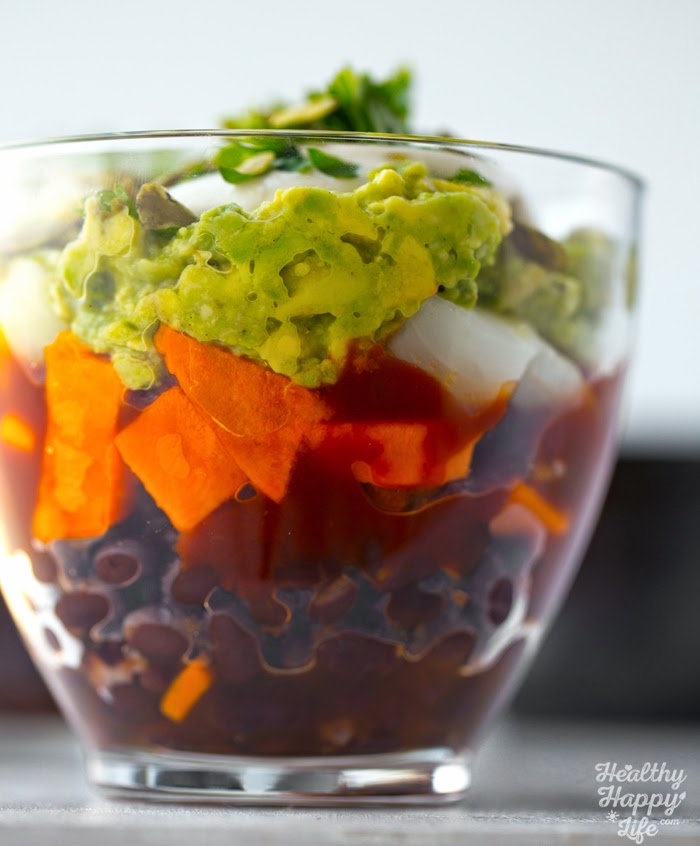 Seven-Layer BBQ Bowl. As I was making this dip/bowl, all these silly slogans kept popping up in my head, so I think I will share a few with you. In the spirit of ad-season, aka the SuperBowl.
"Chips are overrated. Just pass me a spoon."
"This is not a burrito bowl. It is dip that you eat for dinner. And I'm OK with that."
"Sorry chips, you are not invited to these seven layers of party."
..anything? Did I win an advertising contract? I didn't think so. But you want to eat this dip at least, yes?
And yes, I do watch the SuperBowl, sort've. Only for the commercials and halftime show. And snacks. And lets be clear on my stance here, the best halftime show ever was this one.. Britney + vintage Justin. What's not to love?
So, these layers..
Layer one: black beans (you could also mash them for a softer bean layer!)
Layer two: sweet potato cubes (sweet and amazing)
Layer three: spicy-sweet vegan BBQ sauce (flavor boost! I love Annie's brand or DIY recipe)
Layer four: diced sweet onion (fresh and zesty!)
Layer five: avocado-lemon mash (aka, guacamole)
Layer six: homemade cashew cream (no soaking required!)
Layer seven: sprinkle pepitas + cilantro or parsley (fresh and perky)
You in? Good! This recipe is SO fast and easy. I whipped things up in under a half hour, easy.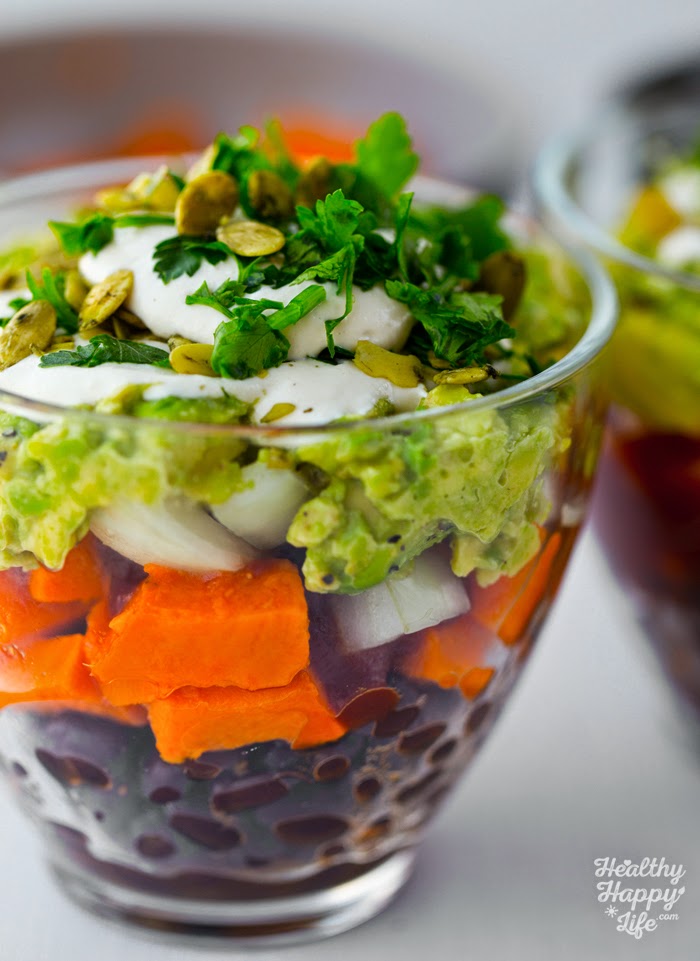 Southwest BBQ Seven-Layer Bowl
By Kathy PatalskyPublished 01/25/2015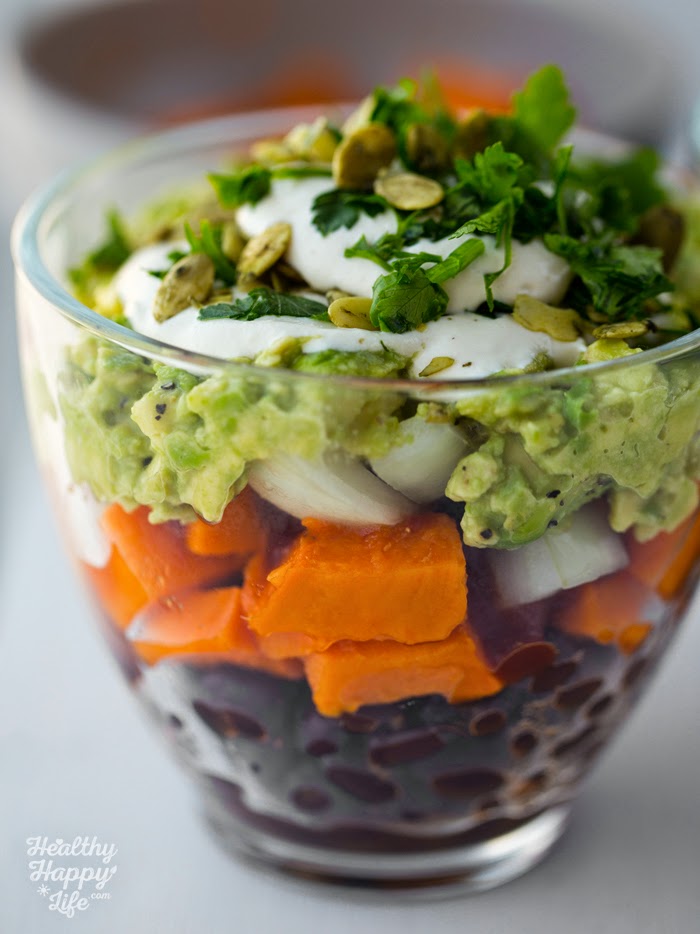 This divine dip is more that meets the eye. It is seven layers of love. And goodness. This dip is a meal. No chips allowed. Beans, sweet potato, cashew cream and load of guacamole.
Ingredients
1 ½ cups cooked black beans
2 ½ cups sweet potato
2 avocados — to lighten things up a bit, only use 1 avocado
2 lemons
4 tablespoon BBQ sauce (vegan)
2 teaspoon pumpkin seeds
½ cup cashews, raw
water as needed to blend cashews
¼ cup cilantro or flat leaf parsley
⅛ teaspoon salt + a few pinches black pepper
½ cup onion, diced
Instructions
Bring a large pot of water to a boil. Add the sweet potatoes and cover with lid. Cook 5-10 minutes, or until tender. Remove potatoes with a slotted spoon and place in a bowl to the side. You want to keep the hot water. Bring it to a bowl again, once potatoes are removed.
Add the cashews to a mesh strainer and dunk the strainer in the boiling water for about a minute. This will help soften the cashews for blending. (You could skip this step by using fully soaked cashews.)
Place softened cashews in a Vitamix blender and add ½ cup of water and the juice of one lemon. Set aside for now.
While the water is still boiling, you can warm up the beans if you are using canned beans. Pour the beans in the boiling water and turn off the heat. Since the beans are already cooked (canned) you just need to warm them. Drain the water and set the warmed cooked beans aside.
Back to your cashews, start the blender and blend from low to high. Add only ad much water as you need to blend the cashews, you want the cashew cream to be thick. Blending may take 2-3 minutes to really smooth the cashews out. Pour cashew cream into a small bowl and set aside.
Add avocado flesh to a small bowl, along with juice from one lemon and the salt and black pepper. Mash until creamy.
Dice the onion and finely chop the cilantro or parsley.
Now you can assemble! Distribute these ingredients between two serving bowls. Add the beans, then the sweet potato, then 2 tablespoon of BBQ sauce to each bowl. Then the onion, avocado mash, cashew cream and finally a sprinkle of pepitas and chopped parsley or cilantro. Serve right away so the warm ingredients mingle with the cool and creamy guac and cashew cream. Also delicious chilled.
Yield: 2 entree bowlsPrep Time: 00 hrs. 10 mins. Cook time: 00 hrs. 15 mins. Total time: 25 mins.
Nutrition
Calories:

640

Totalcarbs:

78

Fat:

29

Dietaryfiber:

25

Protein:

22

Cholesterol:

0
Tags: vegan,entree,mexican,dip,appetizer,sweet potatoes,dinner,avocado,7 layer dip,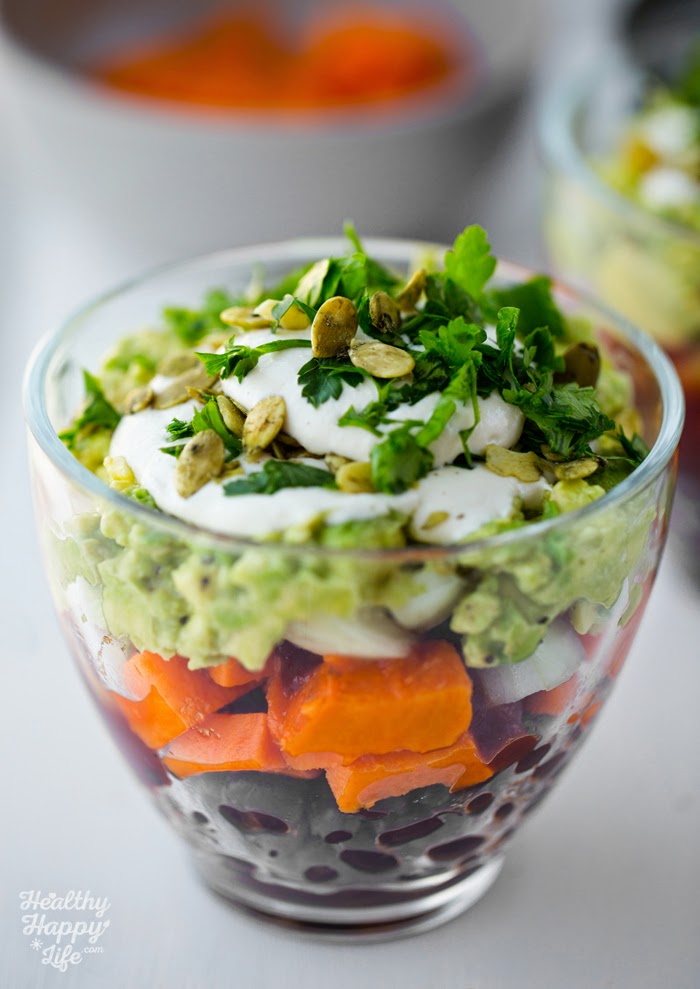 Disclosure: I am a Vitamix affiliate and any links to their products are via my affiliate account.