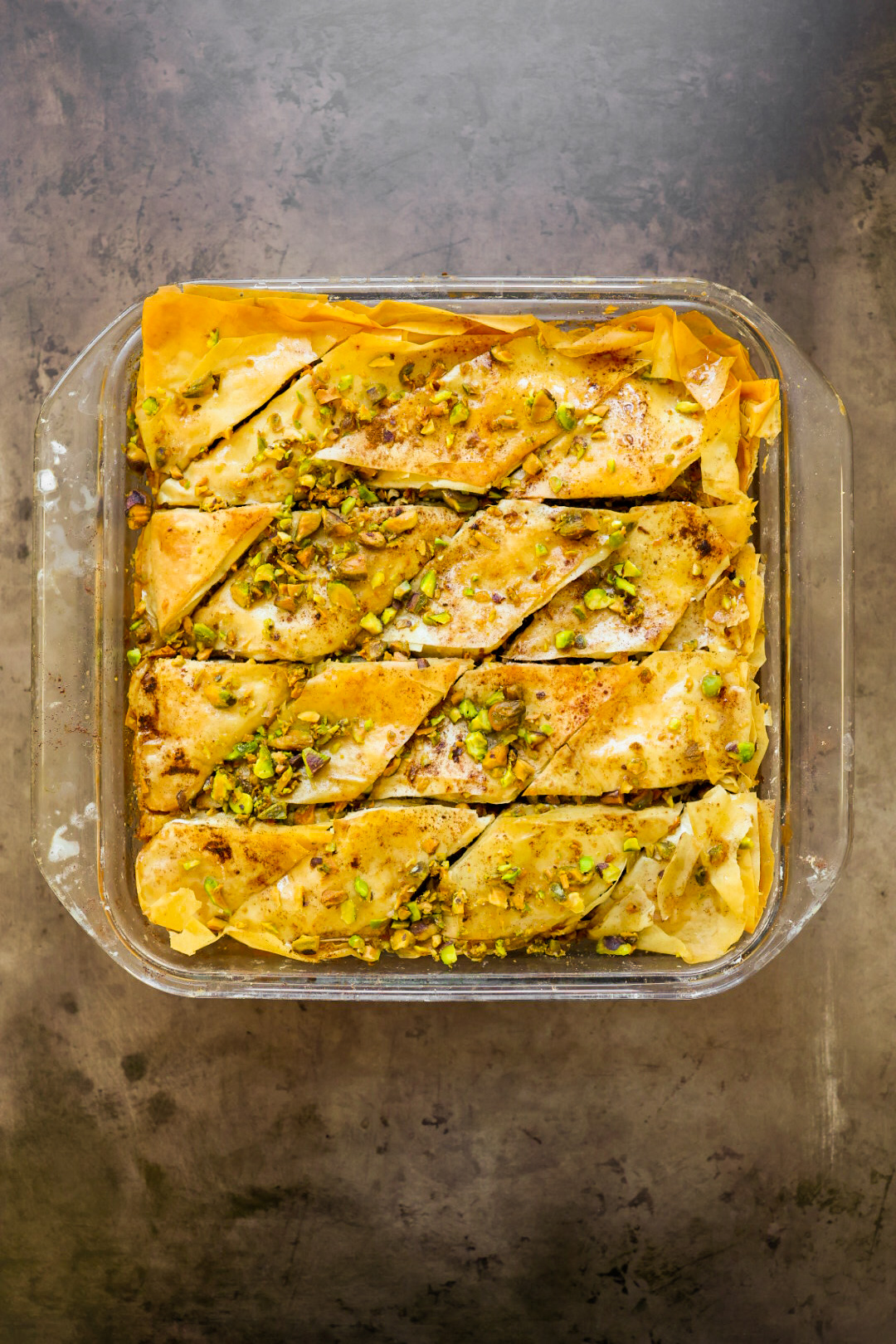 Today I'm sharing my Vegan Baklava baking adventures! This was my first time making this sweet and sassy dessert and I was really happy with the results. I would not call myself a baklava pro by any means, but I'm hoping to achieve pro status with a few more bakes of this stuff. So if you are looking for a simple, basic baklava recipe that tastes amazing – and is vegan – this is it!
Baklava Inspired..
There's this cute falafel restaurant here in LA called Rodini Park. We order takeout from them once in a while. They always make a fresh and tasty falafel pita and they are awesome for me because they actually sell vegan baklava!
I adore ordering baklava as a sweet dessert to finish up my meal – the perfect accent to a salty, rich falafel pita sandwich with hummus and tahini and veggies.
(I basically have a dessert after dinner every day. I love that sweet contrast to a savory meal.)
Well, I realized that I have never made baklava! And these days, the experimenting in the kitchen that I like to do is usually with recipes I have never made before that might be a bit challenging. Baklava sounded like it fit that description. But really, this Simple Vegan Baklava is true to it's name! This recipe is simple and pretty easy even for a beginner baklava person like myself….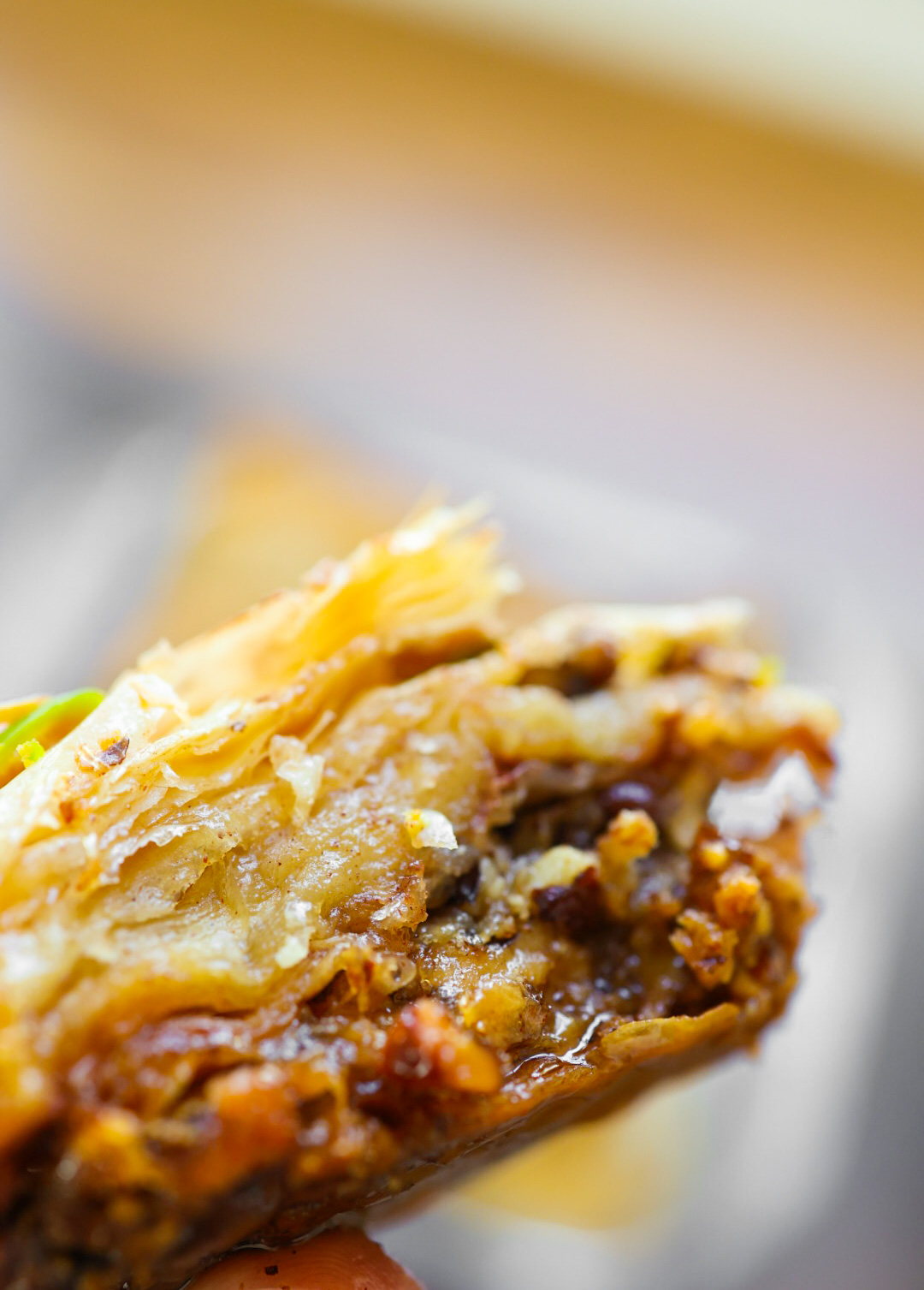 Baklava Basics
For me a baklava has a few elements…
bold sweetness – a bold bite of sweet! You only need a tiny piece of this stuff, so packing in a lot of flavor into each bite is a must.
bright testiness – lemon brings a tartness to this dessert.
spice – undertones of cinnamon and maybe a few exotic spices too if you want to get fancy and creative. cardamom, ginger… so many you could play with.
flakiness – all those layers of flakiness must be there.
crunch – amidst the moisture, you need a bit of crunch from those layers!
moisture – you do not want your baklava to be too dry. That is something a beginner may struggle with. Achieving a moist bake, while still getting those upper layers of flakiness and crunch.
nuts – the flavor of nuts is in every bite.
color – I personally love some chopped pistachios on top to give a pop of green.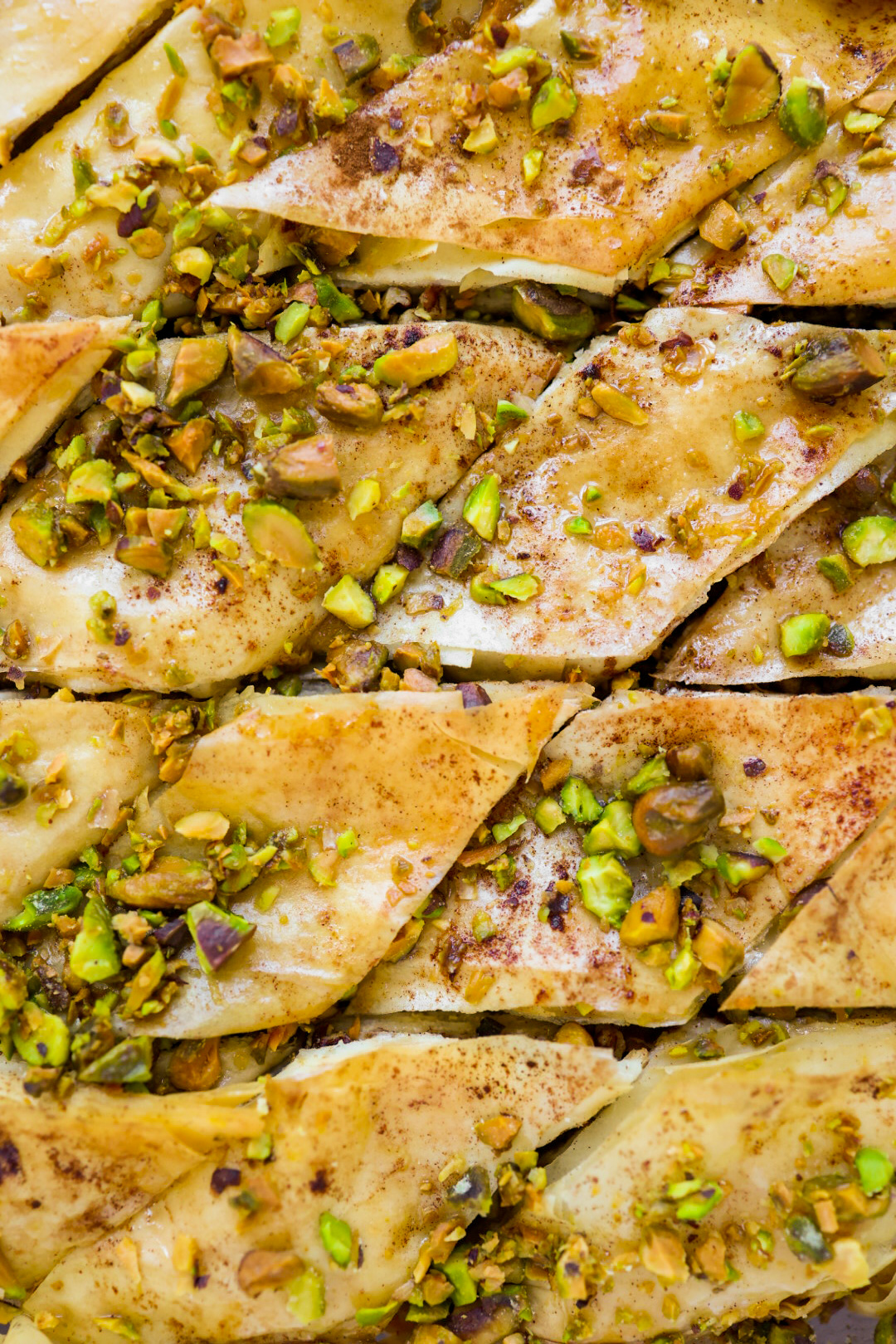 Vegan Substitutes for Baklava
Butter is easily subbed with vegan butter. Phyllo dough can be found in vegan form. Instead of honey, you can just use maple syrup or a sugar syrup or agave.
The brand of phyllo dough I used that has a great vegan option is The Fillo Factory.
See, easy!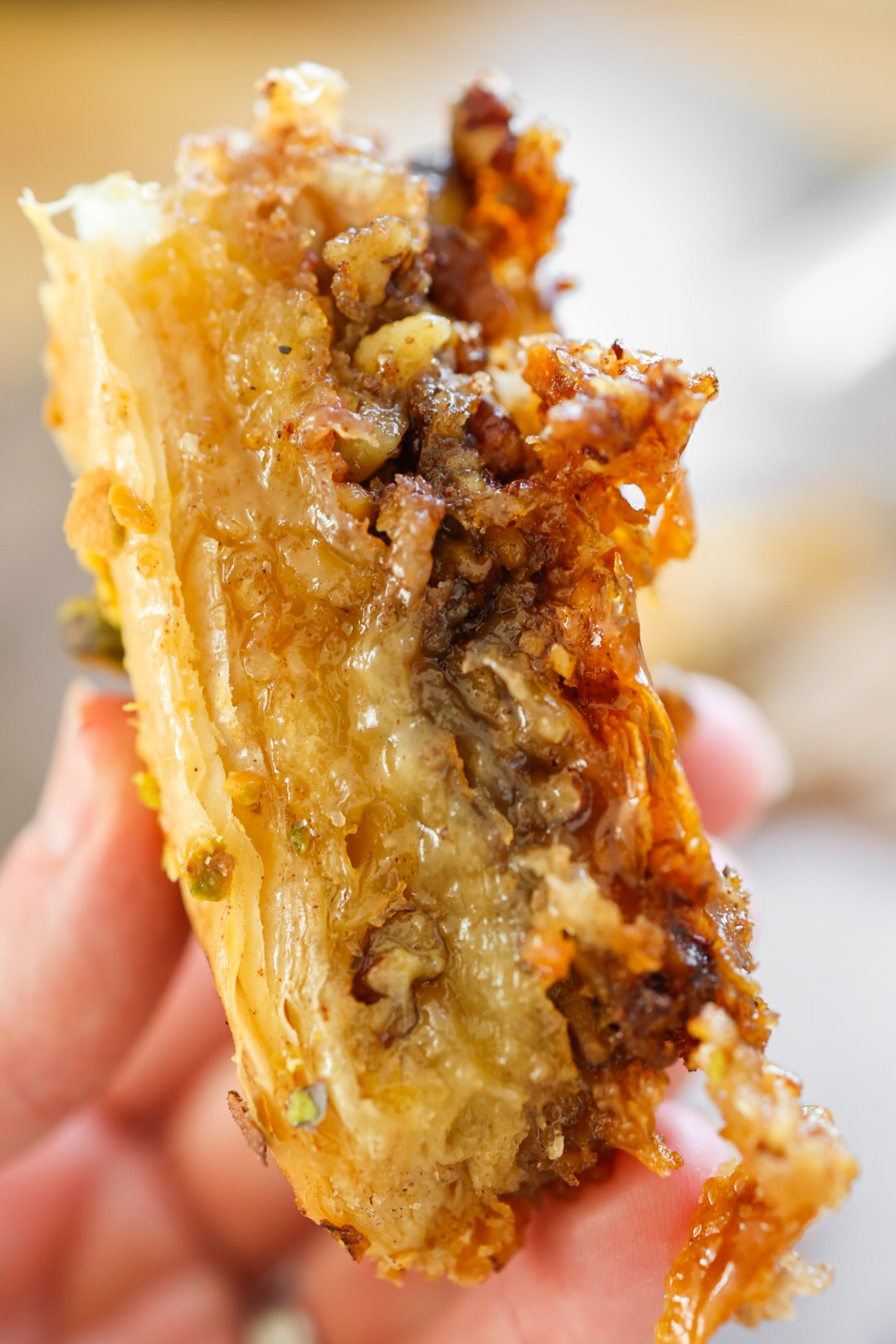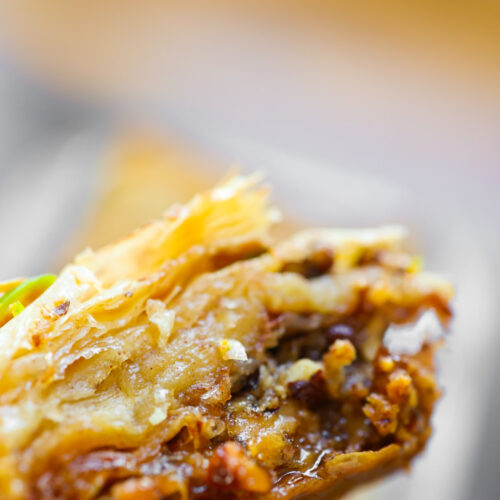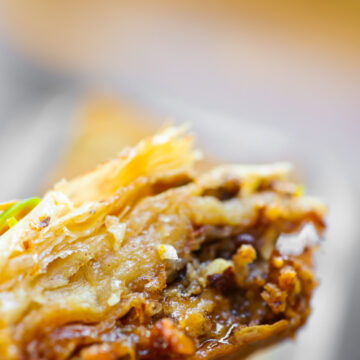 Vegan Baklava
This simple vegan baklava is light and flaky, with intense swee, nutty and bright flavors.
Print
Pin
Ingredients
16

oz

walnuts

,

finely chopped or processed

1 ½

teaspoon

cinnamon

1

package

phyllo dough

,

vegan variety

1

cup

vegan butter

½

cup

maple syrup

1

cup

water

1

cup

sugar

1

teaspoon

vanilla extract

⅓

cup

lemon juice

½

tsp

lemon or orange zest

additional butter or oil for greasing pan

drizzle of extra virgin olive oil

¼

cup

pistachios

,

chopped
Instructions
Preheat oven to 350 degrees. Grease a large casserole dish with vegan butter or olive oil.

Finely process the walnuts in a blender or food processor. Toss them with the cinnamon.

Melt your butter. I use a microwave for about 30-60 seconds.

Start your layering. Add a few sheets of phyllo, followed by brushing the top layer with butter – about 3 tablespoon of melted butter at a time. Add a layer of nuts, then repeat the phyllo dough. I did 2-4 sheets, then another layer of nuts. Repeat until all the nuts and butter has been used up, then top with the remaining phyllo dough. I then did a drizzle of olive oil right over top.

Bake the balkava for 50 minutes at 350 degrees.

While the baklava is baking, prepare the syrup. In a small pot, bring the sugar, maple syrup and water to a boil. Reduce heat to a simmer and stir until the sugar is dissolved. Stir in the vanilla and zest. Allow to simmer for about 15 minutes.

Remove baked baklava from oven. Slice with a sharp knife into pieces. I did diagonal diamonds, but squares work too.

Pour the lemon juice over top. (This is my own little step that isn't in traditional recipes, but I like that extra burst of citrus.)

Pour the simmered sugar mixture over top – distributed evenly across the top layer of phyllo, allowing the sugar to saturate the top and inside layers of the baklava.

Sprinkle the chopped pistachio over top.

Allow to cool for a few minutes before serving. Store at room temperature for up to a day, otherwise, store in the fridge.
Notes
recipe adapted from all recipes
I used The Fillo Factory vegan phyllo dough
nutrition estimate | per serving
Calories:
353
kcal
|
Carbohydrates:
31
g
|
Protein:
5
g
|
Fat:
24
g
|
Saturated Fat:
4
g
|
Trans Fat:
1
g
|
Sodium:
184
mg
|
Potassium:
159
mg
|
Fiber:
2
g
|
Sugar:
16
g
|
Vitamin A:
443
IU
|
Vitamin C:
2
mg
|
Calcium:
37
mg
|
Iron:
1
mg