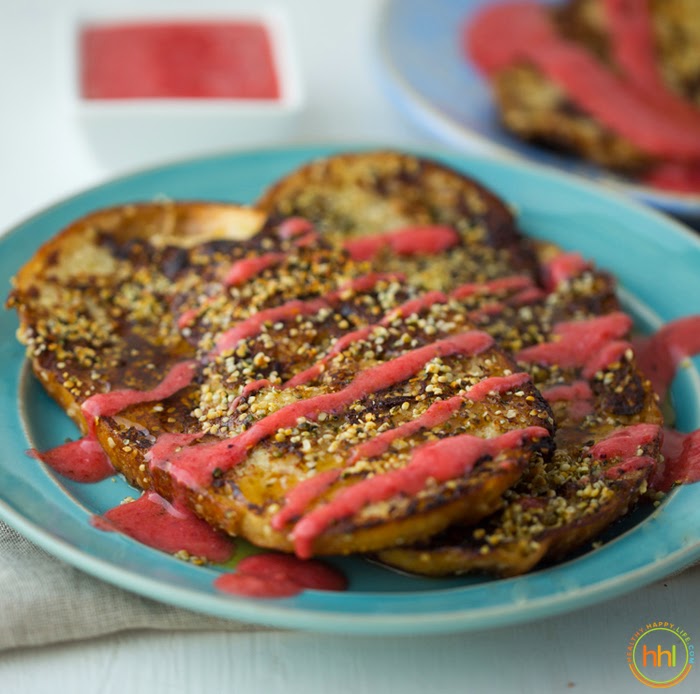 When it comes to weekend mornings, or snow days or sleeping in, or any day where giving into morning relaxation is permitted and embraced, there is usually one big question on everyone's mind as you stumble out of bed and pull on a robe and slippers, "What's for breakfast???" or, if you are like me, "..brunch?"
And if it is comfort food you crave, the classic, go-to answer, I think, is pancakes. Vegans love pancakes and have learned how to make them amazing without the use of eggs or dairy milk. Well lets pause and consider another top contender.. French toast!
Today I share my Super-Simple Strawberry-Swirl Vegan French Toast as well as my 8 reasons why French toast is the unsung hero of veganized breakfasts..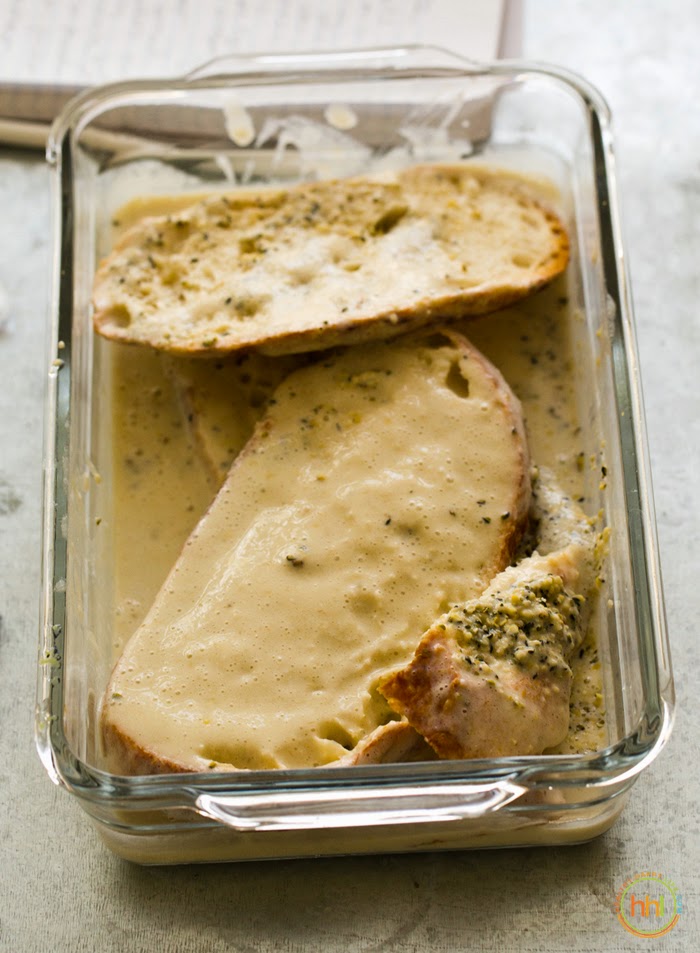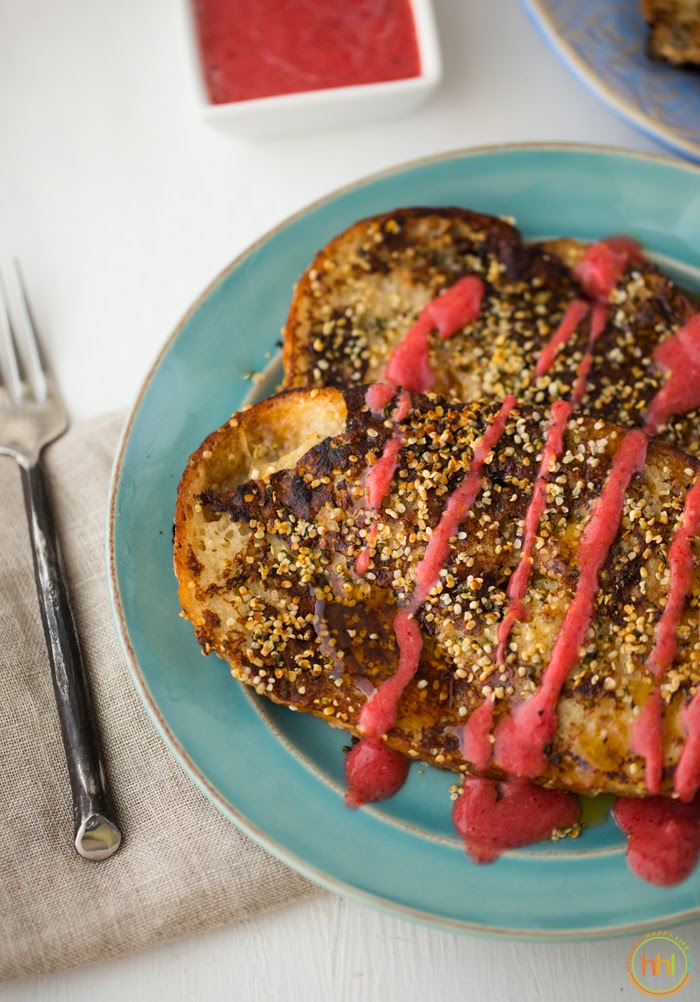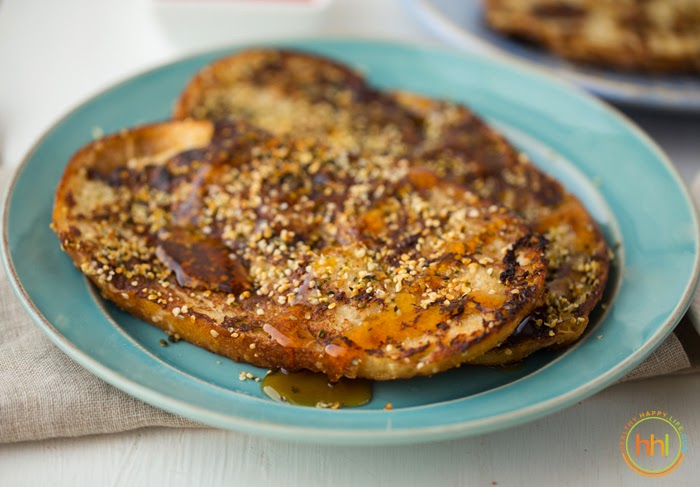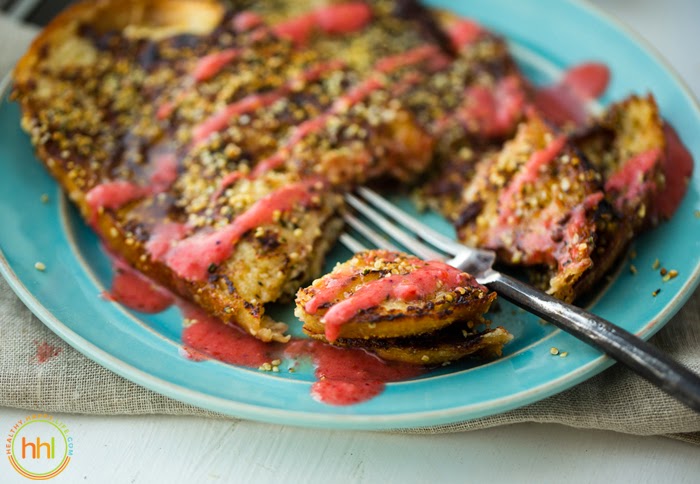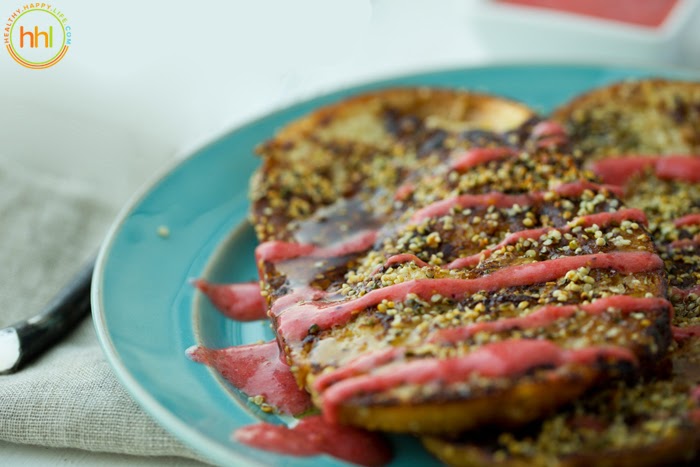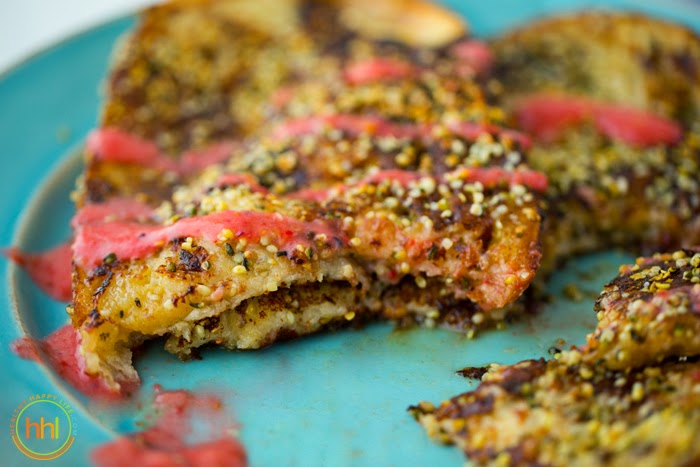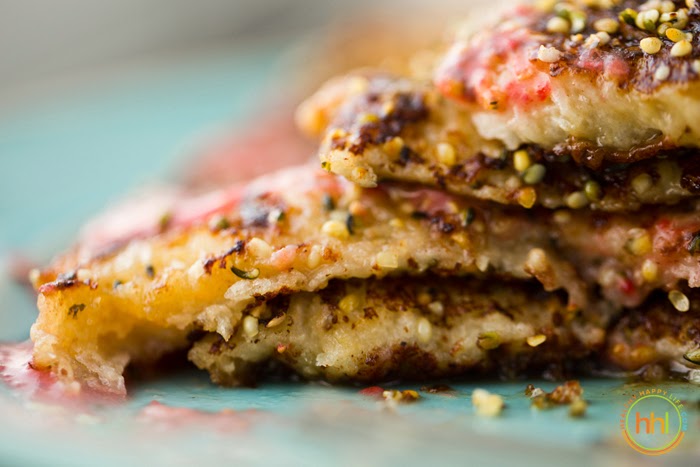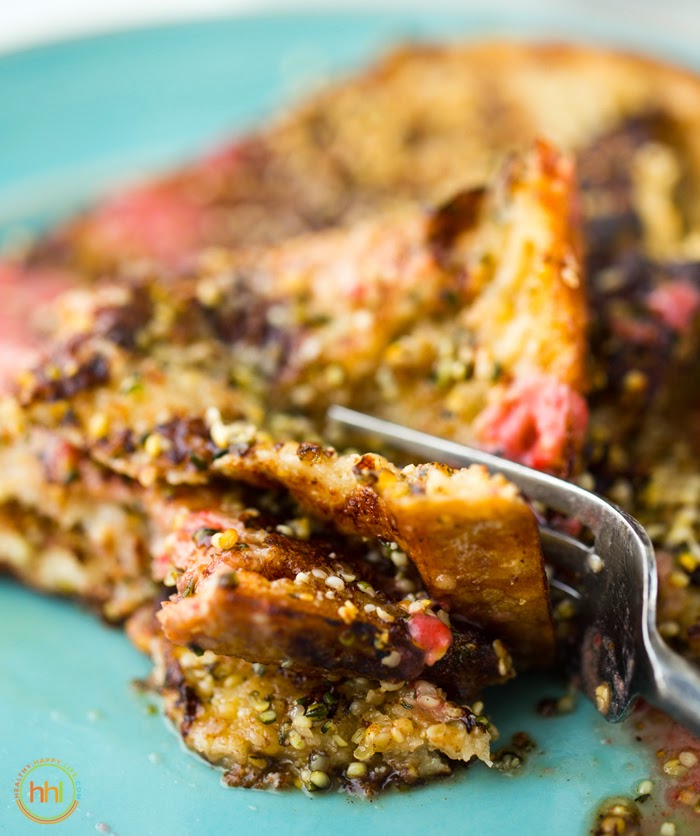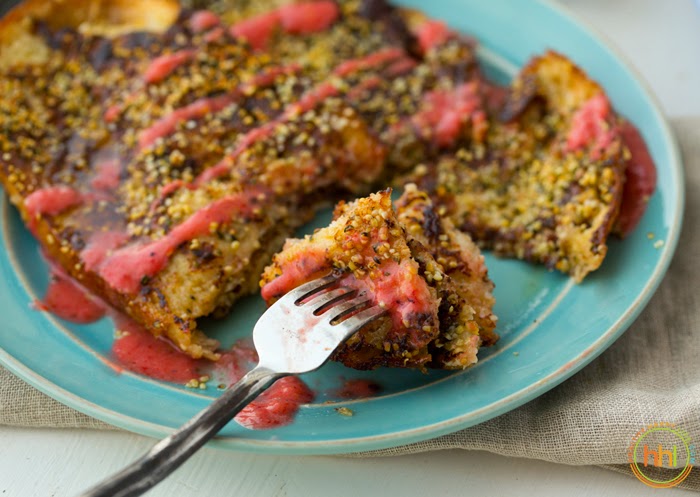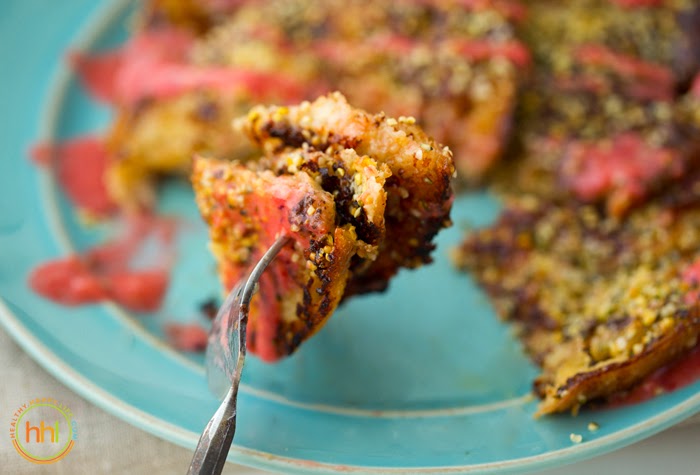 Another version, same banana soaking liquid.. walnut bread and blueberry sauce..
8 reasons why French toast is the unsung hero of veganized breakfasts
1. Protein. Some might say that since the vegan version does not contain eggs, it is lacking in protein. Well there are a few easy solutions to that. You could whisk in some vegan protein powder to the soaking liquid. You could sprinkle some protein-rich hemp seeds over top, like I did for today's recipe. Or you could slather on some almond or peanut butter to serve. OR you could add some silken tofu as an egg replacer – using it in place of non-dairy milk.
2. Bread. Lets face the facts. The success or failure of French toast is not about the eggs or dairy. It is really all about the bread. And if it was properly soaked. And at the right stage of "day-old-ness." If you use properly "aged" and dry bread, you will easily get delicious results whether or not you add eggs. My most favorite bread is day-old sourdough. I pull my bread straight from the freezer, soak and toss on the skillet! Bread usually dries out quite a bit after being in the freezer for a while. Or you can use room temperature day-old bread. The crustier the better .. less sogginess in the finished product.
3. Fast. Vegan French toast may cook faster than regular French toast because there is never any raw egg worry. Once the French toast looks done, it is done.
4. Milk. Plant milks work seamlessly into any French toast recipe. No need for dairy.
5. Maple Syrup. Maple syrup is the second most important factor, right after bread. Real maple, drizzled over top is a make or bread moment for French toast. And maple syrup is vegan.
6. Toppings. Toppings like sauces and compotes for French toast can totally be veganized. Apple-cinnamon, blueberry or strawberry like today's recipe. Need butter? Try Earth Balance.
7. Fluff Factor. If you do not like making vegan pancakes because you worry you will mess up the "fluff factor" with an egg-deficient recipe, give French toast a try! The "fluffiness" is pre-built into the bread you are using, that has already been baked with nooks and crannies and air. So the bread puffs right back up when you skillet-cook it. No fluff factor worries to be had.
8. No Special Flours. French toast can be made using whatever bread you'd like. Although I do prefer sourdough. So if you are gluten-free, or want whole grains or sprouted grains, you do not need to buy special flour like you would for pancakes or waffles. You can just use the bread you already buy for other recipes.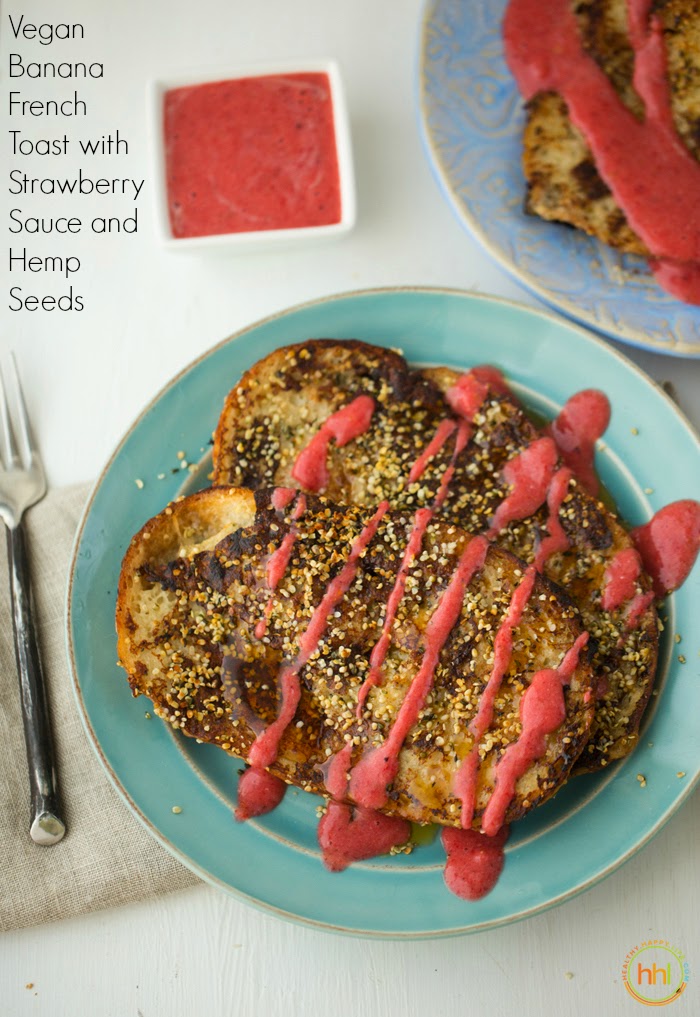 Super-Simple Strawberry-Swirl Vegan French Toast
By Kathy PatalskyPublished 01/09/2015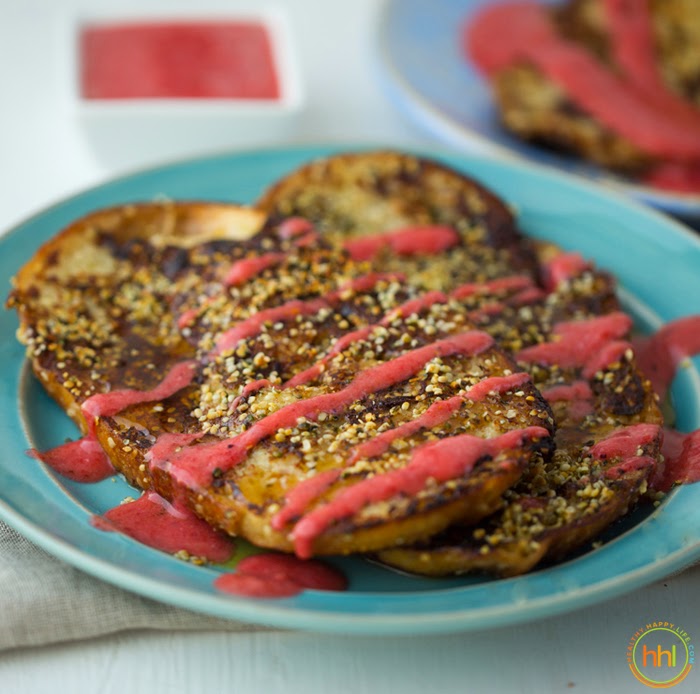 Super simple vegan french toast that is perfectly light, fluffy, delicious and sublime. Hemp seeds sprinkles, cinnamon and vanilla. Plenty of maple and strawberry swirl on top.
Ingredients
6 large slices sourdough bread (leftover freezer bread – or day-old)*
*substitute with your leftover 'freezer bread' or day-old bread on hand
1 large banana (1 ¼ cups when blended) — I have actually noticed that starchier bananas actually work better than over-ripe bananas
¾ cup non-dairy milk
1 teaspoon cinnamon + ⅛ teaspoon nutmeg – or to taste
½ teaspoon vanilla extract
⅛ teaspoon salt
2-3 tablespoon virgin coconut oil
⅓ cup hemp seeds
strawberry swirl: 1 cup frozen strawberries + splash of non-dairy milk or orange juice
to serve: maple syrup, grade B + pinch of coarse sea salt — or vegan butter, melted
Instructions
Add the banana, vanilla, salt and non-dairy milk to a blender and blend until smooth. Pour mixture into a large flat dish like a rectangle storage or baking pan.
Add 2 slices of frozen sourdough bread to the mixture and slosh around a bit, flipping once so both sides are coated.
Warm a skillet over medium heat. Add 2 teaspoon coconut oil and when oil is melted, add the soaked bread. It will sizzle a lot. Sprinkle a heavy hand of cinnamon over top the bread slices. After about 2-3 minutes, flip and add cinnamon and nutmeg to the other side as well. Note: you can place the next two slices of bread in the banana soaking mixture while the first slices are cooking.
After about 2-3 minutes cooking on the other side, the toasts should be browned on both sides, the edges blackened and crispy while the center coating is browned, but still moist – but not soggy! LAST STEP: Sprinkle 1 tablespoon of hemp seeds on the toasts, flip them one more time to lightly toast seeds in the hot pan and then remove toasts from skillet. You do not want to burn or even cook the raw hemp seeds, just let them stick to the toast and toast lightly.
Transfer the first two slices to plates and repeat until all the bread is used up.
For the strawberry sauce, no need to rinse the same blender container that you blended the banana mixture in, just add the frozen strawberries, a splash of non-dairy milk and blend. Transfer this mixture to a small serving container. Optional: warm topping in microwave for 30 seconds. Serve topping by pouring over top.
Serve warm toasts with maple and strawberry topping swirled over top.
Yield: 6 slicesPrep Time: 00 hrs. 15 mins. Cook time: 00 hrs. 30 mins. Total time: 45 mins. Tags: breakfast,brunch,french toast,strawberry,hemp,cinnamon,vegan,