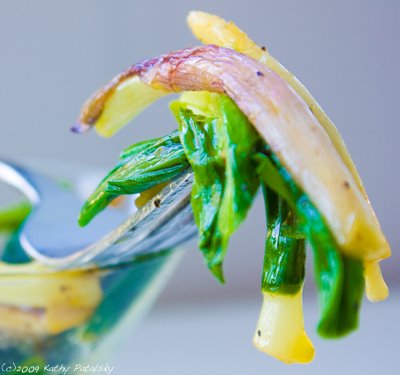 I finally got my hands on some fresh wild California Ramps, on sale at Whole Foods. And after my indulgent ramps photo shoot, the white truffle essence hovering in the air was making me woozy for a delicious ramps tasting. Since I was a ramps newbie I wanted to keep the flavors clean, crisp and simple.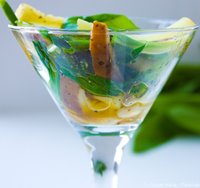 Ramps and Shrooms: A Perfect Pair. I decided to add a bit of shiitake shrooms to my tasting recipe, ramps and shrooms go hand in hand. Come along for my ramps tasting experience and my simple recipe ahead…

How Do I Cook Ramps?
Ramps look a lot like scallions, but must be handled more delicately. Ramps have delicate wispy spring green leaves shooting out of the crisp white and purple root stems. I didn't know exactly how to chop the ramps up for cooking. A few recipes I found online instructed to chop them up pretty harshly and add them to a saute dish for some all around flavor. But since I was doing a tasting I wanted as little chopping as possible. I wanted to really taste these ramps!
Here's my ramp tasting process:
1. Clean the ramps. Pull off any dead or wilted layers around the bulb.
2. Chop off the rooted bulb. Just a tiny slice because a lot of the ramp flavor is in that tiny white bulbed end.
3. Do a 1 inch rule. Chop the ramp into about 1 inch strips starting with the white bulb. I liked keeping the white bulb slice and the purple stem slice separate so I could taste the differing flavors of the ramp.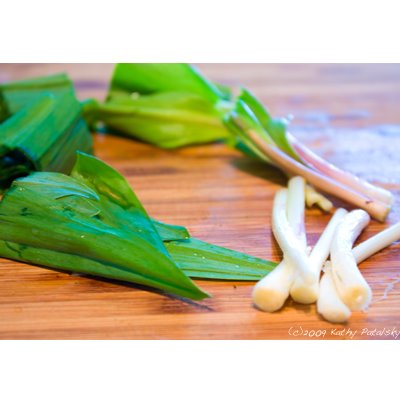 4. That's it for prep. Now onto the recipe:
Simple Wild Ramps Tasting
Here's the ingredients:
5-6 small wild ramps, chopped as stated above.
1 tablespoon olive oil
5 shiitake mushrooms, cleaned and sliced thin.
3 tablespoon veggie broth
1 garlic clove
½ teaspoon salt
freshly ground black pepper
Prepare the ramps:
In a hot skillet, add the oil, veggie broth and garlic.
When liquid is sizzling, add mushrooms.
Saute for 1-2 minutes uncovered.
Add in a pinch of black pepper and the thick ends of the ramps (white bulbs and purple stems, leave out the green leaves thus far.)
Saute for another minute on med-high.
When the ingredients look just about perfect, add in the green ends of the ramps and cover pan for about 30 seconds. The steam from the pan should cook the ends very quickly.
Uncover and do a quick stir with your spoon to mesh all the flavors together.
Turn heat off.
Sprinkle a dash of salt and grind some fresh pepper on the dish-still in the pan.
Toss salt/pepper with the dish.
Plate in small servings dishes while still steamy hot.
The smell will be divine!
Serve with some crusty bread and small forks.
Let the ramp tasting begin.