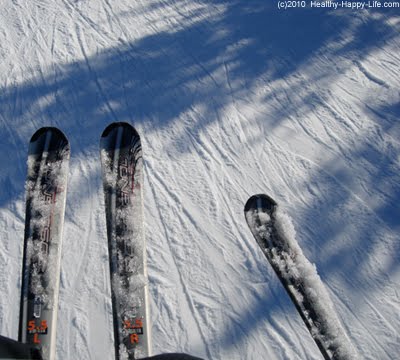 Sounds like a dream, to "ski green". After all, one of the main perks of winter sports like skiing and snowboarding is that you are immersed in nature, swooshing down white snowy hills, clean fresh mountain air in your lungs. The great outdoors is not only your backdrop, but also your winter playground. Without a pristine alpine backdrop, (or a few white-blanketed hills) skiing wouldn't be possible. So it is natural that environmental preservation and skiing go hand in hand. Keep the slopes white, by keeping the slopes green. But are "green slopes" just a mythical pop culture idea, or an ever-evolving reality? Clif Bar Awards and a "Save Our Snow" iPhone App makes it easier to ski green. But is it enough?…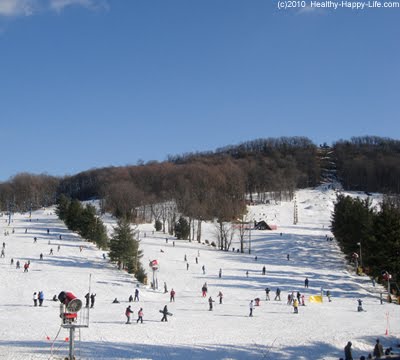 My Winter Ski Bliss. I have adored skiing ever since I was a little girl-too small to carry my own skis and poles. My all time favorite ski resorts are Heavenly in Lake Tahoe and Deer Valley in Utah. My favorite east coast ski resort is Killington in Vermont. But this past weekend I went skiing at a very modest resort on the east coast. It wasn't Tahoe, but still a nice day trip of skiing fun. It always feels amazing to get out on the slopes and swoosh down a few white snowy hills, the crisp wind in my face and smell of pine trees in the air. But actually, there wasn't a lot of pine tree smells wafting my way…

It was the smell of BBQ. Yup. Slope side BBQ, right at the foot of the hill. The musty thick black smoke floating up the hill and into my nose. I even overheard one ski lift conversation between a dad and his son:
"Dad, do you smell BBQ?"
"No son."
"I do. Smells like burgers." the father laughed.
But the son was right! Right at the foot of the mountain, near the dining area, there was a giant BBQ tent set up. The 'slopeside BBQ' served angus burgers, fries and more. Complimentary side of black BBQ smoke, included. Even for those who didn't care for it. Not exactly green.
But inside the ski resort dining hall, the food options didn't get much better. There was a greasy pizza alcove cafe, a giant doughnut counter, fries, soda, giant high-oil muffins coated in frosting, cookies, pastries (eclairs and scones), sugary 'hydration' beverages, candy, chips and a few dumpy looking iceberg lettuce salads and a few bowls filled with waxy, black spotted fruit. Nothing I would touch or eat. So what did I eat?…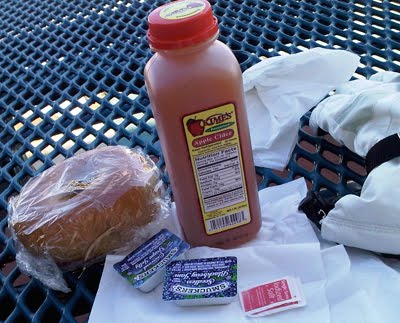 I found a whole wheat bagel, a pouch of concord grape and blackberry jam and a glorious big bottle of local, 100% natural apple cider. Chugged the cider, spit out the dry stale bagel and literally licked some salt from a salt packet right out of my palm, needed some salt. My version of 'hydration beverage' if there is no coconut water in sight. Luckily, I brought along a nice bag of almonds, which tasted like little rocks of gold, as I munched them on the chair lift. Oh, and thank goodness there was a coffee stand that served Starbucks beverages with soy milk. I was pleasantly shocked by the availability of soy.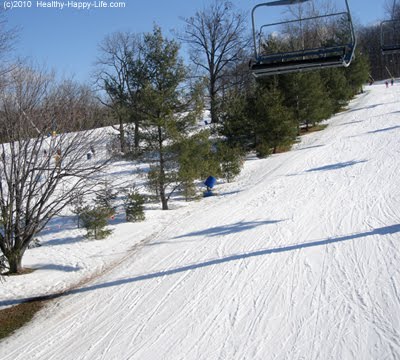 What is Green Skiing? The 'green' trend in society has indeed, melted over into the ski resort community. If you aren't trying to 'green' your ski resort, you are leaving yourself out in the cold. The "green" ski resort trend represents the future of resort culture. CLIF Bar has even launched an awards program which recognizes the green efforts in the ski community. CLIF Bar Golden Eagle Awards:
"Established in 1993, the Golden Eagle Awards for Environmental Excellence recognize the environmental achievements of ski areas. The awards honor members of the NSAA, which represents the majority of ski area owners and operators in North America. Clif Bar & Company, which employs wind energy, biodiesel, waste reduction and other initiatives to reduce its own footprint on the planet, is the administrator of the awards program. "

The Golden Eagle Award Categories:
Golden Eagle: Overall Environmental Excellence
Silver Eagle: Excellence in Water Conservation/Water Quality
Silver Eagle: Excellence in Energy Conservation/Clean Energy
Silver Eagle: Excellence in Fish & Wildlife Habitat Protection
Silver Eagle: Excellence in Environmental Education
Silver Eagle: Excellence in Visual Impact
Silver Eagle: Excellence in Stakeholder Relations
Silver Eagle: Excellence in Waste Reduction and Recycling
Recognizing Green Food? This is my plight, when it comes to the "Green Skiing" trend: the food. It seems that while the ski resorts are watching their energy usage, recycling, wildlife preservation and water conservation practices, (and bravo to all those movements), they have forgotten that "staying green" means serving green food. Here are my green food on the slopes, ideas. How about…
*A free filtered water station for skiers who want to bring their own reusable water bottles.
*Green, vegan, vegetarian, organic, local and all-around higher quality food options.
*Healthy veggie soups! Made by local chefs and cafes, from locally grown produce.
*A juice bar, trail mix (fresh nut bar and dried fruit bar) – (all high quality) for those who want to stay healthy and fueled up while on the slopes. Whole Foods sponsored perhaps…?
*If you must serve burgers, have a veggie burger option – prepared on a veg-only grill. But really, please ditch the BBQ at the foot of the mountain thing. I don't want to smell smoke, I want to smell trees!!
*Less packaging on food items, more recycling bins. Ditch the Styrofoam cups.
*Less high-fat, high sugar, white flour pastry confections and more high calorie healthy treats and snacks (we all know skiing and snowboarding burns a lot of calories, but high calorie foods can be healthy and vegan too!)
*Coconut water stations at the dining area. Please?
*Serving hot chocolate? Why not use fair-trade cocoa and serve plentiful dairy-free options for milk. Agave syrup and vegan sugar sweeteners all around.
*Fresh baked sandwich bread, rolls and bagels made from high quality grains, seeds and flours. No more stale whole wheat bagels. Yuck!
So bravo to CLIF bar for rewarding the "Green Slopes" out there, I can only hope that they add a category to their Green Eagle Awards that recognizes "Green Food" options on the slopes. After all, everyone loves a good mid-mountain hot cocoa break.
Make ski food green!
iPhone Users! It' Easy Skiing Green!
Clif Bar even has a very cool (literally) iPhone App for the Ski Green community: Save our Snow.