This Smoothie Oatmeal recipe is something I started doing recently and I love it. I started doing it as a way to split up a large smoothie into two portions. This started when my husband was on a breakfast smoothie kick for breakfast. But have been into an oatmeal routine this summer. But I mean, who can resist a freshly blended smoothie? So I would portion off a side glass of smoothie for myself – to drink. But eventually, I just started pouring my small smoothie portion right over top the oats and berries – and boom – smoothie oatmeal was born.
Raise your hand if you already do this. Raise your hand if you think this sounds weird. Either way, you've made it this far, so you are probably curious, yes?
For those who are meal-time-indecisive, like me, you get the best of both worlds. Creamy-cool meets warming + hearty breakfast bowl. Here's how I do it and also what not to do…
Good morning.
…bowls by East Fork.
Good stuff: Walnuts, berries, banana.. I love when the smoothie is nice and creamy, even a bit thick when serving..
I use wild blueberries on most days to get the richest purple color and more antioxidants per scoop.
Blueberries are usually a part of my breakfast. I either blend them into a smoothie or add them to hot or cold cereal. I love the antioxidant boost, the fiber boost and of course sweet and tart flavor of blueberries.
Smoothie oats. In the warmer summer months, I really crave smoothies. Not only for their cooling, hydrating qualities but also for the nutrition boost they can add. But sometimes I just don't want a liquid breakfast or even one that is cold and cooling. So enter my oatmeal. I prepare hot, fluffy quick oats and add the smoothie over top. Simple. I get my oats and I get my berry smoothie.
Smoothie Oatmeal: The Basics.
1. Prepare oats. Add or keep in serving bowl.
2. Prepare smoothie.
3. Pour the smoothie over top the oats to serve. If you have leftover smoothie you can serve on the side.
What not to do…
– Do not make the smoothie ahead of time. I am talking not even like a half hour in advance. You really want to serve your smoothie right after you blend it. That means having your warm bowl of oats ready to go. Otherwise, the smoothie will wilt and oxidize and just get kinda soggy and unappealing when poured over your oats.
– Do not make your smoothie too thick or too cold/icy. The temperature of your smoothie should be cool, but not frosty – this allows the oats to still stay warm. As for consistency. A nice creamy texture is perfect. Too watery and your oats will get watery, too frosty and your oats will freeze up.

– Do not swirl too much. Pour the smoothie over top the oats and eat. If you swirl or mix the oats with the smoothie the oats will cool off too much. What you really want is a hot oat bottom and a cool smoothie top – all making a cool meets warm spoonful.
– Do not add the entire smoothie at once. I usually start with a half cup over top the oats and add more as I eat. This way the oats stay nice and warm.
See how if you wait too long to serve the oats, the smoothie gets a bit watery? Not ideal, but still yummy.
..Serve everything right away after pouring. Or better yet, pour more smoothie over top as you eat.
And if your breakfast companions give you funny looks just tell them I told you it's ok.
Oatmeal Recipe + Smoothie Basics…
Choose a smoothie flavor that you love, but also something with some body, creaminess and richness.
Make sure your smoothie has bold sweetness if you like your oats to have a sweeter flavor. You can do this by adding bananas, Medjool dates or other sweet fruits to your smoothie.
Blend nuts or seeds or nut butter into your smoothie for richness and added nutrition. I usually do walnuts or Brazil nuts.
Do salt your oats when preparing. The savory oats contrast so well with the sweet fruit smoothie.
Do make sure your oats are thick and creamy, not watery.
Do use instant oatmeal if you are in a rush! But make sure you use unsweetened – my preference for this method.
Or.. do stove-cook your oats if you have time and prefer that process. (This is usually left for weekends for me.) This is also preferred if making a big batch of oats for your family.
Digestion-Friendly. This breakfast is also great for anyone who can totally do smoothies and oatmeal, but may have trouble chewing/digesting/whatever-ing raw berries and/or nuts. This might be due to a sensitive stomach, health issue or a wide range of things. But I'm happy to say that this is a great way to glam up regular plain oats – in a smoothie sort of way.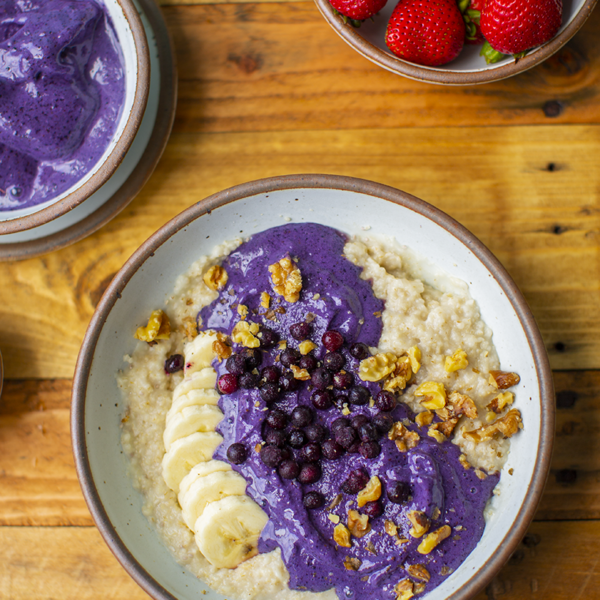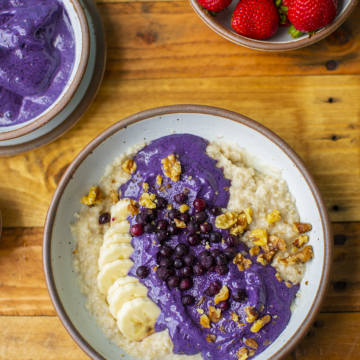 smoothie Oatmeal
This healthy, delicious plant-based breakfast combines warming, hearty oats with an antioxidant-rich blueberry smoothie. Grab a spoon!
Print
Pin
Ingredients
1 ½

cups

oatmeal

,

stove or instant – unsweetened + a pinch of salt
Smoothie:
1

banana

1

cup

blueberries

,

wild blueberries used

¾

cup

soy milk

1

medjool date

¼

cup

walnuts
Instructions
Prepare your oats, set aside. Make sure they are nice a hot when you start your smoothie.

Add all smoothie ingredients to a high speed blender. Blend until smooth. Pour about ½ cup of the smoothie over top the oats. Pour the rest of the smoothie into a side glass – you can add more smoothie to your oats as you eat, or drink it on the side. I just do not like to pour all the smoothie at once because that cools the oats too much.

Optional: Add additional fresh or frozen fruit to serve.
nutrition estimate | per serving
Calories:
281
kcal
|
Carbohydrates:
41
g
|
Protein:
7
g
|
Fat:
12
g
|
Saturated Fat:
1
g
|
Sodium:
37
mg
|
Potassium:
553
mg
|
Fiber:
6
g
|
Sugar:
23
g
|
Vitamin A:
266
IU
|
Vitamin C:
12
mg
|
Calcium:
135
mg
|
Iron:
2
mg