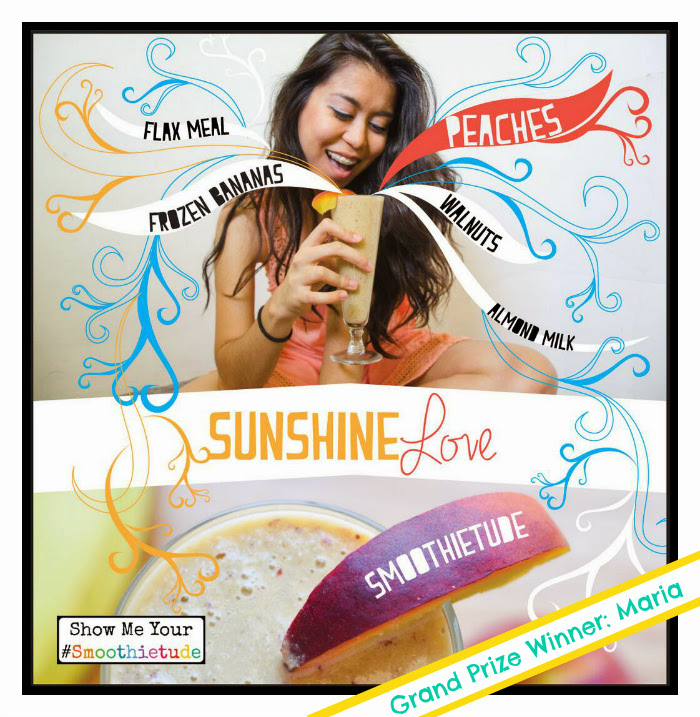 The DOLE/HHL "Show Me Your Smoothietude" contest comes to an end as I announce the contest winners and hand out $2,000 in smoothie lover prizes…
Giveaways and contests are so much fun to host because I love awarding my readers Vitamixes, books, tees and more! A huge thank you to DOLE Bananas and DOLE Salads for sponsoring the prizes for this contest!
Be sure to keep visiting Healthy. Happy. Life. for even more exciting contests and giveaways in the future!
GRAND PRIZE WINNER: Maria
prizes: Brand new Vitamix Turboblend VS + HHL tee + signed copy of 365 Vegan Smoothies
Gena and I (co-judges) both agreed that Maria's creative entry embodied the fun and liveliness of a healthy, delicious smoothie. Maria really created a beautiful image that simply sang with smoothietude. Plus the graphic design was very impressive and creative. And her smoothie creation sounds delish!
Here is what Maria had to say when she found out she won..
Winner's Statement: "I am SO excited!! I have been a loyal follower of Kathy's amazing blog for a couple of years and I am always inspired by her recipes and amazing photography. I want to thank her and DOLE for this awesome contest and the really cool prizes! I also want to thank my husband Derrick for his love and encouragement, and all my family and friends that showed their support. I can't wait for the Vitamix to arrive! :)" – Maria
FIRST PLACE WINNERS: Kristen. Meghan.
prizes: $150 prize pack. I hand selected a few of my fave goodies from OneLuckyDuck.com (a fave site of mine) including an almond milk kit, some maca powder, a $50 gift card, cacao powder, a glass straw gift set and more! Plus a signed copy of 365 vegan Smoothies.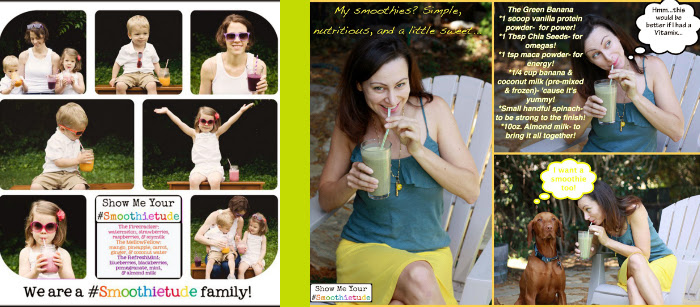 HONORABLE MENTIONS: Kimmy. Alicia. Nyki. Jamie. Amy.
prize: signed copy of 365 Vegan Smoothies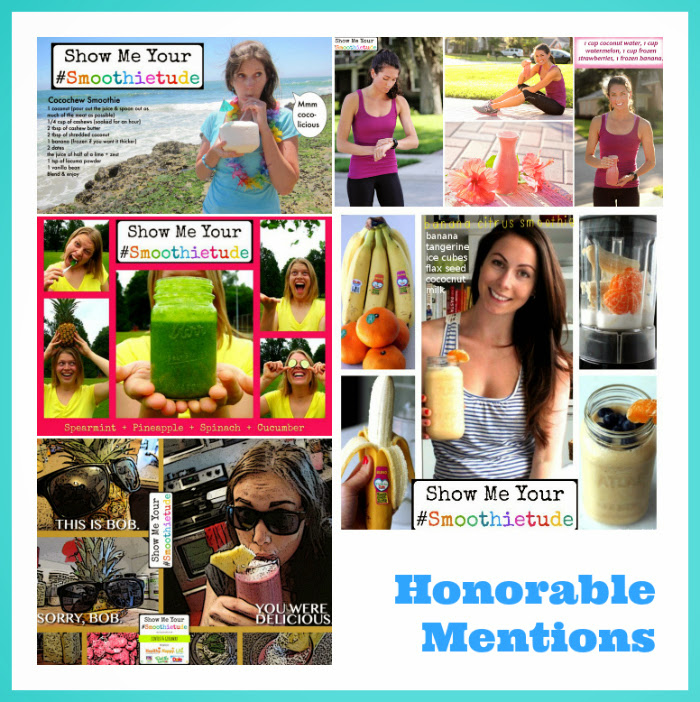 Thank you again to everyone who entered. This was a VERY hard decision to make since every single entry was 100% awesome. THANK YOU. See the complete list of finalists here – includes pics.
If you want to start showing off your smoothietude, pick up a copy of my book and start blending!
365 Vegan Smoothies (in stores NOW!) Take a peek inside the book – pics.
SPONSOR:
Thank you to DOLE Bananas and DOLE Salads for sponsoring this contest and giveaway with $2,000 in smoothie lover prizes!

Want to enter another cool contest? Check out DOLE's Taste of Spain Contest. Want to win a $40,000 trip to Spain? (Ya, me too!!) Well you can enter to win that and a wide array of other prizes on Dole's Taste of Spain page.
…..
The Smoothietude continues! Online! I am loving your Instagram and Twitter pics of the smoothies you are making from my book. Keep the sharing + smoothietude coming! #365VeganSmoothies