This Speedy Fiesta Bean Bowl recipe is packed with flavor and hearty goodness.
The ingredients: Pinto beans, fire-roasted tomatoes, red onion, garlic and Mexican spices create a flavorful mixture that is perfect for filling warmed tortillas and serving alongside guacamole, hot sauce and creamy vegan sauces.
This bowl is surprisingly easy and speedy to make. Fast, filling and flavorful, this bowl will leave you feeling fully-charged!..
Sochi cat approves..


Today's recipe is actually inspired by Frontera Grill's new frozen food product: the Three Bean Bowl. I tried it a few weeks ago and wanted to re-create something close to it for you guys (and myself!) It contains, beans, veggies, spicy sauce, rice and some plantains too. And while I rarely eat 'frozen meals,' I do love the concept of this bowl: beans and amazing sauce with a few added veggies and flavor accents.
(And ps. this is not a sponsored post, lol, I just love the concept of the product. And it inspired me!!)

Fast Food. One of my fave things about the Frontera product is how FAST it is to prepare. 5-7 minutes in the microwave. So for today's recipe, I was sure to make things: fast, flavorful and fully charged. But this recipe is make using one skillet, on your stovetop. For speed, I cut out a few ingredients like rice and the plantains. But if you have more time, you can absolutely add them back in. Because skillet plantains are one of the best things ever, right?
I made today's recipe in just about twenty minutes, with ingredients I usually always have on hand. I chose to use frozen chopped kale for my greens because I think frozen greens are so convenient. Plus, they remind me just a bit more of the bowl I am trying to replicate for you guys.
Other goodies you can add to this bowl:

– cashew sour cream
– guacamole or sliced avocado
– hot sauce
– vegan ranch or another creamy sauce like chipotle mayo
– chopped cilantro
– vegan cheese shreds
– Mexican rice
– skillet plantain
– fresh or bottled salsa
– tortillas
– corn chips
– vegan spicy sausage
– pumpkin seeds
– sliced black olives
– so many things!!
Reminder: Don't forget to enter the huge summer giveaway being hosted by Good Foods Guacamole. I have entry details over on this blog post. I used my Good Foods guac for this meal to make it even speedier.
Hope you love this spicy, hearty, healthy, bean-tastic bowl as much as I did!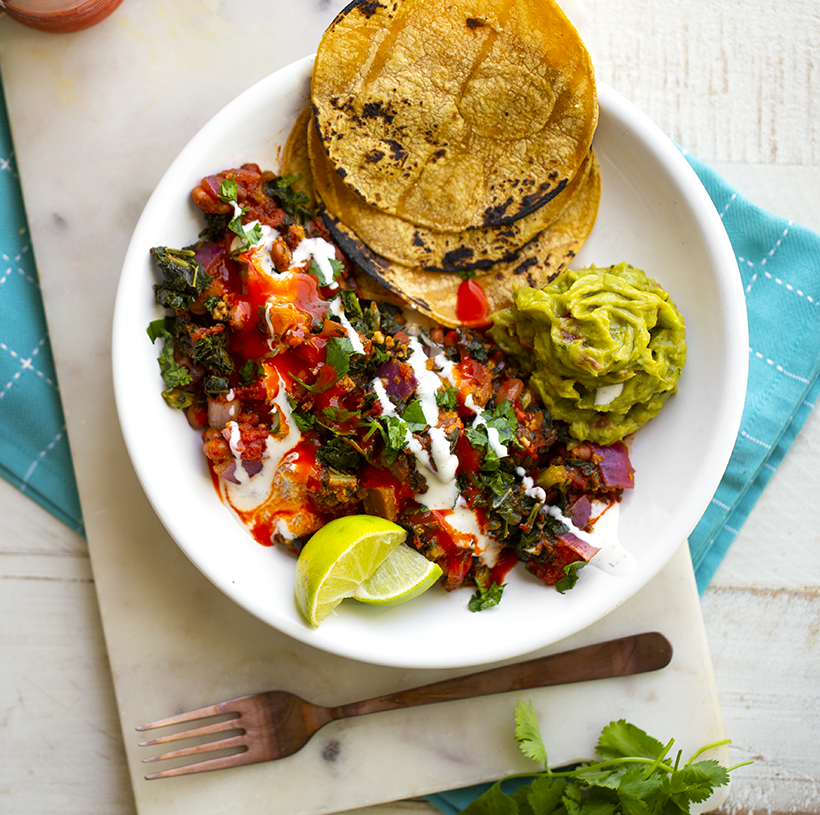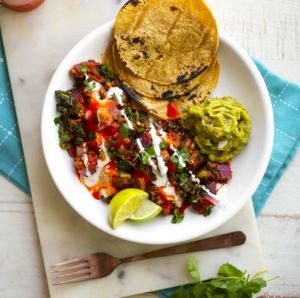 Speedy Fiesta Bean Bowl
Packed with flavor, this fast and easy bean bowl can be glammed up however you'd like.
Print
Pin
Ingredients
1

15 oz

can of pinto beans, drained

1

14 oz

can of crushed fire-roasted tomatoes

½

cup

spicy salsa

2

cloves of garlic, chopped

1

cup

frozen chopped kale or spinach (or sub with fresh)

2

teaspoon

ground cumin

1

teaspoon

red pepper flakes

2-3

tablespoon

nutritional yeast

1

small red onion, chopped

1

tablespoon

extra virgin olive oil

sea salt to taste

optional: hot sauce + vegan ranch or chipotle mayo on top
Instructions
Add the olive oil to a large skillet and warm over high heat. When oil is hot, add the red onion. Saute for 2-3 minutes until tender. Add in the garlic towards the end of the time.

Add in the beans, crushed tomatoes, salsa, nutritional yeast, cumin and red pepper flakes. Add in a few pinches of sea salt – to taste. Fold gently to combine. Allow to cook for two minutes, until the edges of the mixture start to bubble.

Turn heat down to medium. Push the bean mixture to the side and add in the spinach or kale. Press it into the hot pan to help wilt the greens. Cover with a lid, if desired to more quickly wilt the greens.

When the greens are warm and soft, gently fold them into the bean mixture. Turn off heat. Do a taste test and salt to taste if you want a bit more.

Warm your tortillas and prepare your guacamole. You can also simply slice your avocado.

Scoop the bean mixture into serving bowls and serve alongside the guac or avocado – and the warmed tortillas.

Finally, drizzle hot sauce over top. Drizzle something creamy over top too. This could be vegan ranch, vegan chipotle mayo or another vegan mayo or sour cream type mixture. DIY cashew cream works great too.
nutrition estimate | per serving
Calories:
99
kcal
|
Carbohydrates:
10
g
|
Protein:
4
g
|
Fat:
5
g
|
Saturated Fat:
1
g
|
Polyunsaturated Fat:
1
g
|
Monounsaturated Fat:
4
g
|
Sodium:
308
mg
|
Potassium:
367
mg
|
Fiber:
3
g
|
Sugar:
3
g
|
Vitamin A:
1362
IU
|
Vitamin C:
6
mg
|
Calcium:
46
mg
|
Iron:
2
mg
Pin it for later..

Kitties and sunbeams and bean bowls, oh my..