This Speedy Peanut Seitan Rice Bowl can be whipped up quickly for lunch or dinner. The protein-packed seitan pairs perfectly with rich, creamy peanut sauce. Some simple rice and scallions, maybe some sriracha and a sliced avocado and done. This is another fast, easy and flavorful – plant-based – recipe for you….
Speed + Ease + Minimalism + Flavor.
When I was creating my Finding Vegan Meals meal plans, I really fully embraced minimalism in the kitchen. Personally, I don't cook with meal plans. I don't shop with a shopping list. I mean really, if you know the true ins and outs of the type of work I have done here on my blog, you will know that shopping lists and constraints in the kitchen of any kind are not really a part of my creative process.
Over the past ten years of my HHL work, I have bought as many strange and unique ingredients as possible, created as many new and intriguing flavor combinations as possible and boy oh boy, do I know how to pack on a hefty grocery bill at Whole Foods – or even the farmer's market – buying up sometimes excessive, unnecessary and exploratory ingredients. From vanilla beans, maple extract, apple 'honey' and raw cacao to truffle salt, dragonfruit, cherimoyas and purple cauliflower. I love treading my way down a new, unfamiliar path.
All in the name of culinary exploration.
But when I was doing Finding Vegan Meals, for really the first time, I had to parse down ingredient lists for the week. Think about how to minimize a shopping list and at the very least, cut out 'non-necessary' ingredients in some fave recipes. Something I didn't really need to do in my second cookbook HHVK. In the end, I loved this process of, well, organization! That sounds a little silly to say, but truly, it's just opposite to the way my creative process is. But creating my meal plans, meal charts, pantry lists and shopping lists for FVMeals was so satisfying for me and really taught me so much! I cook better, smarter, faster now. I have a clear idea of the easy, fast meals that I have available to me.
Finding Vegan Meals
FVM also helped me refine some of my go-to recipes. And know clearly, what is possible for breakfast, lunch, dinner, dessert and even snacks. I've always had the answers in my head, but FMeals helped me organize them for myself — and more importantly, for you guys!
And alllllll the recipes I have been posting the past few months are a product of that newfound organization and meal planning.
I learned so much. And since I finished FVM in October, I have been on a consistent minimalist meal kick. Short ingredient lists are my jam, and one-pot meals my sweet spot.
And easy rice bowls like today's recipe – a favorite.
So today I share another recipe that is blissfully easy. Depending on your process and ingredients, you could absolutely whip this up in fifteen minutes – or longer if using more 'from scratch' components.
Ingredient Options:
This Peanut Seitan Rice Bowl is very customizable! Check out some ingredient notes and subs..
Rice. You could use a frozen rice packet – microwave it and have fluffy steamed rice in about four minutes. Or you could whip some up in a pot or rice cooker – in twenty minutes or so.

You could even try using quinoa, farro or barley as a base.

Peanut Sauce. I love using my own recipe for peanut sauce, but if you are in a rush, there are several store-bought vegan products out there. i have a few at whole foods. My peanut sauce recipe.

You can try other sauces that you have on hand as well!

Veggies. So many veggie options for this Peanut Seitan Rice Bowl

I did a super quick chop of a few scallions for my veggie component. But you could totally add different veggies – or prep them a bit longer.

Skillet or steamed broccoli, chopped kale, spinach, bok choy – would all be nutrient-dense options to add to the skilled or fold in raw.

Other Protein? You could do tempeh, tofu, chickpeas or even lentils as a seitan sub.
Why I Love Seitan..
This recipe for Peanut Seitan Rice Bowl is really my way of getting you to try seitan as a main ingredient protein. It is probably my least used plant protein in the kitchen, just out of my personal preference. But some people love it and I want those people to have more options — or manybe you've never even tried it before!
This Peanut Seitan Rice Bowl is a great starter recipe for seitan.
Gluten-Free?
Seitan is vital wheat gluten! So yeah, it's definitely not gluten free. But it is packed with plant protein.
Not too long ago, I was on a 'gluten-free' test run. But as I have written about before, I feel fine eating gluten, and even happier!! So I added it back into my life.
To me, seitan or seitan blends make the best vegan sausages and chick'n products. Now I live by 'everything in moderation' so I don't go crazy with this stuff, but a few times a week I enjoy seitan or seitan products. It is still a processed product – not a whole food like lentils, beans or veggies and fruit.
Seitan is also my favorite ingredient for a stunning Vegan Philly Cheese Sandwich! Although a mushroom-seitan blend is yummy too.
So, today, try out this Peanut Seitan Rice Bowl and see what you think! These nutty, savory, 'meaty,' vibrant and filling plant-based flavors fill me with a lot of joy.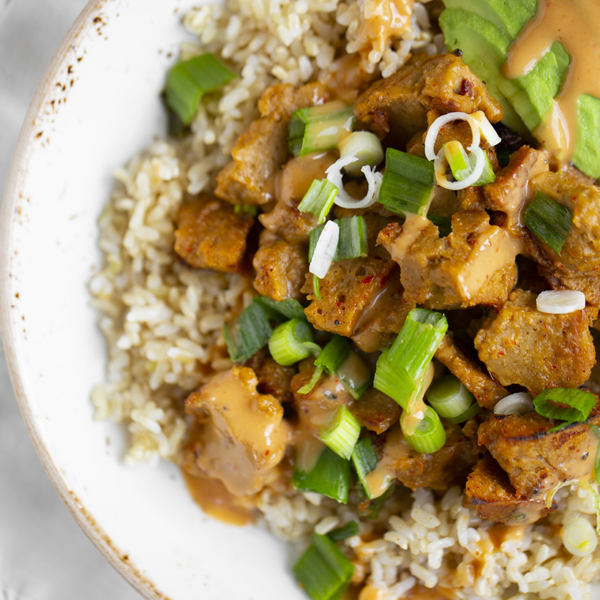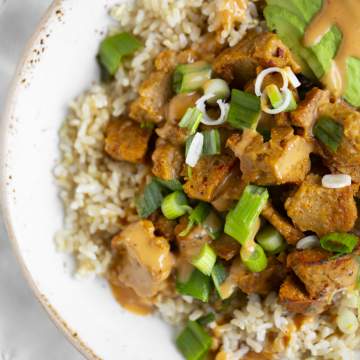 Seitan Peanut Rice Bowl
This easy seitan rice bowl is flavored with creamy peanut sauce and scallions. Sriracha on top.
Print
Pin
Ingredients
1

cup

seitan

,

chopped

3

cups

rice

,

cooked – about 1 cup uncooked + 2 cups water

¼

cup

peanut sauce

,

see notes for link

2

scallions

,

chopped

sriracha to taste

avocado garnish

black pepper to taste

olive oil for the pan
Instructions
Prep the rice ahead of time or use a microwave packet for speed. Then warm a skillet over high heat. Add a splash of olive oil.

Add in the seitan. Cook for 2-5 minutes until the edges start to brown.

Turn the heat to low. Add in half of your scallions, toss. Then turn off the heat and add in 2-3 tablespoons of the peanut sauce. Toss the seitan in it.

To plate: Add a scoop of the cooked rice. Add the peanut seitan on top. Then add a sprinkle of scallions. Avocado on the side. Sriracha on top. Add extra peanut sauce if desired. Serve warm!
Notes
nutrition estimate | per serving
Calories:
329
kcal
|
Carbohydrates:
56
g
|
Protein:
16
g
|
Fat:
4
g
|
Saturated Fat:
1
g
|
Sodium:
491
mg
|
Potassium:
93
mg
|
Fiber:
2
g
|
Sugar:
4
g
|
Vitamin A:
80
IU
|
Vitamin C:
2
mg
|
Calcium:
23
mg
|
Iron:
1
mg
Pin for Later..