This meatless chili is warming and cozy with a spicy kick! It is rich in healthy ingredients like lentils, kidney beans, diced sweet potato, tomato, onion and my secret ingredient that you have to try: chocolate!
This speedy chili is perfect for whipping up for dinner on a busy weeknight. Just throw everything in a large pot and let the ingredients simmer while you run around the house or chill on the couch. In under 30 minutes, you will be all ready to serve up homemade, comfort food, one-pot-wonder, slow-cooked-tasting chili that will help you melt away any stresses from the day.
So hop in the kitchen and make yourself some of my Speedy Sweet Potato Chili!..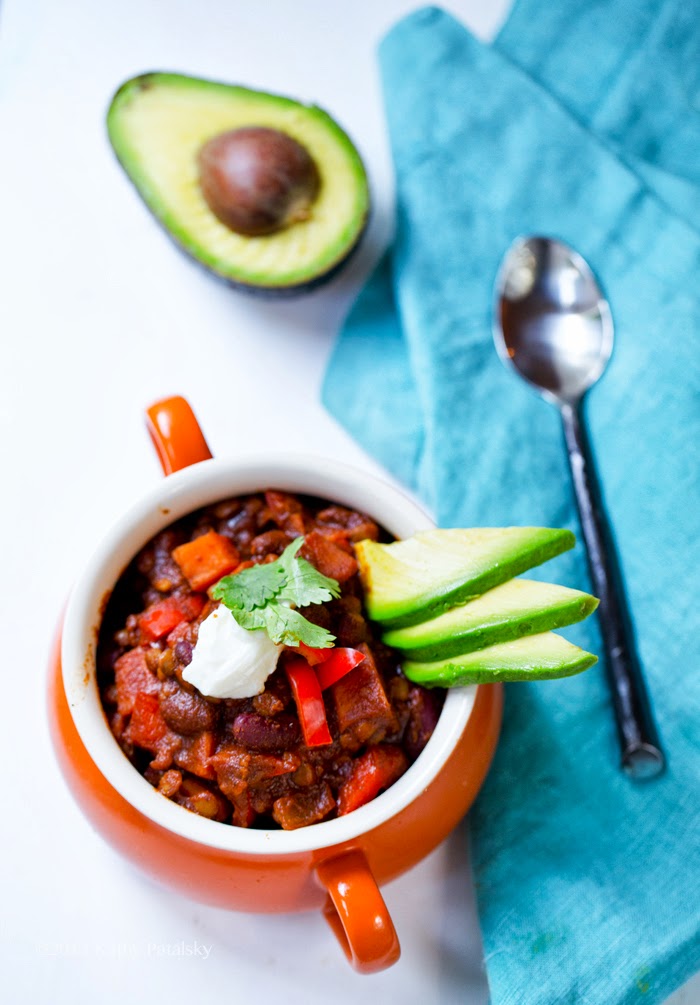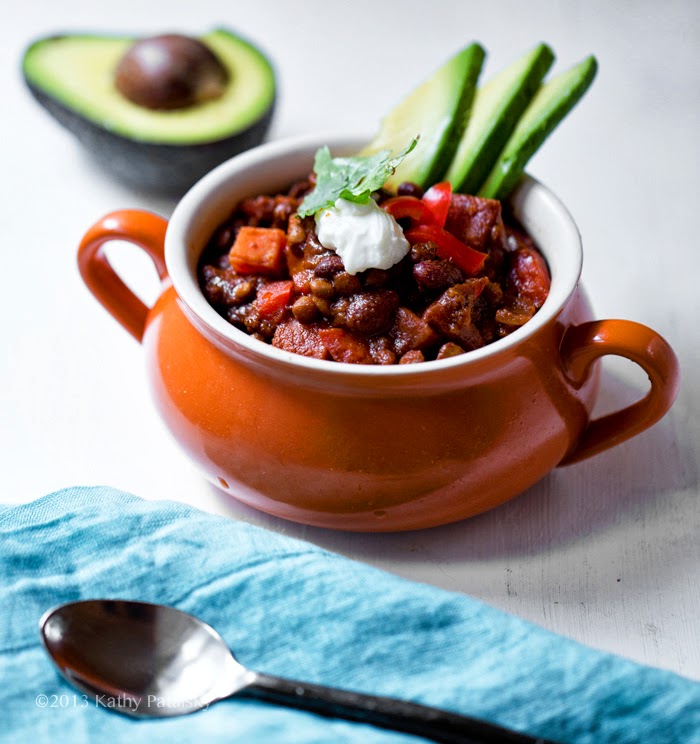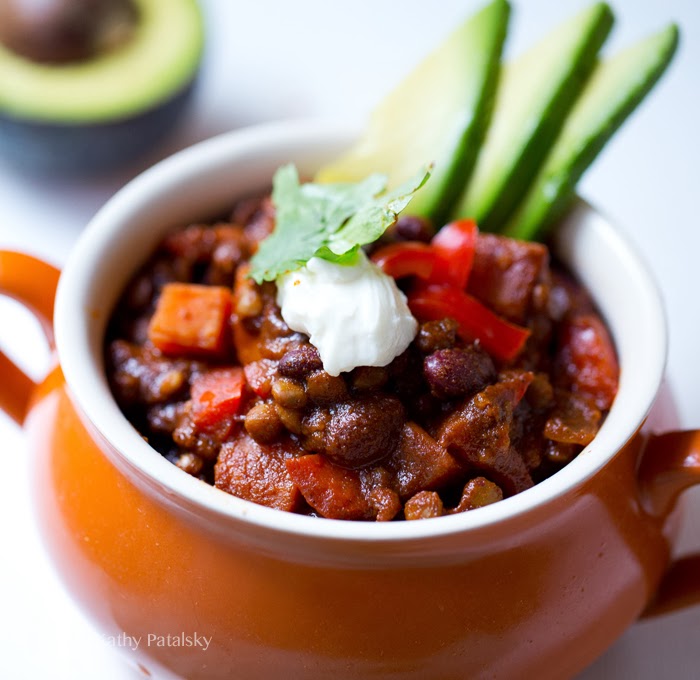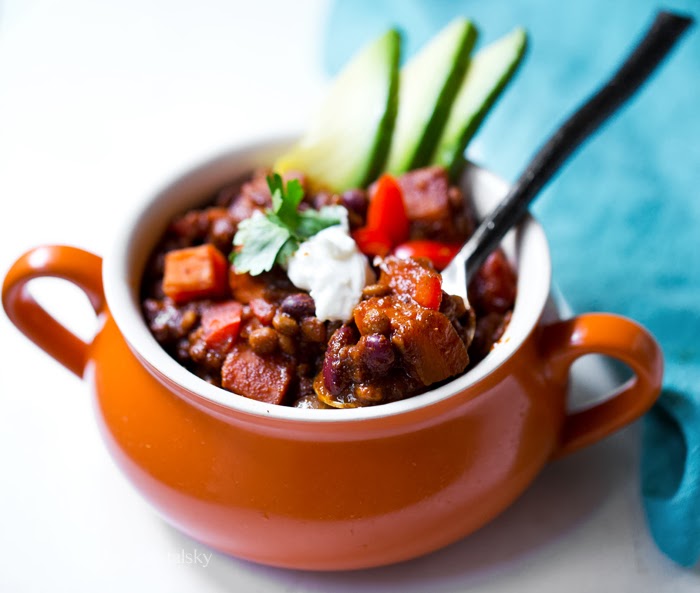 Healthy Bowl. This bowl includes: plant-based protein, iron, fiber, potassium, A, C and B vitamins and various minerals. I also add in a rich and unique secret ingredient: dark chocolate chips! (No seriously, this secret ingredient is a must add flavor builder! Those of you who have already tried adding cacao powder or chocolate to your chili know what I am talking about!)
Speedy Sweet Potato Chili
vegan, serves 4
1-2 tablespoon extra virgin olive oil
1 medium sweet potato, peeled/diced into large cubes
1 12oz. can cooked red kidney beans, drained/rinsed
1 12oz. can cooked lentils, drained/rinsed
1 6oz. can tomato paste, organic
2 tablespoon dark chocolate chips
2 tablespoon chili powder (use less if you like your chili mild)
3 cups vegetable broth
1 small onion, diced
1 red bell pepper, diced
salt + pepper to taste
1 bay leaf (optional)
optional: Add ¾ cup corn if desired (fresh corn in summer adds a seasonal tone)
garnish ideas: vegan sour cream or Vegenaise + sprig of cilantro or parsley + crushed peanuts
1 avocado, thinly sliced or diced (¼ of an avocado to each serving dish)
(optional: toss avocado in fresh lime juice)
notes:
* Add more or less veggie broth according to your thickness tastes
* For a cheezy accent, add in a scoop of nutritional yeast or to serve
* For ultra cocoa-y chili – add more chocolate chips or a tablespoon of cacao powder
* If you do not have lentils or kidney beans, you could sub with other varieties of beans like chickpeas or navy beans
* Adding grains is another way to pump up your vegan chili. Try kamut, quinoa, barley or basic brown rice
* This chili re-heats like a dream and delicious as leftovers
* Add more veggies like chopped celery, diced carrot, chopped kale or whole tomatoes
* Add a diced vegan sausage, crumbled tempeh, TVP or other high-protein ingredients if you want a "meatier" (vegan chili)
Directions:
1. Prep your ingredients: peel and dice your sweet potato. Dice your onion and pepper. Rinse your lentils and beans.
2. In a large pot, over high heat, add the olive oil. When hot, add in onion and peppers. Saute for a few minutes until onions become translucent.
3. Add in the sweet potato, bay leaf and veggie broth. Cover with lid and bring to a boil. Reduce heat to medium and simmer until broth is absorbed and sweet potatoes are tender.
4. Once sweet potatoes are cooked, add in the lentils, beans, chili powder, chocolate chips, tomato paste and optional corn. Simmer over medium until the flavors all melt together and the chili thickens. Reduce to lowest heat setting and allow to simmer until ready to serve. If your chili is quite thick, cover with lid to keep in moisture. If it still seems a bit thin and watery, simmer uncovered to thicken.
5. Taste test and add salt and pepper to taste.
6. Serve warm with avocado and other optional garnish like cilantro, vegenaise, crushed peanuts and more. I like my chili served with some vegenaise-slathered grain toast.