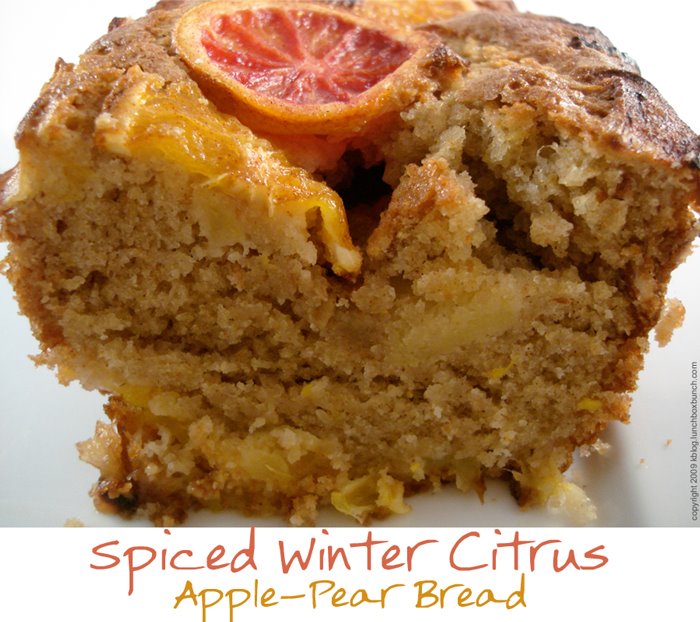 Inspired by a seasonal smorgasbord of winter citrus, this recipe combines the bold zingy flavors of blood oranges with the mellow sweet flavors of canned Bartlett pear halves and peeled apples. The spices include cinnamon, spicy cayenne and even a topping on caramelized cinnamon sugar.
This bread makes an excellent morning tea bread or after dinner dessert cake. It is incredibly easy to make. You won't believe the complex flavors in this creation.
The vegan recipe after the jump….
Spiced Winter Citrus Apple-Pear Bread
w/pear, blood orange and apple fruits
vegan
1 box Apple Cinnamon muffin mix (Dr. Oetker brand is best)
½ can Bartlett pear halves (high quality brand)
1 small sweet apple (fuji, gala, braeburn, honeycrisp)
2 blood oranges
3 tablespoon Vital Wheat Gluten
4 tablespoon orange juice from one of the blood oranges
2 tsp. orange zest
1 tsp. cinnamon
1 tsp. cayenne
¼ cup canola oil
4 Tbsp. apple sauce
¼ cup soy milk
2 Tbsp. cinnamon sugar sprinkle (white sugar and cinnamon)
In a large mixing bowl combine:
muffin mix, Vital Wheat Gluten, oil, soy milk, orange juice, cayenne, cinnamon, apple sauce.
stir in orange zest from blood oranges.
Fruit:
(keep several slices of fruits for top of bread garnish.)
Peel apple and thinly slice.
Add ¼ cup of apple slices to bowl.
Thinly slice pears. Add to bowl.
Peel and thinly slice or cube oranges. Try to remove large seeds.
Add orange slices to bowl.
Fold fruit into batter.
Pour batter into oil-greased bread baking dish.
Design/Garnish on top before baking:
Add a design of leftover fruit slices to top of bread (see photos).
Sprinkle cinnamon sugar mixture on top of fruit design.
Bake at 400 degrees for 30-40 minutes, or until slightly browned/caramelized/crisp on top.
Store in fridge, or eat in a few days. Can also be stored in freezer.
MODIFICATIONS:
For a fat-free version: Substitute oil with ¼ cup applesauce.
For less spice: remove cayenne.
For more spice: add more cayenne, cinnamon and even some nutmeg. You can also substitute soy milk for spiced apple cider.
For non-vegan version: uses two eggs instead of applesauce.