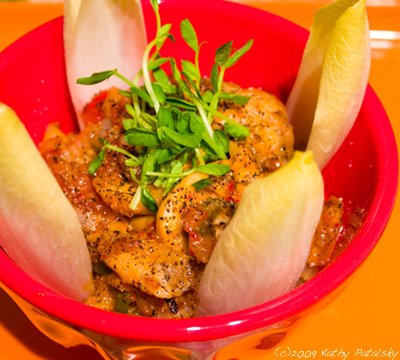 I love mushrooms and spicy things. And so does my husband. So I decided to take our two favorite things and combine them into a sizzling spicy appetizer dish. Sometimes it's nice to have a hot first course that isn't a soup. This dish is perfect!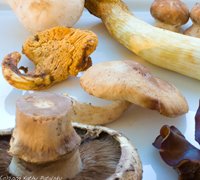 Hot and Cool. My Spicy Mushroom Blossom Bowls combine black pepper braised mushrooms with a spicy red saute. Fresh herbs, garlic, citrus and bell pepper accent this dish. And it's served in a beautiful endive blossom bowl-with crisp cool pea shoots on top. Want to perk up your first course…and your senses? The recipe ahead…
Easier than it looks: Yes there are a lot of little ingredients in this dish. But I promise, once you do it and get the idea of the "spicy blossom bowl" you will be able to whip this dish up in a snap. It just may become a rotation favorite, especially if you are a mushroom lover like me. It really doesn't mater which mushrooms you use because the flavors of the harissa and ingredient accents will be first to hit your taste buds. The mushrooms are adding the delicious texture. They are the perfect ingredient to soak up all the flavor in the saute and transport it to your mouth!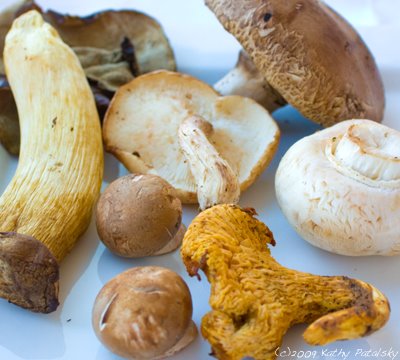 Spicy Mushroom Blossom Bowl
vegan, serves 2-3
2 2/2 cups mushrooms, sliced (hearty textured: white button, shiitake or baby bella)
1 cup exotic mushrooms, sliced (I like bluefoot, hen of the woods or oyster mushrooms)
½ cup vegetable broth
1 small orange, juiced
6 grape tomatoes, halved
5 garlic cloves, chopped roughly
1 small red bell pepper, diced
½ small white onion, diced
1 tablespoon agave syrup
2 teaspoon fresh thyme
2 tablespoon Harissa (spicy red mixture of chilies, sun dried tomatoes and spices)
*I buy my Harissa from Le Pain Quotidian.
2 tablespoon olive oil
1 teaspoon black pepper
1 teaspoon salt
Bowl Assembly:
½ cup chopped pea shoots (or another spicy sprout/micro green)
1 large endive head
20 crisp rice crackers
¼ cup chopped parsley
Optional: Tempeh! This bowl tastes great with a bit of tempeh. Saute the tempeh first-to a crispy edge. Set aside. Then re-saute with the finished mushrooms.
To Make:
First, set up the serving bowls (2-3):
Place 6 rice crackers in the bottom of each small deep bowl.
Split endive head into separate leaves. Set aside 4 endive leaves for each bowl.
Set aside a large pinch of pea shoots and parsley to top each bowl with.
Veggie prep:
Chop the onion.
Chop the bell pepper.
Squeeze the orange.
Clean and slice the hearty mushrooms into strips.
Slice the exotic mushrooms.
Slice tomatoes in half.
Chop the garlic, roughly.
Stove top:
In a lidded pan, add 1 tablespoon oil, orange juice and 2 tablespoon vegetable broth.
Turn the heat to high and wait for it to start sizzling.
Add in the onion, bell pepper and garlic.
Saute uncovered for a minute, until slightly browned and liquid is absorbed.
Add in mushrooms, agave, salt (as needed) and remaining 1 tablespoon oil and remaining vegetable broth.
Toss ingredients well and cover pan with lid.
Turn heat to medium and allow to braise for a few minutes.
Shake the pan to avoid burning.
Remove lid and check mushrooms for doneness.
Saute for a few more minutes, uncovered until all liquid is absorbed.
When done, turn heat to low.
Add in harissa, black pepper, tomatoes, thyme and toss well.
Saute on low heat for another minute-to heat the fresh ingredients.
Serving:
Pour mushrooms into center of bowl-On top of rice crackers.
Add four endive leaves to each bowl-arranging them into a circle/blossom. Top mushrooms with chopped pea shoots.
Serve sizzling hot!
A few slices of crusty bread help soak up the sauce.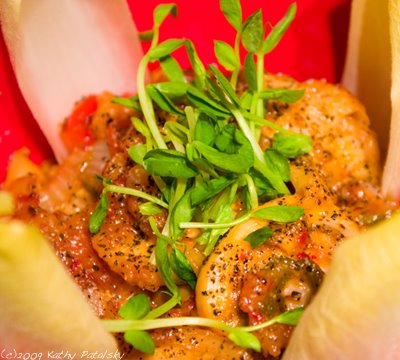 Notes
* If you cannot find harissa, use a combo of sun dried red chilies, sun dried tomatoes, salt and olive oil.
* If you cannot find bluefoot mushrooms, substitute with another exotic style mushroom like oyster, portobello or french horn.