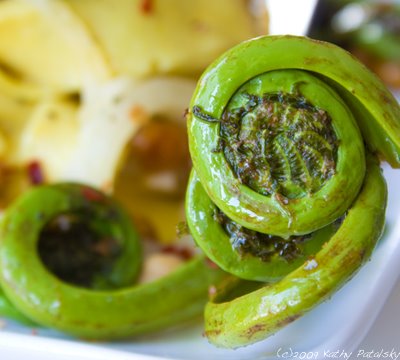 "Fiddleheads Ferns", is not only fun to say, but they are fun to eat. I had actually never tasted a fiddlehead fern until last weekend when I dined at Craft NYC. Craft is my place to 'craft' my own veggie tasting. I ordered morel mushrooms, ramps, English peas, Jerusalem artichokes, hen of the woods mushrooms, fingerling potatoes and the wild card veggie: fiddlehead ferns. All the foodie buzz about fiddleheads got me excited to taste the spiraled green fern. And wow, they were delicious!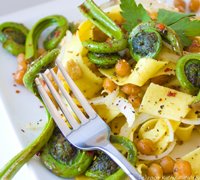 What's all the Fiddling About? Highly seasonal, fiddlehead ferns are available for a short time in the month of May. And they excite foodies and chefs the way ramps and morels do this time of year. Yay Whole Foods. I bought some fiddleheads at WFM and created this delicious pasta dish around them. The ferns are seasoned very mildly with lemon and olive oil. And they are paired with spicy sweet toasted chickpeas. The result is a yummy and lively dish that lives up to the awesome name fiddlehead ferns…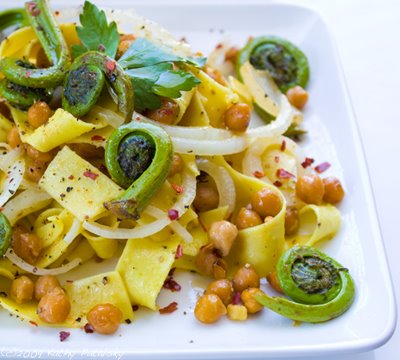 Fiddlehead Fuss. You may be curious about the fiddlehead, as I was. So here are a few facts: "Fiddlehead ferns refers to the unfurled fronds of a young fern harvested for food consumption."
The name Fiddlehead Ferns: "The fiddlehead resembles the curled ornamentation (called a scroll) on the end of a stringed instrument, such as a fiddle."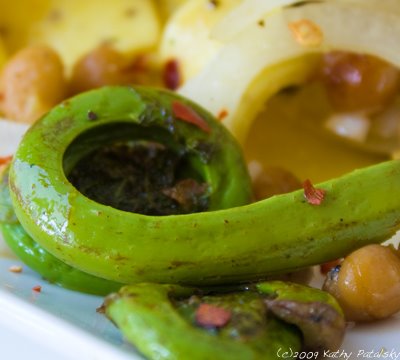 Also, fiddlehead ferns are low in calories-only ten calories per ounce. And a good source of vitamins A and C.
So here's the fiddle-tastic recipe….
Spicy Sweet Fiddlehead Chickpea Pasta
vegan, serves two
1 can chickpeas
1 cup fiddlehead ferns
2 portions of your favorite pasta
1 small vidalia onion, sliced into thin rounds
6 cloves garlic, chopped roughly
4 tablespoon olive oil
3 tablespoon veggie broth (or salted water if you are out)
1 lemon, juiced
1 teaspoon cayenne
1 teaspoon red pepper flakes
1 ½ tablespoon agave syrup
1 teaspoon salt
1 teaspoon pepper
garnish: fresh parsley
Chickpeas:
Add 2 tablespoon olive oil, 6 cloves garlic, 1 ½ tablespoon agave, ½ teaspoon salt, and 1 tablespoon lemon juice to saute pan.
Turn stove on med-high.
Add 1 can drained chickpeas.
Saute uncovered for 5 minutes or until chickpeas appear to brown and crisp up on the edges.
Turn heat to low.
Add 1 teaspoon cayenne and 1 teaspoon black pepper to chickpeas.
Toss well in still-hot pan.
Set aside until needed.
Pasta:
Boil 2 portions of your favorite pasta. I used a wide papardelle pasta.
Drain pasta water and pour pasta into a large mixing bowl.
Drizzle 1 tablespoon olive oil onto cooked pasta.
Add in the sliced onions and toss well.
Add in the red pepper flakes and toss again.
Optional: some vegan Parmesan cheese is also a nice add in here.
You can now add the toasted chickpeas to the pasta.
Toss well.
Plate each portion of pasta and chickpeas.
The fiddleheads will be placed on top of the pasta dish-still sizzling hot.
Fiddleheads:
Cook the fiddle heads last, as they will be the topping for the pasta dish and best when firm and hot.
Turn saute pan back on med-high.
Add in 3 tablespoon veggie broth, 2 tablespoon lemon juice, ½ teaspoon salt, and 1 tablespoon olive oil.
When pan is hot, add in fiddleheads and cover.
You want the steam and pan heat to cook the fiddleheads quickly.
They should be cooked through in about a minute.
The fiddleheads will turn a dark green when done, but still stay firm.
If you want to firm them up a bit more, continue sauteing them uncovered for another minute.
Place a few spoonfuls of fiddleheads on each plate of pasta.
Garnish with red pepper flakes and fresh chopped parsley.