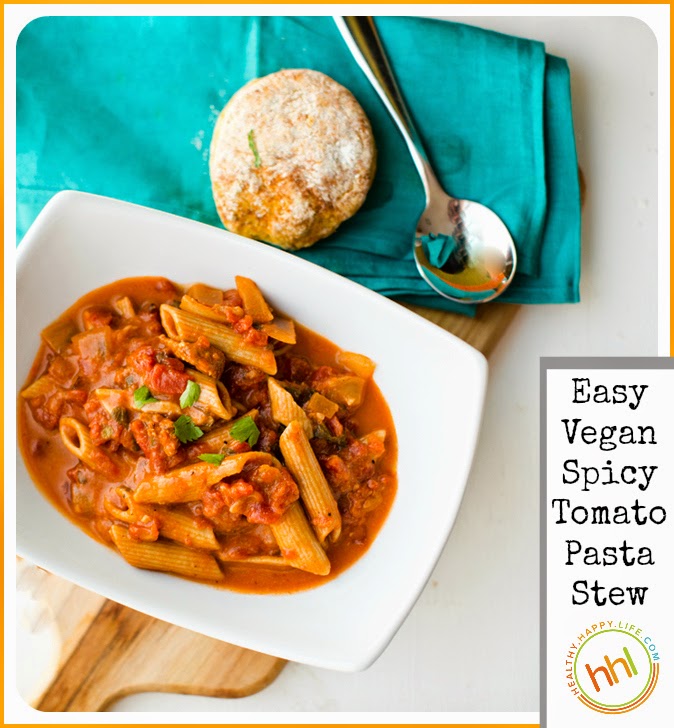 This past busy week I have been having hearty vegan stew for dinner just about every night. I love stews this time of year for a few reasons:
* Stews are warming.
* Stews are very customizable based on ingredients on hand.
* Stews are vegan-friendly and easily healthy!
* Stews taste amazing! Comfort food bliss…
* Stews are fuss-free.
Ahead, I share one of my favorite stew recipes for a Spicy Tomato Pasta Stew, as well as a video featuring my three favorite not-so-secret ingredients for making any stew, stew-pendous! Or, just really yummy….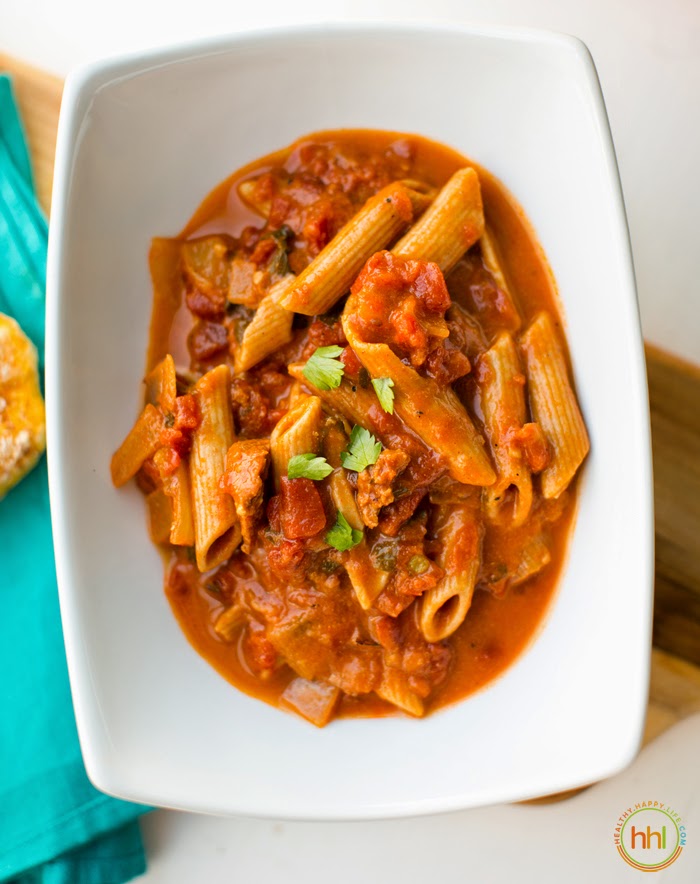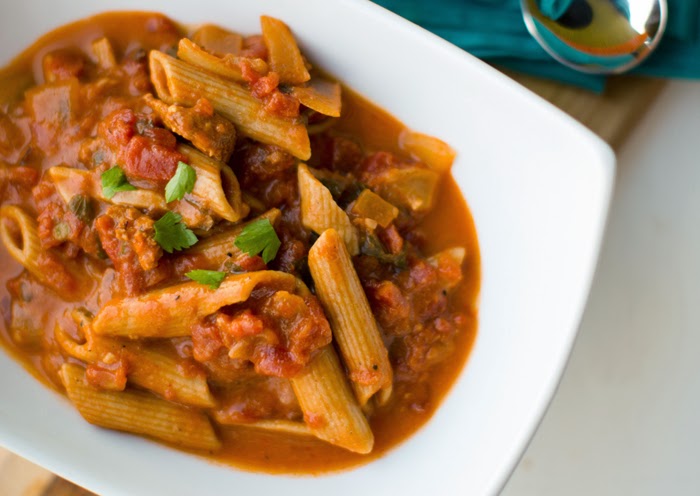 Three Must-Try Stew and Soup Ingredients. Watch the video below to see what I have to say. And yes, all three of these ingredients are in today's recipe…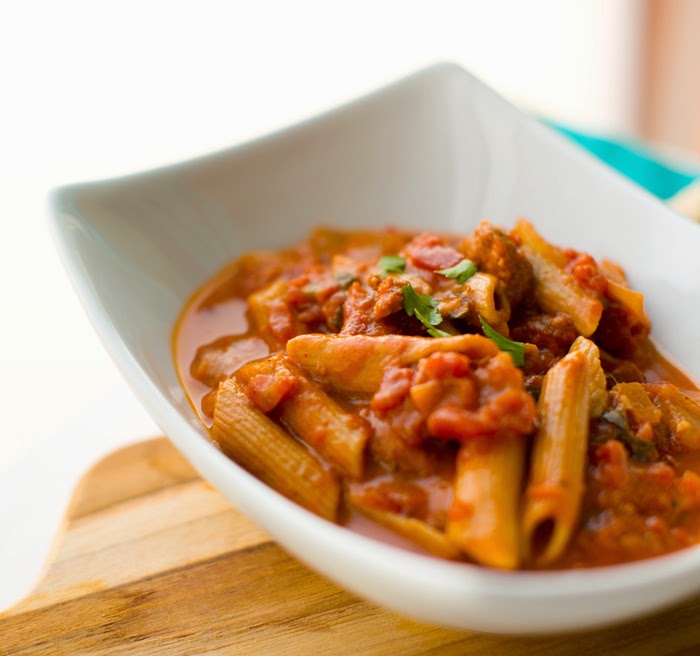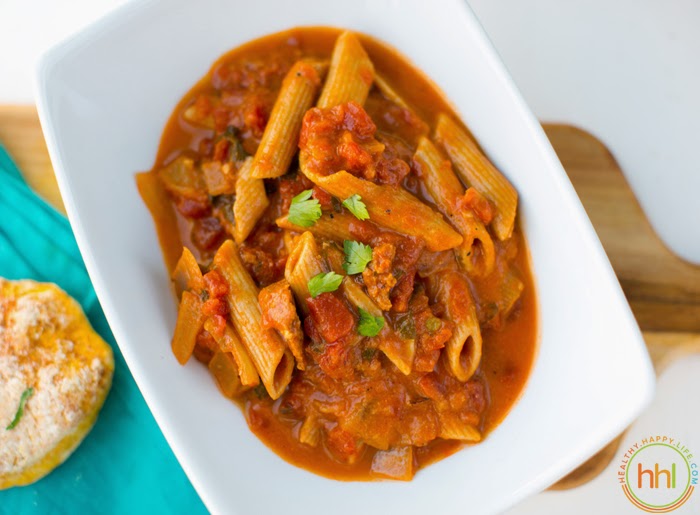 Spicy Tomato Pasta Stew
By Kathy PatalskyPublished 12/17/2014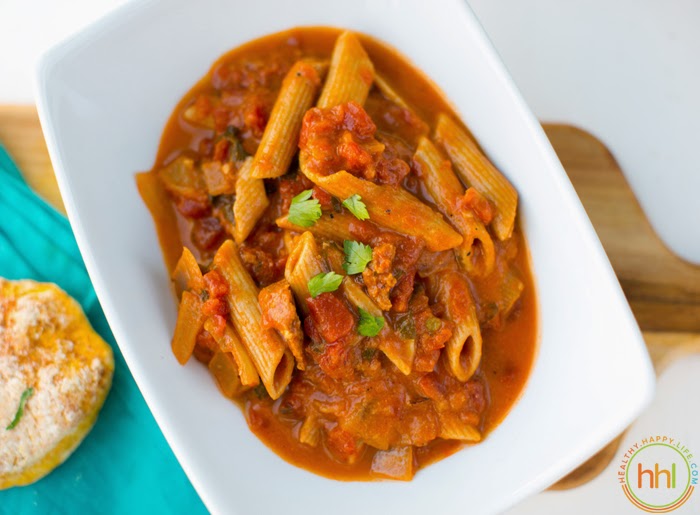 This spicy tomato pasta stew is delicious, easy vegan comfort food! Serve with some toast or biscuits and dinner is done.
Ingredients
2 teaspoon extra virgin olive oil
1 large onion, diced
4 cloves garlic, chopped
28oz San Marzano tomatoes, crushed or diced
4-6 cups vegetable broth (depending on how thick you want your stew)
½ cup nutritional yeast (or more to taste!)
1 bay leaf
1 vegan sausage, chopped (spicy chipotle Field Roast used) — substitute with tofu, beans or lentils if desired
1 cup dry pasta (any variety)
1 small red or golden potato, diced (optional)
½ teaspoon smoky paprika
½ cup flat-leaf parsley, finely chopped
¼ teaspoon fresh black pepper (or to taste)
1 teaspoon chopped fresh rosemary (optional)
½ teaspoon salt (or to taste)
to serve: handful of leafy greens (optional) + flat leaf parsley as garnish
Instructions
Add the olive oil to a large soup pot, over high heat. Add in the garlic and onion. Sautè for 2 minutes to lightly brown onion.
Add in the tomatoes, broth, sausage, bay leaf and potato. Bring to a boil, then reduce heat to low to simmer for at least twenty minutes. This should soften the potato.
About 30 minutes before you want to serve the stew, add in the pasta and remaining ingredients. Bring to a low boil, cover with lid and reduce to low. Pasta will cook in 10-20 minutes and absorb the stew flavors.
Just before serving, simmer uncovered to reduce the soup (remove liquid) or add a few more splashed of broth to wet the soup.
I like to stir in some leafy greens right before serving for added green nutrients and flavor. Try kale or spinach.
Yield: 6 servingsPrep Time: 00 hrs. 10 mins. Cook time: 01 hrs. 00 mins. Total time: 1 hrs. 10 mins. Tags: soup,stew,dinner,easy,vegan,tomatoes