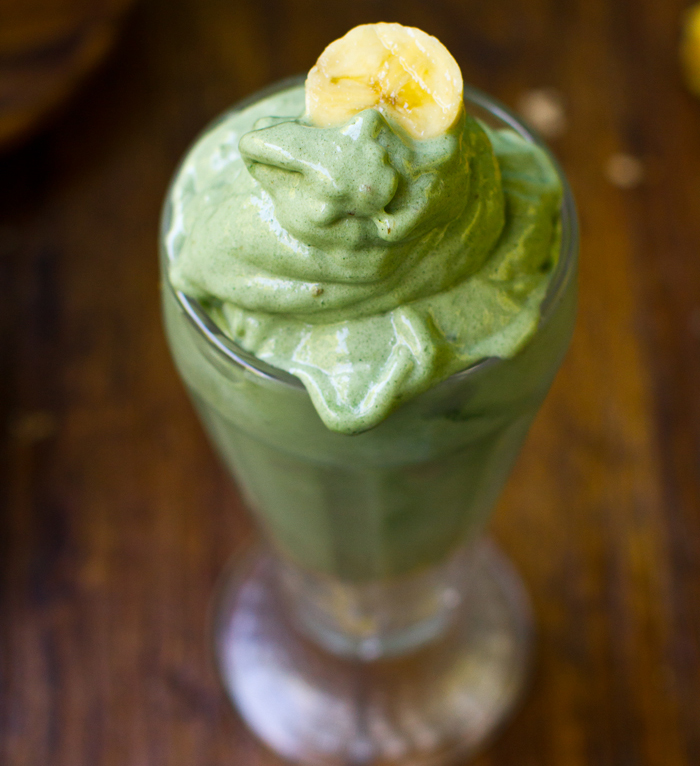 "Legumes all on my plate. Spirulina all in my shake. No eggs all in my cake. You don't believe it tastes great. You don't believe it tastes great. Veggie. Veggie. Veggie… Bring it on down to Vegan-ville!"
Am I the only one who still LOVES it? I cannot stop replaying that SNL Justin Timberlake "Vegan-ville" skit in my head. The lyrics keep getting stuck in my head and now I just have to sing "Spirulina all in my shake!" as I sprinkle my spoonful of spirulina into my shakes and smoothies. (SNL skit video is embedded later in this post)
Two Recipes. Today I'm sharing my Banana Island Spirulina Shake with accents of tropical pineapple and coconut, all swirled together with a dash of spirulina. And my Tropical Spirulina Guacamole Toast. Buttery avocado, sweet pineapple, lively lemon and sweet Maui onion.
Spirulina: What's All the Buzz About? There is a reason why you hear about spirulina so much. It contains over 100 nutrients including beta-carotene, iron, vitamins B12 and K, minerals and phytochemicals. Plus it is a high quality source of plant-based, complete protein.
Get my recipes + have some fun + enter my Spirulina Pacifica giveaway (5 winners!)..
My spirulina-infused avocado toast. SO good & nutrient-infused…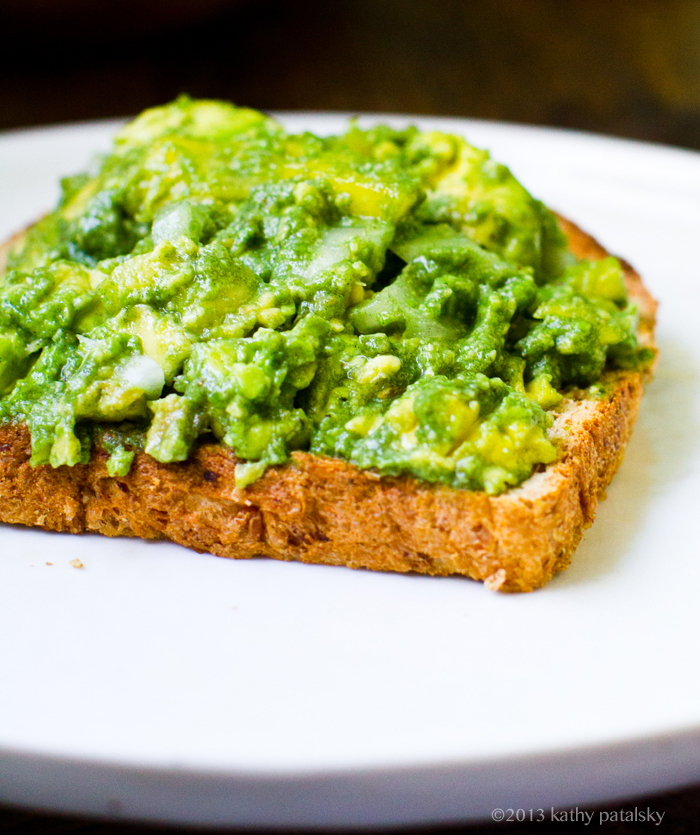 ..And FYI, for you green-phobes.. Does all the green freak you out? No fear. Trust me on this one. I just fed my husband this spirulina-infused toast and he devoured it and didn't even notice the spirulina. Ha. I told him as he picked his plate for crumbs and was raving about how yummy it was. He loved spirulina guac! And he is a slight green-superfood-phobe.
The flavor: Spirulina has a soft nutty flavor that is barely noticeable when blended with bright delicious flavors. Delicious, I promise! And spirulina newbies, just start small. Add a tiny pinch or spirulina and work from there! You want to eat this superfood…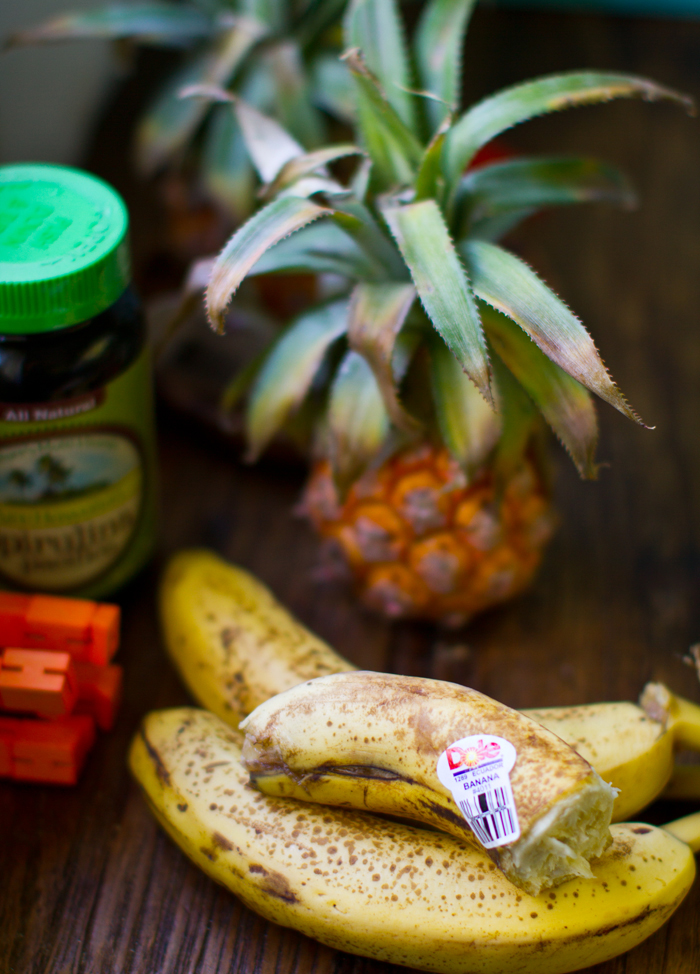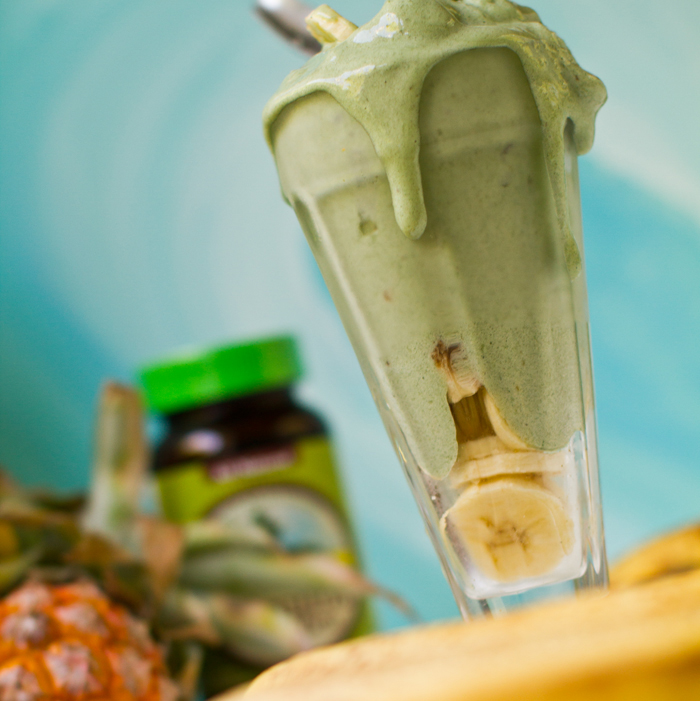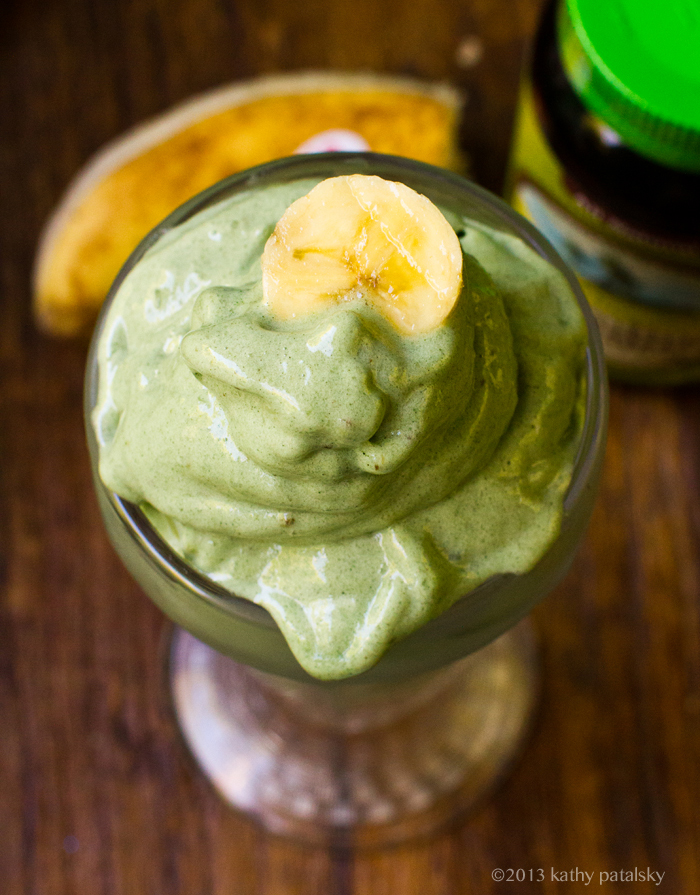 "One 3 gram serving of (Hawaiian Spirulina Picifica) has higher levels of key antioxidants, enzymes, vitamins and minerals than 5 servings of fruits and vegetables." – Nutrex Hawaii fact sheet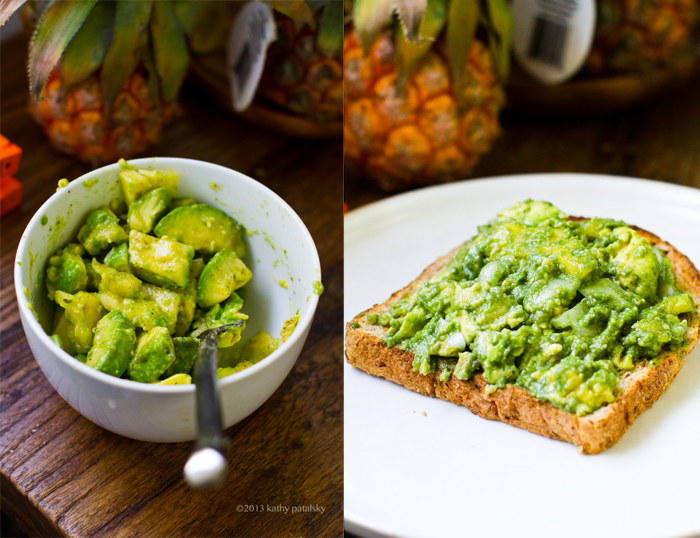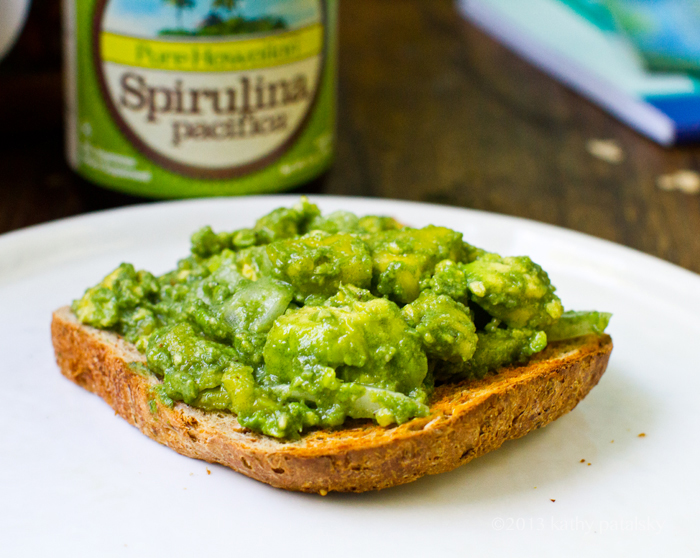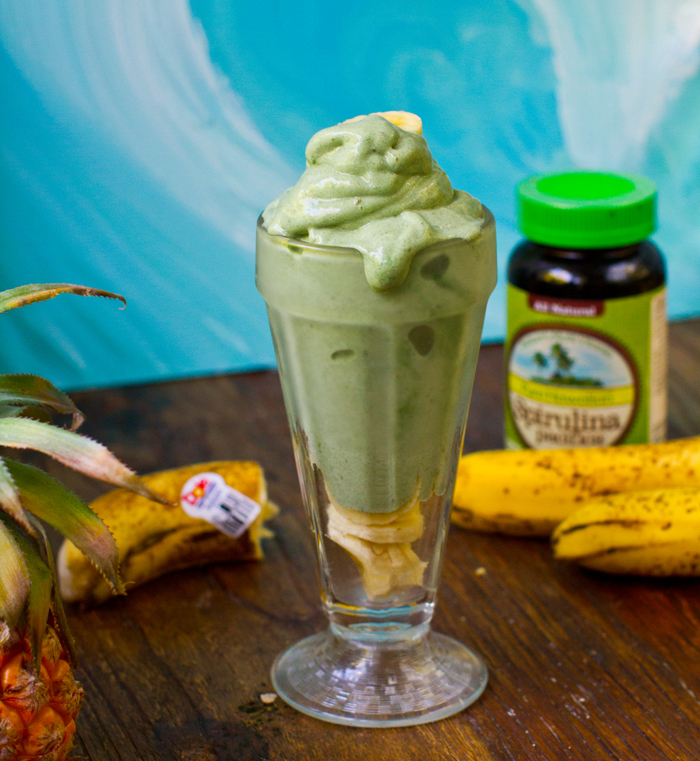 RECIPE 1 – Banana Island Spirulina Shake
vegan, serves 1-2
1 ½ frozen bananas
¾ cup watermelon, frozen (or try pineapple for island flavor)
½ cup non-dairy milk, vanilla
½ – 1 teaspoon spirulina *** if you do not have spirulina you can substitute with a handful of greens such and kale or spinach!
tropical spin: splash of coconut milk or a few pinches dried coconut (optional)
boost it: Add 1 scoop of your favorite vanilla protein powder if desired
Blend until smooth. If needed, add a splash more liquid to get blender churning.
RECIPE 2 – Tropical Spirulina Guacamole Toast – (Inspired by a 'spirulina guacamole' recipe in the Spirulina book.)
vegan, serves 1
3 tablespoon pineapple-avocado guacamole (below)
1 piece of sprouted grain toast
Sunny Pineapple Guacamole
makes 1 ½ cups
½ – 1 teaspoon spirulina
1 avocado, diced
½ cup fresh pineapple, chopped
⅓ cup sweet onion, chopped
¼ teaspoon pepper + a few pinches of pink salt
1 lemon, squeezed (or sub lime juice)
pinch of chili powder or cayenne
optional: grate in some fresh ginger! (Another favorite Hawaiian flavor)
Directions: Mash and fold until soft and spirulina is well mixed in.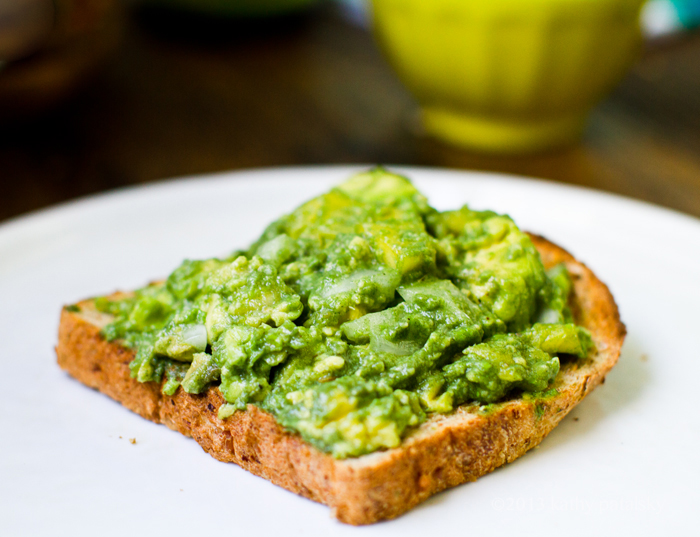 Now we need some music and fun to go with these recipes… (don't miss the spirulina highlight around 3:30)..

Justin Timberlake – Bring It On Down 2… by IdolxMuzic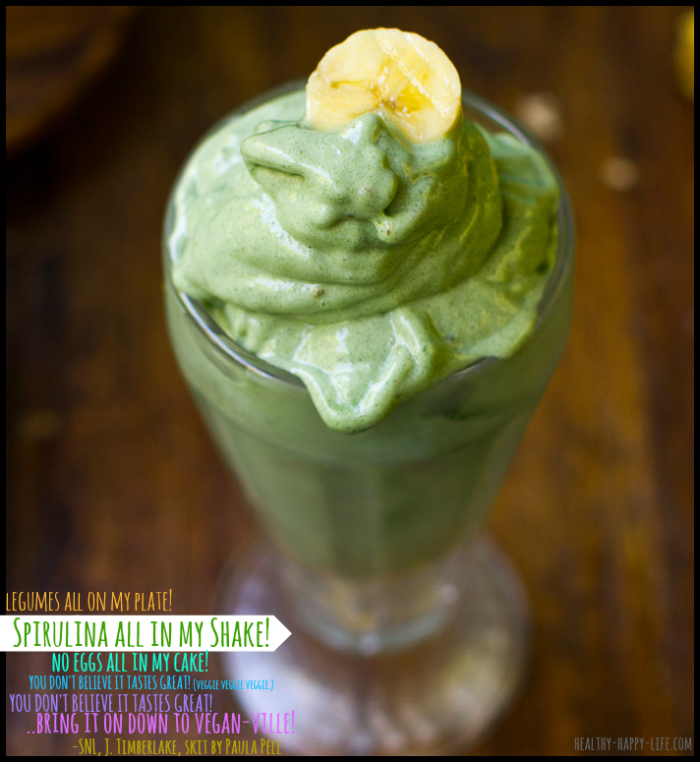 More about Spirulina.. From Nutrex Hawaii: "Hawaiian Spirulina Pacifica® is a unique superior strain of Spirulina with the highest known nutritional content in the world. It's all natural, 100% vegetarian, Kosher Certified, and Non-GMO. It's the only Spirulina cultured in a Biosecure Zone free of herbicides and pesticides on the sunny Kona coast of Hawaii. Hawaiian Spirulina Pacifica thrives in ponds fed with 100% fresh potable water from Hawaiian aquifers and pure, deep ocean water drawn from 2000 feet below the surface of the Pacific Ocean. This ultra-pure, deep ocean water enriches Hawaiian Spirulina Pacifica with 94 trace minerals and is a unique natural resource used in our patented Ocean Chill Drying™ technology which ensures maximum nutrient potency. "
I also wanted to know why they do not use the "certified organic" label. They kindly answered me..
Nutrex Hawaiian Spirulina is labeled All Natural and not Organic because the fertilizers allowed by organic production regulations — compost teas and/or manures — would lead to higher heavy metals and bacteria and an inferior quality Spirulina. (The approved fertilizers are geared for land-based farming, not aquatic farming of crops like Spirulina.) Hawaiian Spirulina is a natural product; it is pesticide free and herbicide free. Further, Hawaiian Spirulina earned Non-GMO Project verification from The Non-GMO Project, which offers North America's only third-party verification for non-GMO foods and products.
..appreciated the answer on this! More info on the Nutrex Hawaii website.
More Smoothies Please! …want 365 smoothie recipes? 365 Vegan Smoothies – pre-order going on now! Like the Facebook Page for all book updates! (There will be a few awesome promotions next month!)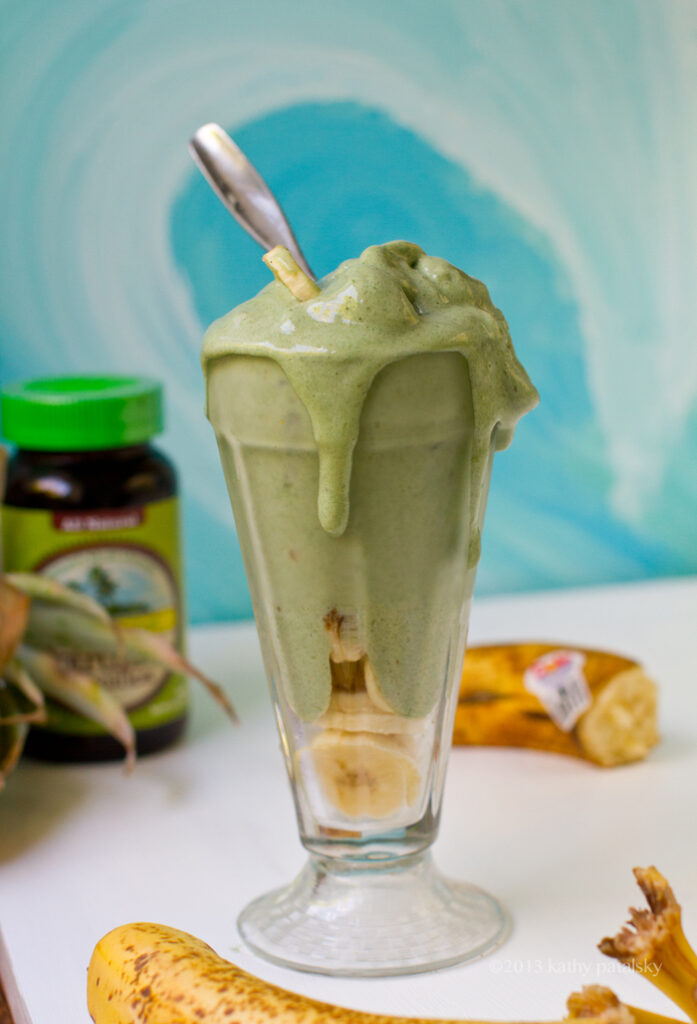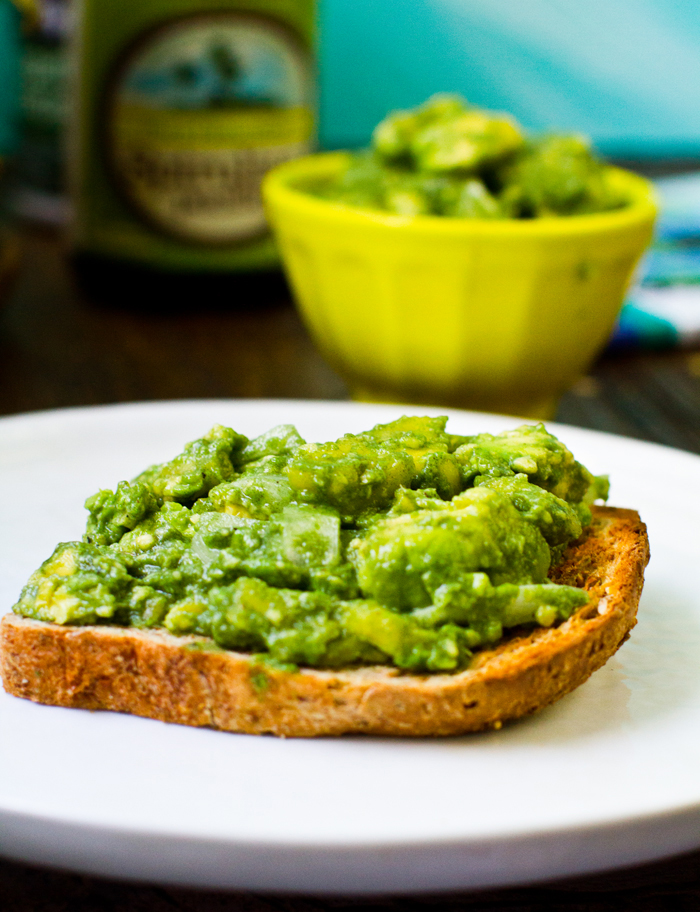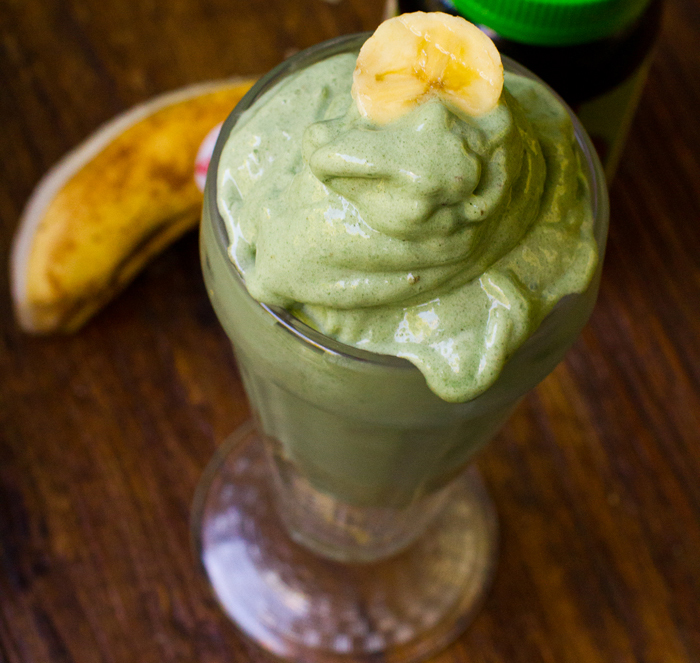 Enter the giveaway. (Five!) winners will be chosen to win a Spirulina Prize Pack —GIVEAWAY HAS ENDED
disclosure: I was provided one sample or spirulina (prize pack) + prizes are donated