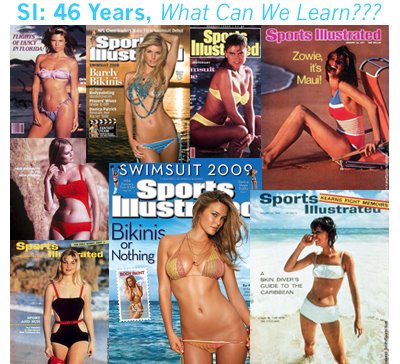 The
New York Post
has posted a photo gallery looking at the
past 46 years of

Sports Illustrated

cover models.
The 2009 cover model
is none other than Leonardo DiCaprio's girlfriend
Bar Refaeli.
It is shocking to see the evolution of what SI chooses as the "it" shot of the year.
Healthy body image
chat mixed with a bit of
entertaining fun
coming at you in this historically-educational post.
Here's a look back at a few headlines and images that have forever impacted the way the world sees a swimsuit,  an
d
maybe even how a woman sees herself in a swimsuit.
Observations abound:
Did you know that SI swimsuit issues used to actually have
themes that revolved around travel, leisure and fitness?
  And did you know that the
cover models used to look really normal, un-airbrushed and otherwise…sweet and innocent?!
Another Craig Ferguson,
"I knoow!"
moment for me.
…More observations, photos and headlines in my
TOP TEN LIST
ahead, and find out just what
"Zowie it's Maui"
means……
Sports Illustrated Cover Models: Then and Now, Top Ten Observations

10. SI Used to Actually be About Travel!
With headlines like "Flights of Fancy in Florida" and "Twice as Nice in Baja". The SI issue used to theme a travel destination, rather than a model, per say. The 2009 headline? "Bikini's or Nothing". Go figure, more on that later.
9. The Creative, Female and Ph.D Employees Have Been Fired
Is it just me or has SI been majorly dumbed down? The issue in 1964 had the title. "A Skin Divers Guide to the Caribbean." I seriously doubt that SI loyals today even know what skin diving is! I kid. Sort've.
Another "dumb editors moment" ? The headline this year is "Bikini's or Nothing." and there is also a mention of body painting. The headline in 2008? "Barely Bikini's" also with a mention of body painting.
Wow, are SI readers really that uninterested in the text rather than the photos to not realize that the editors of SI have gotten seriously uncreative with their headline ideas???
8. What's Airbrushing?
It is fascinating to see women who are not airbrushed or photo shopped grace the cover of magazines in bikinis. Little lines here, a soft flesh of fat there. It looks so normal and beautiful, yet looks so odd. How distorted are all the young girls in society today who think that un-airbrushed/photo shopped woman looks odd?
Just look at these un-retouched beauties and try and reset your distorted 2009 mindset people: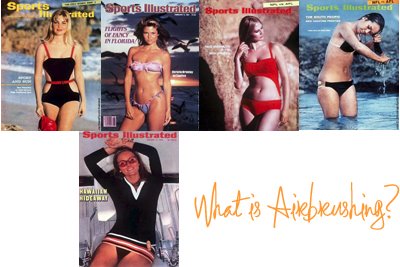 7. Favorite Headline #1: "Zowie it's Maui!"
So much cheese in the editorial text back in 1977. I love it.
6. Favorite Headline #2: "Flights of Fancy in Florida."
Can you say alliteration much? This headline is so sweetly silly; it's such a super sounding sensational statement for the Sports subscribers to see.
5. The Swimsuits of the 80'S
Ah, the 80's. Love those white doily, lace-topped and spiky purple swimsuits….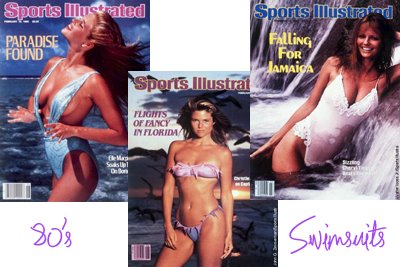 4. Those Wacky Poses
Sometimes a pose just looks awkward. Like the 1977 "Maui" photo where the model is sitting in a beach chair-though she looks very uncomfortable and not really even sitting correctly. And the 25th anniversary issue where Kathy Ireland is awkwardly sitting on a rock grabbing her shins in a weird sitting yoga pose. Was she cold or just checking for a poor shaving job? Then there is the one with the headline "Don't Just Sit There." and the girl sitting in the waves. Because ya know, I sit like that all the time when I am at the beach.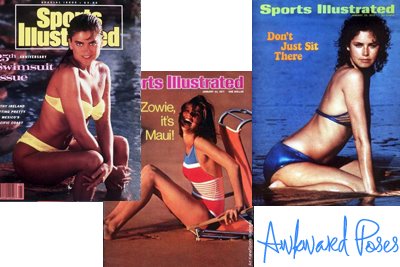 3. More Wacky and

Innocent

Headlines


"Splish Splash", "Beauty and the Beach"

and

"She Reigns in Spain"

are three more great SI headlines. Ah, so

sweet and innocent

…but that wouldn't last…nope.

2. Innocence Lost: Headlines Go Trashy
"Nothing But Bikini's" was the first innocence-lost headline when Tyra graced the cover in 1997, and the cute cheesy headlines were forever lost…More seedy titles include: "Crossing the Line: Heidi Klum Straddles the Equator," "The Not So Virgin Islands," and how can you top this one: "Estella, Daniela and Heidi BUST out in 3D! (Glasses inside)"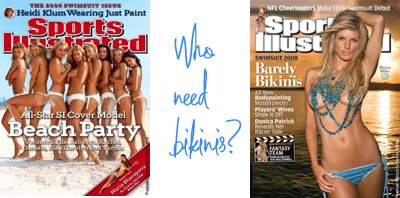 1. Who Needs Bikini's Anyways!
And the number one trend I observed in the SI history…the disrobing of the swimsuit altogether! 5 out of the last 10 covers have either no bikini top on the model, or show some sign of taking off the top. Hmm…I think the SI people better rethink the name of "Swimsuit Issue" if they plan on taking this trend any further…which I personally DO NOT recommend. Bring back the innocence,  or at least the bikini top.
…Come on SI, bring back some of the cheese, for me.