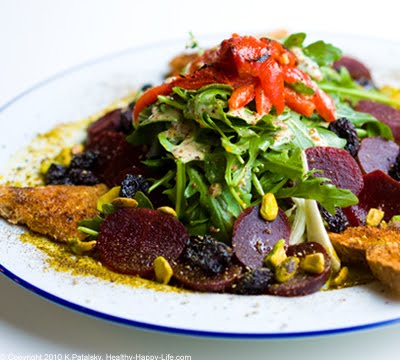 Who doesn't love these first few pure days of spring? They are simply the best! Our cold and weary bodies see sunlight beaming from a clear blue sky and we are filled with glee. And spring means blooms. Blossoms. Fleurs. Flowers. Petals. And fruit. One of my favorite rituals of spring is when the cherry blossoms bloom in Washington DC. Perfect bright pink petals that bloom from spring green buds – they come and go in a matter of weeks – sometimes days. Fleeting beauty.
My Spring Cherry Blossom Salad celebrates those blooms. I've added a sprinkle of spring green pistachio nuts against a background of dark pink beets, sweet dried bing cherries and bright red roasted bell peppers. Top it off with a creamy spicy Dijon Dressing and a few triangles of sprouted grain toast on the side for a fleur-fect spring salad. Recipe…
Cherry Blossoms: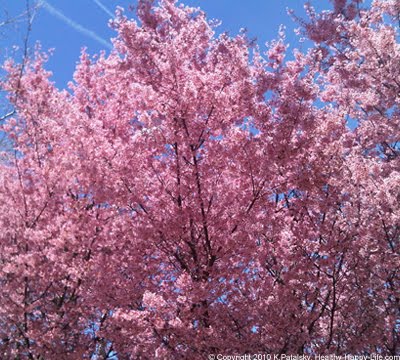 Red and Pink Cherries and Beets and Peppers, oh my:


Creamy Dijon Dressing: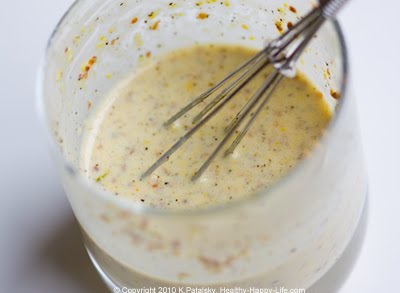 Spring Cherry Blossom Salad with Creamy Dijon Dressing
serves 2
6 cups fresh arugula greens
1 cup roasted mini beets
*I bought Trader Joe's roasted beets, easy!
½ cup raw shelled pistachios
¼ cup roasted red bell peppers, sliced
½ cup dried bing cherries
2 slices sprouted grain bread, toasted and triangled
optional: sliced sweet onion rings
garnish: drizzle of chile-infused EVOO
Dijon Dressing
2 parts Dijon mustard
1 part Vegenaise
½ part EVOO
2 parts apple cider vinegar
1 part lemon juice (opt'l for extra zestiness)
1 part maple syrup
black pepper
1 part = 1 tablespoon for this 2 person recipe
Directions:
1. Whisk together the dressing. Set aside.
2. Prep the veggies: slice beets, peppers. Gather ingredients.
3. Lay a nice handful of arugula on plate. Drizzle some dressing over top (you can also toss arugula with dressing in a separate bowl.)
4. Add the beets in a circle around the plate.
5. Sprinkle pistachios and bing cherries over top. (you can slice the cherries if you'd like – or even marinate them in a bit of fresh orange juice for a few minutes to hydrate them)
6. Delicately plop a handful of red pepper slices on top.
7. Toast your bread and slice into triangles – add 4 triangles to plate.
8. More dressing over top. Black pepper and chile oil.
9. Serve!