This Spring Pasta is a vegan, one-skillet meal that is loaded with hearty mushrooms and perky green asparagus. Garlic, lemon and a hint of pesto. Optional buttery avocado slices on top too. So much flavor and texture and yes-ness in each bite of this sunny, seasonal recipe..
..Yes-ness isn't a word. But this pasta. It's just loaded with yes, so, yes-ness it is.
The Ingredients. Simple faves in here! Mushrooms, asparagus, red onion, garlic and a very light pesto sauce accent.
We made this skillet for dinner a few nights ago and were so in love with the one-bowl nature of the meal and all the flavors that I knew I had to make it again for the blog. My favorite thing about this dish is how simple it is to prepare, yet how fancy it feels! One skillet dinner, coming up!..
The Pasta (Noodles). I would absolutely use a hearty spaghetti for this dish. I used a farro spaghetti. A whole wheat or kamut spaghetti would also be awesome. Or even a gluten-free brown rice or bean pasta. You could use penne or spirals or any shape you'd like. If you just want to use up whatever pasta you have leftover in your pantry, go for it.
Mushrooms. I am a sucker for anything with mushrooms in it. And they add SO much flavor to this dish all on their own. They sizzle and brown in the skillet and let off a lot of moisture as they cook. As they reduce, those mushroomy flavors intensify and work so well with perky asparagus and a hearty noodle. I tried this dish with shiitakes and then a basic crimini mushroom. Both were delicious. Portobello, oyster or even maitake would work beautifully too. If you want to get really fancy, you could even sprinkle some truffle salt or truffle oil (use sparingly!) onto the shrooms as they sauté to intensify their flavor!
Asparagus. I am now officially on an asparagus kick. I bought a few organic bunches (on sale!) at Whole Foods and now craving it like crazy. Craving green veggies? The best feeling! I just love how easy asparagus is to rinse, prep and cook. A very quick steam or boil or saute and it is done. I also love snacking on steamed asparagus dipped in a spicy hummus – yum!
Another way to enjoy asparagus: simply steamed or sauteed – then mingled with garlic, EVOO and lemon. Salt to taste and add optional nutritional yeast for a bold flavor boost.
That pesto… Ok, so I debated really adding a specific pesto sauce recipe for this recipe and I decided to omit it because the pesto actually isn't the main flavor adder. And the cool thing is that you can add ANY pesto sauce (something you whip up at home or even a store-bought vegan variety) and it will work. If you need some pesto recipes I have a few on the blog. This one would work best. Also see the recipe notes at bottom.
And if you want to skip the pesto, you actually totally can! Just add in a drizzle more of EVOO, a pinch more nooch, maybe some vegan Parm and then if you want, toss in some fresh basil.
Peas? You could absolutely add some spring peas into this pasta for some added protein and flavor and veggies in general.
If you want to add more protein, another way is to add some vegan breaded chick'n fingers. Love those on this!
And don't skimp on the nooch! It adds so much cheezy flavor and really binds the pasta and veggies together in a magical sort of nooch-y way.
One tip! Be sure and get your skillet nice and hot before dropping the onions and mushrooms. You want a nice browned color to them to really caramelize the edges and sharpen as much flavor as possible.
Lemon Lovers! If you love lemon, you could add in some lemon zest or even more lemon juice.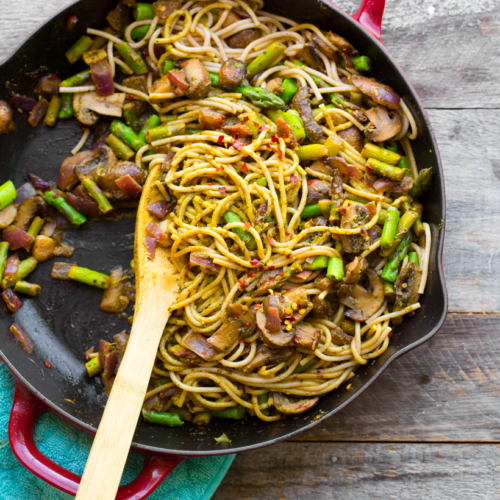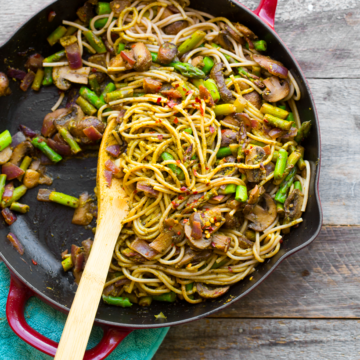 Spring Pasta – Mushroom Asparagus
This vegan spring spaghetti skillet has asparagus, lemon, mushrooms, pesto, onion and garlic. Loaded with flavor and texture and veggies!
Print
Pin
Ingredients
VEGGIES
½ – 1

lb

mushrooms (any variety, sliced)

1

small red onion, diced

3

cloves garlic, chopped

½

of a juicy lemon, juiced (½ teaspoon zest optional for more intense lemon flavor)

½

tsp

salt (add more to taste, as desired)

½

tsp

red pepper flakes

3-4

Tbsp

nutritional yeast

1

bunch asparagus

2-4

Tbsp

your favorite oily/rich pesto sauce (see recipe notes below)

2

tsp

Italian seasoning (mixed dried herbs – salt free)

Also: extra virgin olive oil for the pan and additional as needed
PASTA
9oz / 250g

spaghetti (I used a Farro spaghetti) – (about ½ a normal pouch)

Garnish: (optional)

vegan Parm to taste

sliced avocado

more red pepper flakes

fresh basil to taste
Instructions
Bring a large pot of water to a boil and add the pasta.

Skillet: Add in 2-3 teaspoon extra virgin olive oil to lightly coat the bottom of a large skillet or cast iron pan. Add in the onion and garlic. Stir on high for 2-3 minutes to soften onions.

Reduce heat to medium-high and add in the mushrooms. Stir for a good 2-4 minutes. The mushrooms will release a good amount of moisture so you don't really need to add any broth or water. If you pan feels really dry for some reason, you can add a splash of broth or water or even another drizzle of oil.

Prepare the asparagus by rinsing well and chopping off the woody ends and discarding those. Then chop asparagus into one inch thick pieces. Add to pan.

Turn heat to low for a moment. Sprinkle on the salt, red pepper flakes and Italian seasoning. Then squeeze in the lemon juice. Toss everything around very well and turn heat back up to medium or high, whichever one your skillet prefers. You want a strong sizzle to be going on, but you don't want things burning.

Keep cooking the veggies until everything cooks down and is tender, yet not mushy. The mushrooms should have some browned edges too. When the veggies are about done, turn heat to low or off – depending on how done your pasta is. If

When pasta is cooked through, drain and add to skillet. Also add in the pesto sauce. Using some tongs, stir the pesto into the pasta right in the pan. Add the nutritional yeast too. Stir everything together. Turn the heat up to high for a good minute to really let the flavors mingle and the pasta absorb all the flavor from the sauce and veggies.

Transfer the pasta to serving bowls. top with optional vegan Parm, avocado, basil and pepper flakes. Serve warm. Enjoy!
nutrition estimate | per serving
Calories:
350
kcal
|
Carbohydrates:
62
g
|
Protein:
18
g
|
Fat:
5
g
|
Saturated Fat:
1
g
|
Polyunsaturated Fat:
1
g
|
Monounsaturated Fat:
1
g
|
Cholesterol:
1
mg
|
Sodium:
379
mg
|
Potassium:
891
mg
|
Fiber:
7
g
|
Sugar:
7
g
|
Vitamin A:
276
IU
|
Vitamin C:
14
mg
|
Calcium:
63
mg
|
Iron:
3
mg
Recipe Notes – Pesto:

– For the pesto sauce, you can use any store-bought vegan pesto (if you can find some)- Amazon actually has a few options, like this Vegan Basil Pesto.
But I know most of you like to DIY every part of the dish, so if so, you can use my pesto recipe in this post. Or if you have some sturdy culinary skills, feel free to wing your own small batch of pesto sauce using: fresh basil, walnuts or another nut/seed, EVOO, salt and pepper and lemon juice – pasta water as needed. You only need a small amount of pesto for this pasta, so wining your own small batch is a smart idea.
Pin it for later..