The past few weeks I keep hearing the word "RAMPS" pop up on foodie websites and blogs. NYMag reported that Tom Colicchio decided to add "RAMPS" to his Tom's Tuesday dinner menu last week. (Pickled ramps to be exact. Interesting.)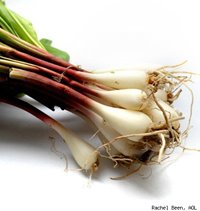 Ramp? Like the thing you skateboard off of?
No. Not that ramp. I googled "RAMPS, food" and found a whole world of message boards and blog posts about where, when and how to find and serve "RAMPS". The NY Times even did a "Hunting for Ramps" article a few years back.
Spring Ramp Search. Apparently there is a kind of cult following of people who go out foraging for ramps when they are in season from late March to early May. Instead of Easter eggs, foodies go ramp-hunting in spring!
Help! I asked my twitter followers: what is a RAMP?? And here are my fave replies from foodie twitter-ers:

"Ramps are very potent onions, in fact most ramp hunters sniff them out in the woods."
"I love ramps. Basically a stronger flavor wild leek/onion. I know they grow in Indiana and Kentucky & sprout right b4 morels."
"I had some pickled ramps in a wonderful tasting menu at Babbo. They are similar to scallions, right?"
Thanks for the comments!
Click ahead and learn about RAMPS with me!…

All About RAMPS
Essence: white truffle. yum!
What: In the leek family. Looks like a cross between a scallion and a leek. Floppy bright green tops, white bulb bottom.
Where: Wild! And in specialty stores…
Nutrition, (my specialty): High in Vitamin C! Good source of fiber, and low in calories.
NYTIMES quote from Ramps article (link above):

"Ramps are transformative, even magical. Once, as I was carting pounds of them back to the city, their intense garlic smell turned floral, almost like the scent of lilacs."
To see a video of RAMP HUNTING:
http://www.youtube.com/watch?v=IC8GEDU114U
…I'm by all means not an expert on ramps-yet!
Please leave comments about your RAMPS knowledge. And if I find some ramps-I will post a recipe and taste-review for sure!
…NYC Greenmarkets must have some…