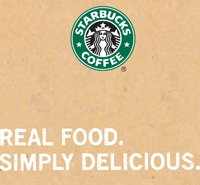 Starbucks is following in the footsteps of big brand names like Snapple and Lays Potato Chips, as they go natural. Starbucks' new food campaign:
"Real food. Simply Delicious."
But to me, it's still simply not vegan. And is it really healthier? Frustration ensues, as I contemplate Starbucks' 'healthier food' branding twist. Starbucks: always dodging the vegan ball, but with so many Soy beverage fans, are they playing a smart game?….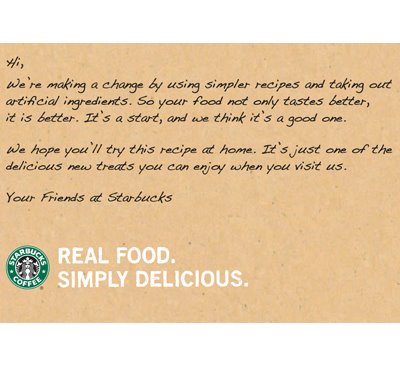 Starbucks Has Real Food Now. So what does 'real food' mean to Starbucks?
* No artificial flavors
* No artificial trans fats
* No artificial dyes
* No high-fructose corn syrup

Starbucks' New Campaign. This new campaign even includes at-home, do-it-yourself recipes inspired the new Starbucks menu item creations. Huh? Weird. Starbucks now wants their customers to whip out an apron and bake their own banana bread? I don't think so. When I am running to catch an uptown subway on my lunch hour and I need to speed into Starbucks for a quick Starbucks soy chai, the last thing on my mind is picking up a recipe for baking my own oatmeal cookies. Starbucks oatmeal cookie recipe here. And the Banana bread recipe here. And while I personally am an avid chef, baker and foodie, most busy Starbucks lovers probably don't bake their own breakfast banana bread or oatmeal cookies. So yes, I find this new branding twist and turn a bit odd.
Is Natural Better in Fast Food? I love baking my own vegan recipes with all natural healthy ingredients, but that does not always match up with the needs of fast food. And yes, Starbucks is not baking their bread in-store each morning. It's still 'fast-food'. So I have to wonder: will these new food recipes hold up to travel, storage, re-heating and shelf-life-ing-it in a Starbucks store? I know my made-at-home banana bread would be inedible in a week and in a few days, not as good as day one. So if Starbucks is really going home-style. I just hope the food shelf-life doesn't suffer.

Still Not Vegan. But all in all, the news about new food makes me frustrated because none of the new items are vegan. none. So really, until a vegan banana bread hits the Starbucks baked goodies window, I'm just sitting in the corner twiddling my fingers drinking a soy chai and my pack of Starbucks almonds. Those are vegan.
Read all about the Starbucks "Real Food. Simply Delicious." campaign here.